In today's episode of Amplify Your Business, we meet with Steven Knight, Creator of Solutions & Opportunities at Mosaic Home Services. Headquartered in Edmonton, Mosaic Home Services aims to be Canada's largest home improvement franchise network. The Mosaic umbrella consists of nine independent brands that operate in the home improvement sector, ranging from holiday décor to window screen installations. Learn about the 4C model that Steven uses to see if a brand is "franchise-able" and how you can partner with Mosaic as a franchisee.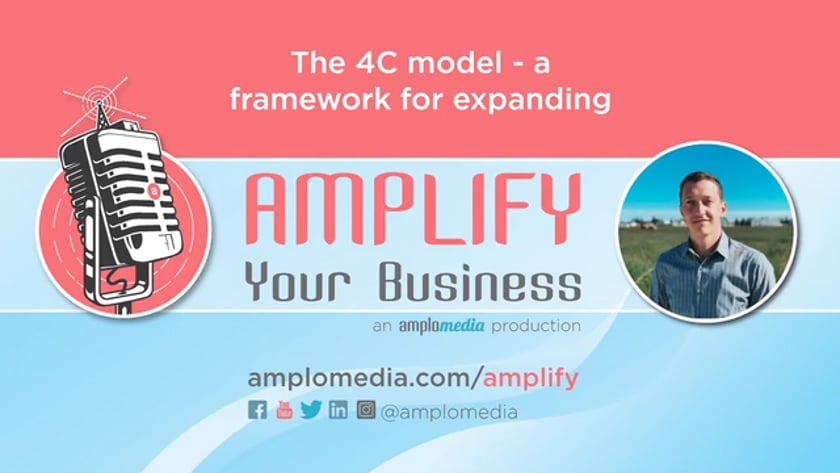 How did Mosaic Home Services start? [2:00]
Mosaic Home Services is a unique player in the home improvement and maintenance market. The company collaborates with passionate and skilled entrepreneurs in their trade by growing a scalable business model with them. 
Started in 2016, Steven and the team opened up shop in a small warehouse in West Edmonton. At the time, there were only three companies that operated under the Mosaic Home Services umbrella: a company that specialized in screen windows and doors, another company that specialized in holiday lighting and decor, and another that specialized in fencing. These three businesses remain under the Mosaic umbrella today. 
Over the years, Steven and his partners continue to expand Mosaic's footprint through acquisitions and start-ups within the home improvement and maintenance market. They focus on businesses that are not Red Seal trades. Today, Mosaic Home Services have nine operating brands under their umbrella, all delivering a variety of non-Red-Seal home services.
Did you see a gap in the market or did the idea to start Mosaic come as a coincidence? [5:08]
Economies of scale help, but it's not the crux of the business model. When you have several companies operating under one umbrella or vertical, you're able to centralize most of the administration, marketing, finance, and operations. However, Steven sees the company more as a client service tool.
Mosaic operates a call centre where five team members are answering inquiries and booking estimation appointments and sales. When you book a service with Mosaic, you're actually getting serviced by someone who lives in your neighbourhood.
The long-term vision of Mosaic isn't only to be a one-stop shop for home services. Rather, Mosaic looks at prospective and current businesses under their umbrella and evaluates their abilities to grow under a franchise, business-in-a-box model.
When you evaluate businesses, you use the 4C model. Explain this model. [8:41]
Steven and his team developed the 4C model to evaluate if expanding into different markets or offering a new service will be worthwhile. The four Cs are Customer, Cashflow, Convenience, and Cross-sale.
Let's look at a window cleaning company as an example. When you think about a window cleaner, it's likely that they've been in business for a few years and therefore have repeat customers. If you're a homeowner, you probably have a go-to company that you call every year to wash your windows.
If you're the owner of this company, it's likely that you've had a customer ask for services that are a little outside of scope. In addition to cleaning windows and gutters, customers may ask you to fix or replace gutters. Easy enough.
But then, this same customer might tell you that they're moving and would like you to install the gutters in their new house. One day you're a superstar in the window cleaning business, and the next, you unexpectedly find yourself in the gutter installation business. This can come with its own string of headaches. A lot of business owners don't think about the long-term implications of taking on out-of-scope jobs.
In situations like these, it may seem easier to get the job done and keep the customer happy; however, it may be more beneficial for you, as the business owner, to say "no" and refer your customer to someone else.
Now, let's look at how the 4 Cs play into this:
Customer: While it is important to look at your current customer base, a better question to ask is "Who do I want my ideal customer to be?" Although "homeowners" may be your target market, your ideal audience or customer is part of a nuanced subset of your target market.
A single mother who is looking to hire a plumber to fix a leaky tap will have very different expectations, price points, and overall preferences compared to a large family that needs a painter to paint a brand-new house. Which market(s) do you want to serve at the end of the day?
Cashflow: Having a shift in scope can affect cash flow in a business. If you move from residential gutter installation to commercial, you may not get paid for the job until 60 to 90 days afterwards.
Are you willing to take on the amount of risk that comes with waiting longer to receive payments, not having cash on-hand, and carrying over business expenses month-to-month due to this? 
Convenience: If you're considering expanding into different markets or adding a new service offering to your business, how convenient would it be for you to scale? Meaning - How many more people will you need to hire? Are there existing resources you can leverage to support this growth?
If you own a window cleaning company and want to offer Christmas lights installation as a new service to make up for the lack of business during the winter, will the amount of time or capital needed to contract out or learn about installing Christmas lights be convenient enough? Will it be worth your time?
Cross-sale: Arguably the most important C. If you're in Industry A and you're looking to offer a new service, this new service should complement and bring in more work under Industry A.
If you own a window washing company and you want to start offering Christmas lights installation, this is okay because it satisfies the first three Cs. However, ensure that your business model is still able to bring in window washing work at the same time. This is where a lot of entrepreneurs fall down because pivoting too much can result in losing brand identity and a unique selling proposition (USP).
Why did you choose to keep the brands under the Mosaic Home Services umbrella as independent entities? [27:57]
The main goal that Steven and his team are striving for is to be Canada's largest home improvement franchise network. This means evaluating different brands and growing them using a franchise model. He can't achieve this if all of these brands form one main conglomerate. Some brands will prove themselves to be franchise-able and some won't.
It's important to note is that some of the brands under the Mosaic umbrella have operating partners. These brands have passionate, entrepreneurial partners and Mosaic aims to help grow this partnership over time. It's possible that one day these brands could walk out and function as their own businesses; therefore, it's crucial to keep them independent from Mosaic.
At this point, are you thinking of adding more brands to the Mosaic umbrella or are you focused on growing the existing nine brands? [30:36]
Both! As the Creator of Solutions & Opportunities, Steven is always looking to add more brands. For the 2021-2022 year, the goal is to add two to three more brands. In terms of growing the existing brands, the goal for the next year is to get eight locations off the ground (they currently have three).
With the new work-from-home environments that Covid-19 has created, Steven is optimistic that he'll be able to capitalize on people who want to be entrepreneurs, who want to have their own home service business-in-a-box, and who overall want to be a part of the gig economy.  
Did you experience an uptick in activity over the past year because of the pandemic? [32:51]
Last year was interesting and strange. The small improvements projects like window screen installation thrived. These projects were simple, easy, budget-friendly and people wanted them.
Larger projects like fence construction suffered because the bill for such a project was harder to stomach, ranging from the thousands to tens of thousands of dollars. Overall, it depended on the ticket value and the confidence in value from the market.
How can people contact you?
Send Steven a message on LinkedIn
To learn about Mosaic Home Services or to become a franchisee, visit www.getmosaic.ca
Book a
15-Minute
Discovery Call
Curious about how Amplomedia can help YOU with your marketing?
Schedule a quick discovery call with Lance so that he can assess how we can best help you and your business.