We deliver you more customers.
We don't love to talk about ourselves, because we believe the focus should always be on you and on making your marketing stand out. But if you need to know more about us...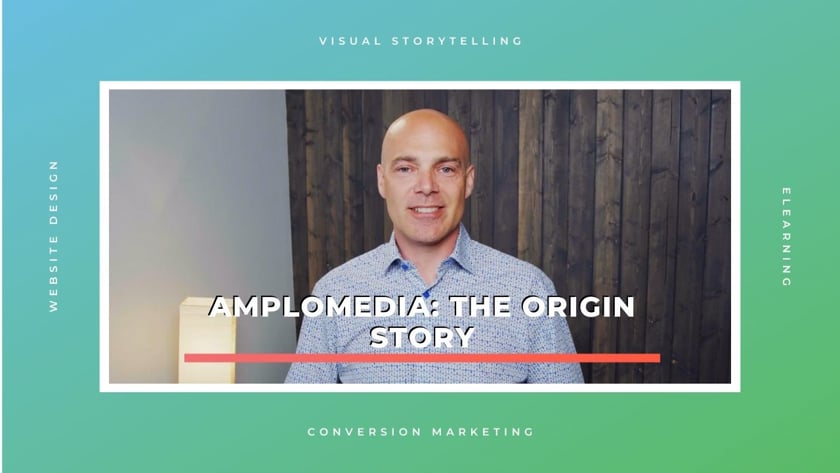 A number of years ago I had another company which was a strategic business consultancy. I was working with a client that had a big shift in their business strategy, and their business model. So we thought the best way to explain that was going to be through animated explainer videos. The challenge that I was having at the time was that there was nobody locally that was doing those types of videos.
At the same time, a friend of mine who is a talented illustrator had gone to school for illustration and was in a mountain of debt that he was paying off by working a higher paying job than what he would be making as an illustrator. So oftentimes when we would go out for drinks what he was complaining about was just how he was not fulfilling that need that he had, that craving to be creative. So I said "Hey, here's an opportunity! If I were to build a script for these videos, would you be able to illustrate them and find somebody from your old class that would be able to animate them?" He jumped at that opportunity. So we crafted the scripts, created the videos, and presented them to one very happy client! The client started sharing the videos amongst their network and lo and behold we had people asking "Who created these videos?" So that client of ours obviously passed those inquiries on to us and the rest is kind of history!
The business started to grow from there, and eventually, we were able to have my friend quit his labour job and become full time at Amplomedia. Now he's off doing his own thing and has started an amazing illustration career, and while we all miss him dearly, I'm happy to have assembled an awesome team in his place!
So that's the origin story, there was no big strategy that was built, no business plans or market research (🤯). In actuality had I done the market research prior to I'm not sure I would have even started Amplomedia because as a business it was one of those things that if you were doing it off the side of your desk it made sense, but when it came time to invest in a whole pile of technology, computer systems, and staff to do the work it would have looked like something I didn't want to get into. But I'm glad we found that opportunity and took the leap because we really enjoy what we do for our clients as we help them communicate their messages in a very fun and engaging way.
Since then we've evolved and now we offer lots of other digital marketing services and we just keep trying to help our clients out the best that we can! And we want to help YOU too! So pick up the phone or click below and let's talk.
Interested in joining our team? Check out our current opportunities below!
"Be present."
We managed to secure Matt from his growing LinkedIn fame as a content creator, collaborative marketer, and all around goof. His experience in board games lends itself neatly to strategy, and as our resident Director of Sales and Marketing, he helps bring together clients and solutions in creative, engaging ways. Give him a call directly, or tune into "Spooky Stories," his podcast co-hosted by his wife and two fur babies underfoot.
Go-to party joke:
"My face."
Matt… 🙁
"Take criticism seriously, but not personally."
If you think your brand needs a marketing push, wait until you see her dog (just ask her!). Dani brings both academic and TikTok literacy to our team, assisting our clients to grow their businesses while keeping projects on track, on time, and above all, exciting. At least that's the grind—weekends are for caesars, theme nights, and hitting the books.
Go-to party joke:
"I once wrote a song about a tortilla… actually I guess it was more of a wrap."
It's never too late to have a happy childhood." - Tom Robbins
Between tattoos, novel writing, and passport stamps, it's safe to say that Jacob swims in ink like a fish does water. As our resident copywriter, he brings together the stories of our clients and the angle the customers need to hear. When not writing for us, he's brewing up beer and philosophy, exploring the Canadian backcountry, or fostering Borzoi—a dog breed as aloof and high-maintenance as he is.
Go-to party joke:
"An optimist and a pessimist are meeting for a drink. The pessimist sets down his glass, moaning, 'life could not get any worse.' The optimist takes a joyous sip, reminding his companion, 'oh, but friend, of course it can!'"
"Going in one more round when you don't think you can—that's what makes all the difference in your life" - Rocky Balboa
Do competitive rugby and strategic ad marketing have anything in common? Jon would like to think so. He brings collaborative approaches and hard-hitting results to both, all the while saving time at the end of a day for his favourite brand of beer ("anything free"), either outside on the patio or inside with a video game.
Go-to party joke:
"My grandfather had the heart of a lion and a lifetime ban from the Central Park Zoo."
"Anything is possible!!!!!" - Kevin Garnett
Tristan is happy to work at Amplomedia for two reasons: firstly, as an Account Manager, he gets to develop meaningful strategies, relationships, and workflows that ensure client success. Secondly, it gives him a paycheque to blow on craft beer, clothes, and local dining. Yes, you too can have both. While he'd rather be listening to Kendrick Lamar or shooting hoops with friends, we're happy he sticks around to lend a little bit of everything to our team and their marketing vision.
Go-to party joke:
"A man is at the funeral of an old friend. He approaches the dead man's wife, and asks if he could say a word. The wife says that yes, he could. The man stands up, clears his throat, and says 'Plethora.' The wife smiles, and says 'Thank you, that means a lot."
"I'd rather kiss a wookiee." - Princess Leia
It takes a parent to organize our ship of fools. What Jamey has learned about keeping her family in line has translated to a particularly helpful role of managing our client relationships and keeping the rest of us out of the cookie jar until the work is done. On her off days you can find her blasting classic rock, stoking the firepit, or even on TikTok! Yes, #momsoftiktok exist—she is very particular about that.
Go-to party joke:
"What do you call a fish without eyes? A fssssshhhhhh."
"A day without laughter is a day wasted."
A Texan transplant to the Canadian prairies, Catelyn loves to explore mountains—both of the Rockies, and of Tex-Mex food. Good luck catching her on weekends. Between running, roadtrips, and breakfast dates (sometimes with Gin and Bubly), she manages to save enough energy for another week of Account Management at Amplomedia—helping clients connect with messaging that empowers them and their business.
Go-to party joke:

"Wanna hear a joke about vegetables? I mean, it's kinda corny…"
"I wish there was a way to know you're in the good old days, before you've actually left them." – Andy Bernard
Never has exceptional competency and digital expertise been packaged in a body seemingly destined for misadventure. During the days, she's either optimizing our high-conversion websites and automation or dodging exploding bear-spray cans in a mountain-road spinout. Either jamming to her song rotation, or being dragged face-down behind a medical skidoo. You know—just another Tuesday. Other notable features is her abusive relationship with the NY Giants, a notably more enriching relationship with Key Lime Pie, and about a hundred more stories.
Go-to party joke:
"It takes an advanced sense of humor. I don't expect everybody to understand."
"Sometimes you will never know the value of a moment, until it becomes a memory." - Dr. Seuss
While Lance still gets his hands dirty with the day-to-day operations, he'd much rather be getting muddy on the football field. As Founder and CEO, his vision drives Amplomedia forward, but he allows his team to tell the stories. A Rolling Stones fan, Analog Brewing fan, and avid napper (when the schedule allows), Lance lives his life as he does his business—with elevating others always in mind.
Go-to party joke:
"A pirate walks into a bar with a steering wheel on his pants, a peg leg, and a parrot on his shoulder. The bartender says, 'Hey, what's up with the steering wheel on your pants?' The pirate says, 'Arrrr, I know. It's driving me nuts.'"
"Words and pictures are yin and yang. Married, they produce a progeny more interesting than either parent." - Dr. Suess
Arguably the most important member of the Amplomedia team, Buzz Motus is (The Very Underutilized) Director of Human-Cyborg Relations and is fluent in over six million forms of communication. Since we don't work with very many cyborgs, no one is quite sure what keeps Buzz busy during the workday, but one thing is certain: he spends his weekends making sure that, come Monday morning, Lance's computer gives him a good amount of grief while it boots up. Keep up the good work, Buzz.
Go-to party joke:
"Where's the best place to hide a body? Page 2 of Google."
"To practice any art, no matter how well or badly, is a way to make your soul grow. So do it." -Kurt Vonnegut
Kerwin is our resident artist, living and breathing design between his work-time and off-days. Fueled by black coffee and old fashioneds, you can find him most days adrift in the meaning of the universe—or in front of cartoons. His soundtrack would likely be somewhere between a 50-minute "Chill Lo-Fi Beats to Study To" or a Classical Opera, if such a thing were to exist.
Go-to party joke:
"My mom asked me the other day, "are you even listening to me?" Which is a really weird way to start a conversation, if you ask me."
"People say nothing is impossible, but I do nothing every day." - Winnie the Pooh
Some say punk is dead, but not Sam. Don't let his eye for detail and agile project management fool you—he's a family man, gin-drinker, and punk-lover through and through. As a senior member of the Amplomedia management team, he brings art to everything he does—even relaxing with more anime and manga on his off days!
Go-to party joke:
"I don't tell jokes—I'm more of a quip guy."
"You're braver than you believe, stronger than you seem and smarter than you think." - Christopher Robin
With video at the heart of our strategies, that makes Karlie our… circulatory system? She handles our video creation from shooting to editing and compiling. When she's not wrangling wires, she's at the movie theatre, taking photos of her cat, and playing video games with a hard cider. Not such a bad life!
Go-to party joke:
"My life ;)"
Oh, Karlie…
"Never limit yourself from the things you can't do. No excuses, just do it!"
Rose can't be pinned down—an ecommerce business geek who only window-shops, an outgoing TikTok dancer who stays inside cleaning, and a Kdrama fan with a secret love for Thrillers. She brings her diverse passions to our project management team, helping turn our clients' passions into a cohesive little package—just like her!

Go-to party joke:

"Trust me you don't want to hear me tell a joke."
"Good things take time; great things happen all at once."
Who else can say that they are followed by air horns wherever they go? Keegan is a part-time DJ and full-time Art Director—sometimes simultaneously. He builds websites and designs like he builds remixes—full of personality, catchiness, and the unexpected. In his downtime, he explores Alberta, settles into new games, and taps his toes to whatever beats float his way.
Go-to party joke:
"A thief broke into the police headquarters during the night and took all the toilets. Cops say they have nothing to go on."
"A smooth sea never made a skilled sailor." - Franklin D. Roosevelt
From wrangling two-step partners to wrangling stray pixels, Kate brings an eye for creative design and a flair for Albertan fun to our team. Armed with ski lift tickets in the winter and seltzers in the summer, she is our quietest voice with some of the biggest talent (and Vine-based vocabulary.).
Go-to party joke:

"Matt's taste in music."
"If you only do what you can do, you will never be more than who you are." - Master Shifu
Being a full-time animator means cycling through projects at a breakneck pace—luckily, cycling happens to be one of his favourite pastimes! Joseph helps us translate the messages, images, and branding into engaging content that helps push conversations forward. With no fewer than THIRTY-FOUR pets to keep him busy, there's always something to do between the video renders.
Go-to party joke:
"What do you call a cow in an earthquake? A milkshake!"
None of us is quite like the other, but we come together to do some pretty amazing stuff.
See what some of our AWESOME clients have to say about working with us!