On today's episode of Amplify Your Business, Lance interviews Adam O'Brien, founder of Bitcoin Well. Bitcoin Well is one of Canada's first Bitcoin ATM companies. Everything from why he started the company, how a Bitcoin ATM machine works, his philosophy on cryptocurrency, and how the company closed on $50 million in sales will be discussed! Tune in and hear why Adam thinks Bitcoin is the currency of the future.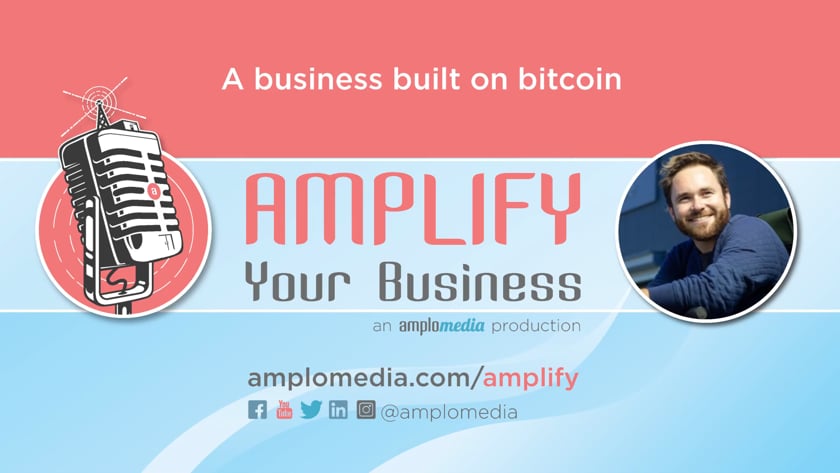 When did you start Bitcoin Well? What do you do? [00:24]
Adam started Bitcoin Well (previously Bitcoin Solutions) back in 2013. During this time, one Bitcoin cost only $100, but buying and selling Bitcoin wasn't as easy as it is now. Adam wanted to kickstart the Bitcoin marketplace in Edmonton. He started by putting up ads on Kijiji and Facebook. A year later in 2014, he and his team deployed Alberta's and Saskatchewan's first Bitcoin ATM. Today, Bitcoin Well has over 150 Bitcoin ATMs scattered across Canada and is regarded as one of Canada's leading companies that operates in the non-custodial Bitcoin marketplace.
What made you keep persevering through despite everyone telling you not to start this business? [2:13]
Adam's not shy to admit that the quickest way to get him to do something is to tell him he can't. Ultimately, he saw a lot of potential in Bitcoin at the time and felt that it was something worth pursuing. The idea of having a system that didn't rely on a traditional monetary policy and financial institutions was intriguing and, technologically, the first of its kind. Bitcoin's white paper was released after the '08 economic crash. It seemed like a unique system that would prevent similar crashes in the future. Despite being confronted by a lot of naysayers, Adam is proud to announce that Bitcoin Well closed with over $50 million in sales last year.
Speaking of sales, what is considered a "sale"? [7:11]
From day one, Bitcoin Well has always run a non-custodial inventory business model. This means that at no point in time does the company hold custody of the customer's funds. There are other Bitcoin exchanges in the marketplace that operate custodially. This, in turn, can create a honey pot – where merchants who publicly hold customers' funds can be an easy target for hackers and security breaches.
How do your Bitcoin ATMs work? How do I use it? [8:56-10:39]
To start, you'll need a Bitcoin wallet. All Bitcoin wallets contain a public address which is an alpha-numeric string of characters (similar to an email address) that's attached to a QR code. You scan this QR code at the machine, insert your cash, and then the machine talks to the server holding the Bitcoin. The server then sends Bitcoin directly to the scanned address and deposits it into your Bitcoin wallet. It's a quick process with the average transfer taking approximately eight minutes or less. Like ordinary ATMs, Bitcoin Well charges a transaction fee from which it profits.
Where can I find a Bitcoin ATM? [10:40]
Bitcoin Well has ATMs all across Canada. In 2019, they made their first move into the Eastern-Canadian market. They acquired a network of ten machines in Eastern Canada that was bringing in a healthy $10,000 per month. It was their first test to see how well the team's processes, technology, marketing, branding, and customer service held up in the market. Nine months later, they were able to quadruple their monthly revenue to $40,000.
Walk me through the lessons you learned going through the acquisition route [11:55]
When going through an acquisition, Adam honestly felt very underprepared during the legal process. Over time, he became more comfortable with asking critical questions during negotiations and pushing back, as a small business owner, against the big suits in the industry.
The structure of the purchase was such that they had securities on the backend. Therefore, he wasn't too concerned with turning over cash and risking not making it back. When initiating the transfer and implementing the machines, he made sure to immerse himself in the day-to-day operations, aiming to fully understand and compare the processes between Bitcoin Well and the seller. Despite it being a stressful process, Adam had a lot of fun and enjoyed the experience overall.
In your opinion, what is the main reason for the success in quadrupling the machines' monthly revenue from $10,000 to $40,000? [16:10]
A big part of it had to do with honing and perfecting the processes they already had in place back home in Western Canada. It all boils down to operational knowledge. They knew what they were doing, and they were confident in what they were doing. Another important factor is their branding, being regarded as the first to install the first ATMs in Alberta and Saskatchewan.
How does the price of Bitcoin correlate with the success of companies like Bitcoin Well? [17:20]
Bitcoin has been the best performing asset on the planet in eight out of the ten last years. It definitely has a lot of market attention and steam, especially from the likes of Elon Musk and giant CEOs who are choosing to evacuate large amounts of cash in favour of bitcoin.
According to Adam, the ATM machines help serve a specific clientele – the utilitarian. This customer may use Bitcoin for money remittances, or for purchasing certain products that offer discounts if they pay in bitcoin. A percentage of their core customer base falls under the category of well-rounded, speculative investors, too.
The media hype is good but as a company, Adam recognized early on that being a one trick pony isn't sustainable. That's why he and his team have heavily invested in technology and processes that set them apart from a regular ATM company.
Is there a reason why I can't buy Bitcoin and transfer the money from my bank to you on mobile instead of walking to an ATM? [19:57]
The risk of fraud increases greatly when Bitcoin is purchased online. These traditional methods are what Adam calls "legacy finance". 
When you make an online transaction, you have 90 days to put up a stink with your bank. If someone guesses your mother's maiden name (which is likely searchable on Facebook), they have the ability to use your bank account at free will and then you'll have 90 days to recall that transaction due to fraud.
 When you have a product like ours that, with a low margin, can reach finality in ten minutes or less, this poses a huge problem if the transaction gets recalled. Bitcoin Well ensures that the transaction being requested, and the money being transferred is intended and genuine. This overall minimizes chargebacks.
In the future, will it be possible to complete online transactions with virtually no risk of fraud? [21:53]
Adam says the answer is half logistical and half philosophical.
On the logistical side, he says that they will and do have the technology to have a rigorous anti-fraud and compliance program. 
The regulations that are expected to roll out in June 2021 will also give them a massive advantage. By then, everyone will be required to sign up for an ID and provide pieces of personal information before being eligible to purchase Bitcoin – a process which isn't required within some exchanges today.
Now onto the philosophical side. Adam believes that, as a society, we have done a bad job at teaching kids about money and how to handle it.
Think about it, we're all super comfortable driving expensive cars or carrying around expensive phones and gadgets with little worry that we'll lose or damage them. But when it comes to money, we espouse this mindset that we have to get rid of it; we have to give it to the banks to keep it guarded and safe.
But this is wrong! Your money isn't safer in a bank than it is in bitcoin.
In fact, the safest place to keep your money is within your own possession. As a user of money, we deserve to control it, to learn how it works and how to handle it. But with more control, comes with more responsibility and awareness of the technology's abilities. Through owning and operating Bitcoin Well, Adam calls on educators and the government to teach society how to properly interact with money and how to ultimately reach a state of financial sovereignty.
What's on the horizon for Bitcoin Well? [27:01]
For the last 18 months, Adam and his team have been focused on taking the company public. They are poised to become the world's first publicly traded Bitcoin ATM company. They also closed the required current funding round earlier this month.
Outside of that, they have a couple more acquisitions in the works, some local in Canada. They are exploring what a global acquisition would look like. Adam is also busy creating the best, safest, and fastest software to give customers the best experience and convenience that is similar, if not better than, online banking.
If you could go back in time and talk to your past self, before you started Bitcoin Well, what advice would you give him? [31:52]
Having the passion to do something and not be afraid to fall flat is such an important quality to have. Adam notes that a lot of his success came from completing steps "too early" in the process or contrary to what corporate America or business advisors might've told him. 
Have the confidence in yourself to take what everyone else says with a grain of salt. Five years ago, Adam was called "crazy" and now he's being called a "visionary". Don't put so much weight on other people's opinions. If you have a budding idea, go for it.
How can people get in touch with you?
The Bitcoin Well website is the best resource to learn about Bitcoin and the rest of the team.
You can also reach him on Twitter at @adamobrien_ using the hashtag #askadamobrien
For any bitcoin-related questions, feel free to email help@bitcoinwell.com
Be on the lookout for Adam's podcast that is launching soon!
Book a
15-Minute
Discovery Call
Curious about how Amplomedia can help YOU with your marketing?
Schedule a quick discovery call with Lance so that he can assess how we can best help you and your business.