In Episode 15 of Amplify Your Business, Lance Johnson welcomes special guest, Jesse Syzmanski, founder of Modern Muse Media with nearly 25 years of expertise in the film industry, to discuss the secret to successfully using video production to amplify your business's message. Here's a hint… it's the power of storytelling.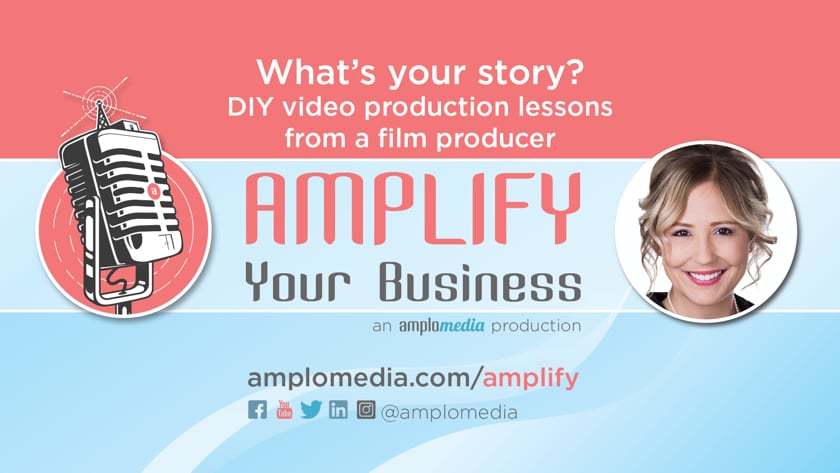 Here are some valuable pieces of information that we thought are just too important to miss!
Before you shoot your shot, plan ahead! (5:00)
The first step to using video to amplify your brand's message is taking the time to plan. Your planning should involve three key elements: determining your voice, brainstorming your storyboard, and establishing the technical aspects of filming. First and foremost, by determining the voice of your business and using that voice across your marketing materials, including video, you establish a consistency that will help you not only with brand awareness but also with making an emotional connection with your audience. Secondly, it's important that you take time to brainstorm a storyboard to help guide the production process so on the day of filming your team has a clear plan of action. In addition to your storyboard, don't forget to create a shot list for any extra moments and technical aspects you will need to capture, and a call sheet so that everyone involved is aware of when they will be needed on set. It doesn't matter the size of your business or your production, preparing in advance of filming your video will lead to more effective use of your time and overall a more consistent brand image.
Think of editing as dancing. (12:34)
Jesse thinks of editing a video as doing a dance. You want all the elements involved to work together to create a feeling that will resonate with your audience. So how do you make that happen? When you begin to edit, start with your audio and sound. Ask yourself if the sound and the audio move together in a harmonious way. If unsure, close your eyes and just listen to your first edit of the raw audio and sound content. Once you're satisfied with the audio elements then you can move onto having the visuals align with the audio elements. By breaking the editing process into smaller pieces you are able to ensure your end result will align with the message you are trying to convey with your video. But keep in mind this is an experimental process that may require multiple versions and edits before you reach your final product. Don't expect to always have a linear journey from start to finish, especially when you're just starting out with video editing.
Sharing your video content effectively. (17:16) 
Social media can be an intimidating beast to tame, especially when it comes to determining where to post what content. There are so many platforms and formats to consider! When it comes to video content, think back to the story you're trying to tell. If it's an upbeat, fun video showing the culture of your business, Instagram or Facebook would be the ideal platform. On the other hand, if it's a professional and informative testimonial on your business' services then Linkedin would likely be a better match. Although you may be targeting the same audience across all social platforms, each social platform affects the consumer's psychological mindset in a different way, affecting how they perceive the messaging of your post and how they respond to your call to action. And remember to always be testing! There are no hard and fast rules about what content to post on which social platform. Always start with best practices (and listen to your gut - you know your audience best!), but don't be afraid to make the leap to another platform to see how your content performs there. You never know, it might surprise you!
Hopefully, we sold you on how easy it is to leverage the power of storytelling in your video content to amplify your message in an interesting and engaging manner. But don't forget there are plenty more tips discussed in the full episode above, so make sure you watch it in its entirety. If you're interested in additional coaching services to help with producing video content of your own, check out Modern Muse Media's Social Media Video Training Program!
Book a
15-Minute
Discovery Call
Curious about how Amplomedia can help YOU tell your brand story with video? We'd love to help!
Schedule a quick discovery call with Lance so that he can assess how we can best help you and your business.