In this episode of Amplify Your Business, we interview Barry Ehlert, CEO of Windmill Golf Group. Windmill Golf owns and operates five golf courses located in and around Calgary, Alberta. Barry also talks about his newest venture called Launchpad Golf, a modern take on an old sport. Tune in to learn how Barry tees up for expansion, whether that's growing from one golf course to five, or starting a brand-new business.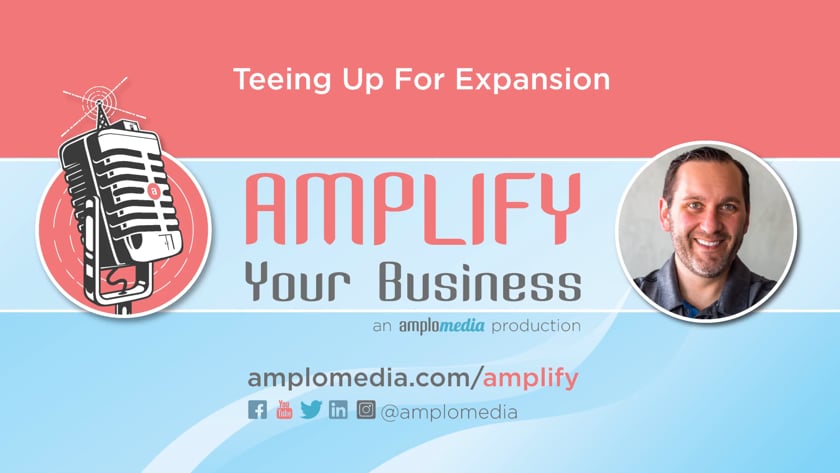 Give us the backstory. How did you end up with five golf courses? [0:50]
Windmill Golf has been passed down three generations of golf enthusiasts, starting with Barry's grandfather. When it was Barry's turn to head the company, he acquired other golf courses which, today, make up the five he and his team manage now.
How long was it between the beginning of the lockdown to when the courses reopened? [2:02]
It was a few weeks. In Alberta, golf courses typically open around April, but Windmill didn't open theirs until about mid-May. It certainly had an impact. 
The most amazing story that came out of the pandemic from a golf industry perspective is how all of the owners, professional associations, and management companies, united together as one voice to communicate their position to the Government of Alberta. Fortunately, they were heard and this led to a great golf season last year.
Did you have to implement new technology to expedite the flow of business and to ensure protocols are being followed? [3:45]
They didn't have to implement new technology, but rather maximize the technology they already had. Things like encouraging customers to pay in advance, follow contactless check-in and check-out procedures, have golf equipment sanitized before and after plays were and still are paramount.
Do you think you'll go back to the old way of things or have these protocols created efficiencies that you'll continue using in the future? [5:00]
It's half and half. There are definitely areas that these protocols have helped the organization improve in terms of overall cleanliness and health. But there are other things that would be nice to have back like rakes and bunkers.
With the new protocols in place, did you end up losing rounds because business was slower, or has it sped up? [5:55]
Rounds were both lost and gained, according to Barry. This is, in part, due to the delayed start in the season. But with golf being a relatively more "Covid-friendly" sport, there was an uptick in golfers last season. This includes golfers who are picking up the sport after ten years and regulars. 2020 was a record year in club sales and pre-order sales for Windmill Golf. Barry thinks that the pandemic has caused a shift in how people consciously and subconsciously view recreation. Golf is a sport that more people will gravitate more towards in the future.
What is Launchpad Golf? Why did you think it was a great opportunity to bring to Alberta? [9:23]
Golf can be an intimidating sport to some. When you go golfing, standing on the tee box can feel like you're in a fishbowl sometimes. Launchpad combines a modern, casual atmosphere with golf to create an ultra-entertaining, outdoor, year-round experience (yes, even when it's -20°C outside)! It will be the entertainment destination for golf enthusiasts.
Is Launchpad Golf meant to be installed as an attachment to existing clubhouses or will this be a brand-new facility? [11:20]
It will be a brand-new building. It may even be a standalone location that isn't associated with any one golf course. But who knows what the future will hold? Barry's hope is to have multiple Launchpad locations throughout the province, and maybe the country.
What was the approach you took to innovate an old sport like golf? [13:52]
The idea behind Launchpad isn't new. Barry notes that there are similar organizations being run in the US. When he developed the concept for Launchpad, Barry wanted to deliver on forming a unique customer journey, with a strong emphasis on new technology.
It's mind boggling to think that you can have 40 to 60 people hitting golf balls simultaneously and, with a certain technology, have each ball tracked to show its speed, distance from the targets, whether it's hooking, drawing, fading, slicing, etc. almost instantaneously. It makes for a more interactive and engaging experience that can appeal to people who likely wouldn't give golf a second thought. This is the core concept of Launchpad Golf.
When is the grand opening? [17:38]
There is currently a test location being constructed which is expected to open mid-late summer 2021. Beyond that, a second location is expected to open 10-12 months from now. As for a location in Edmonton, Barry hopes to open more locations in Calgary's neighbour up north in the near future.
What are the lessons you've learned after having added a new venture to your portfolio? [19:13]
We learn the most from our mistakes and failures rather than our successes.
Having a strong, talented team can make the world of difference when you decide to expand your business portfolio.
If you're passionate about what you do, work won't feel like work.
What are your thoughts on the rapid evolution of technology? [26:30]
Launchpad Golf is ripe for continuous technological advancements. On the flip side, golf is a game of tradition.
There are some incredible traditional components about golf that shouldn't change but as it relates to technology and improvements outside of equipment, how do you advance golf as a sport? Others have tried foot golf, having bigger cups on the greens, etc., but it's certainly one of the challenges that golf presents. Barry has ideas to do this with design tweaks and changes, but not nearly to the same level as Launchpad.  
How can people get in touch with you? [34:49]
Book a
15-Minute
Discovery Call
Curious about how Amplomedia can help YOU with your marketing?
Schedule a quick discovery call with Lance so that he can assess how we can best help you and your business.