In episode 60 of Amplify Your Business, we're talking with local hospitality innovator Joel Hollingsworth of the Varscona Hotel and Ampersand 27 on Whyte Avenue about navigating the COVID-19 pandemic and the uncertainty it brings for the hospitality industry. Watch as we talk about the pivots they've had to make and the lessons it has helped them learn!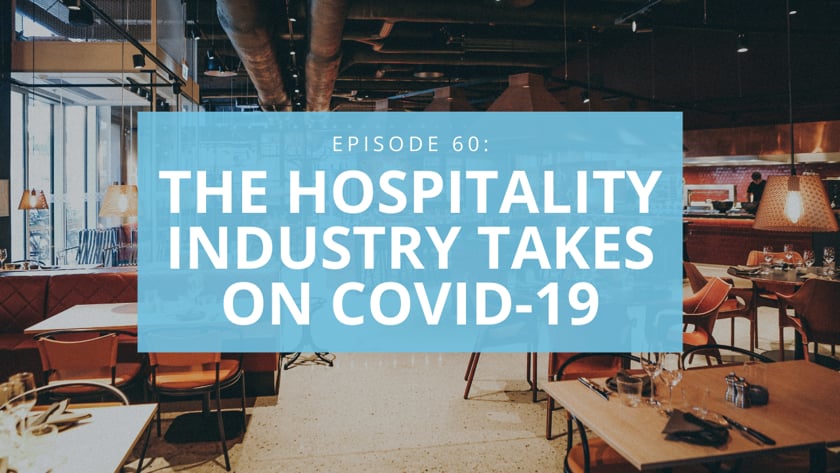 (00:41) Thank you so much for taking the time today to talk to us about what you've been doing at the Varscona Hotel over the last 18 months. 
Definitely, thank you. It's been a year - longer than that - but we've been focusing on creating local tourism and creating experiences and packages here on Whyte Avenue to drive as much business and community support as we can. One of our more popular packages is the Experience Whyte Package, where we partnered with local businesses who offer discounts for guests to create a shopping deal with discounts at local restaurants, retail outlets, and the Hotel.
(01:26) So you're trying to build a Whyte Avenue retail experience?
That's right, a local tourism bubble in Old Strathcona. It supports us, but it also supports our neighbours!
(02:01) So walk me back to March 2020 when the lockdown is announced. You're in the hospitality business - what happened?
We closed at the time. It was terrifying - we didn't know what the future would hold or if we would reopen. All of our staff were laid off for a couple months. Thankfully, we reopened for the summer and while it was 70% less than what we would have normally expected, at least we were here. We were able to bring our team back. Of course, the following winter was just as challenging, and again through summer. It's been a very difficult time for our industry. When travel stops, so does the hotel.
(02:55) When running a hotel through COVID, what were the biggest challenges?
Managing the schedule through the pandemic was tough. For example this summer, as soon as restrictions were lifted, it was zero to mach-10. We had weddings, social events, all running on a skeleton crew. Recruiting, training, and getting everyone ready for that was very challenging. Now that we're at the end of summer and looking ahead, there are a lot of questions about what's to come. 
(03:56) So now that you've been through it, do you feel better prepared?
That's the best part (if there is any best part to this whole situation) - that we've done it before. We're heading into our second pandemic winter, we know what worked and didn't work last year, and hopefully that will build us a path to a more successful outcome this year.
(04:19) What kept you going and helped propel the business forward? What were you doing differently than what you would've done normally, besides those package deals?
We focused on our food and beverage offerings because we knew we wouldn't have many out-of-town patrons. Ampersand 27, our restaurant, created a lot of different themed menus and dinners for different event happening in the city, whether that was the Ice On Whyte festival, or the Sweet Treats & Lattes festival - any time there was an opportunity to create something new, the chef and restaurant team jumped at it, and we partnered it with the hotel. If mom and dad wanted to get out of the house, they could come to stay at the hotel and wine-and-dine at the restaurant with these themed dinners.
(05:17) Tell me a little about Ampersand 27 - what do you focus on here?
At Ampersand 27, we're crafted to be different. We focus on our craft cocktails and craft beer, as well as our recipes. We like to source local meats and cheeses - we're well known for our charcuterie - and through the pandemic we switched gears and started preparing charcuterie for virtual events. With everyone on Zoom these days, we would deliver charcuterie kits to delegates around the city to bring an element of food and beverage to people's meetings at a time when there wasn't any of that.
(07:02) Was the restaurant a centerpiece of your strategy to get people into the hotel?
Well, we went through different waves with the COVID waves. Whenever things were shut down, we had to switch gears. What do you do to drive business when people can't come in to the restaurant? Social events were one of those things, we also did a great Charcuterie Challenge (with our second annual coming up this winter) where people could get the kit from the restaurant, take it home, and design their own charcuterie board to post online to win a prize pack of gift cards! We also put our restaurant on third party delivery platforms like Skipthedishes. Previous to the pandemic, we didn't consider ourselves a take home or delivery restaurant, so it presented an opportunity to bring ourselves into current times.
(08:17) There's lots of debate about the pros and cons of third-party food delivery apps. As a restaurateur, what are your thoughts on these services?
In a way, it's a necessary evil. We appreciate those who come directly to pick up their orders and we love welcoming patrons to the dining room for experiences you can't create anywhere else, but at the end of the day we had to drive business and fill as many orders as possible. Opening up these streams helped get us through those hard times. We still deliver through SkipTheDishes, but we love when patrons join us in the dining room.
(09:32) Besides the charcuteries, what types of food are you serving?
One of the things that makes us unique is that our menu changes quarterly. In summer, for example, we might have a wider variety of salads and summer-inspired items, but when you flip to Fall and Winter you'll see heartier items that will keep you warm. Where we tied it together is we elevate classic recipes by putting a spin on them with local ingredients and our own twists that take familiar comfort food to the next level.
(10:24) Is there anything else you'd like to speak to in terms of what you did differently and what you have in store for this winter?
The winter is unknown. Our strategy is to make those special occasions even more memorable within our restaurant and hotel, so we're looking at upcoming holidays and festivals and how we can create an experience that makes Edmontonians want to join us as well as get some of our Northern communities to visit the city. In a world where travel is difficult and restricted, we rely on the community for support.
(11:39) You have a beautiful bar! Can you tell me more about some of the specialty drinks you have planned?
One of our more popular cocktails is the Old Fashioned. It comes smoked in a glass dome right to the table, creating an instagrammable moment that we strive for. We also use lots of fresh herbs and edible flowers to enhance the experience and presentation. One of our ingredients is a smoked sprig of rosemary that creates a lovely smell, making it more than just a drink.
(13:00) Lance samples the Ampersand 27 Old Fashioned.
Book a
15-Minute
Discovery Call
Curious about how Amplomedia can help YOU with your marketing?
Schedule a quick discovery call with Lance so that he can assess how we can best help you and your business.