You are an expert in your field, and you have valuable information you want to share with your audience! But, how can you get your content in front of potential clients in a way that enables you to nurture them into leads, and later convert them into loyal customers? To be honest, there are a variety of ways to do, but one we highly recommend is webinars. Not only are they typically fairly easy to produce, but they also create a really strong opportunity for gathering emails, which in turn enables you to continue to market to an interested audience and nurture them through your sales funnel!
In Episode 11 of Amplify your Business, Lance Johnson speaks about using webinars as a lead magnet, and how to capture webinar registrations, ultimately increasing your leads.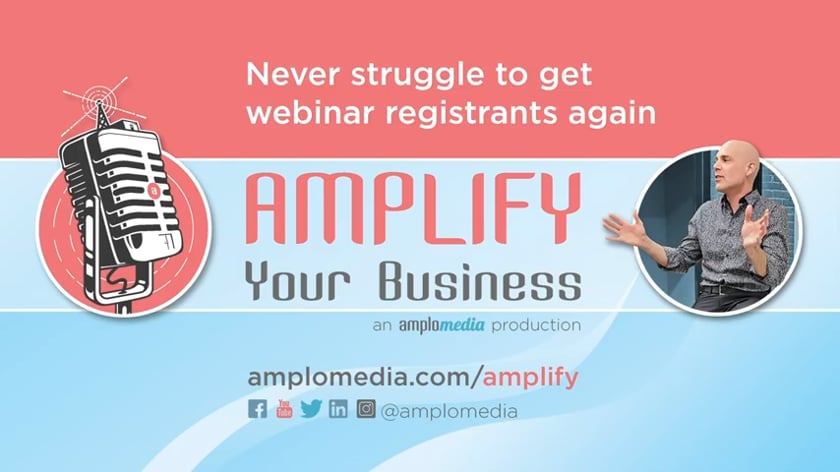 Below are a few of the valuable bits of information you can find in this week's episode:
Webinar registrations = emails captured (1:52)
Throughout this episode, we talk about a few ways you can drive traffic to your registration site. One thing you'll notice is we don't mention using email as a medium to drive registrations. The reason for this is webinars make a really great lead generation tool, and each webinar registration becomes an email you get to add to your lead nurturing lists. Since webinars are commonly packed with helpful information, they serve as a solid lead magnet meaning they provide value to your target audience. Plus, they're fairly easy to put together. Simply choose a topic relevant to your audience, build a slide deck, and set aside 15-30 minutes to share your expert knowledge on camera.
How do I get people to register? (12:16)
Well presented, relevant content piques interest and drives clicks. As you follow along in the episode, Lance walks you through what a webinar funnel looks like beginning with online ads that lead to landing pages that host videos, and ultimately encourage registrations. Video provides a great way to effectively share your message, build trust, and show the audience what they can expect to get out of your webinar. We often get asked how many videos should be included in the webinar registration funnel, and three is a pretty good starting point. This enables you to bring awareness to the webinar, offer solutions to potential objections people might have, and tease out a little bit of information your audience can expect to find in the webinar.
We hope you find value in this episode, and you feel better equipped to host your own webinar! 
Book a
15-Minute
Discovery Call
Curious about how Amplomedia can help YOU boost webinar registrations with our slick conversion marketing skills? We'd love to help!
Schedule a quick discovery call with Lance so that he can assess how we can best help you and your business.