In this episode of Amplify Your Business, we sit down with the owners of Intent Coffee to talk about coffee and (pardon the pun) intentional marketing! Intent Coffee is a local cafe that is a safe, inclusive space for the BIPOC and queer communities. They also collaborate with marginalized communities by sourcing and investing in indigenous Filipino coffee producers. Watch now to learn more!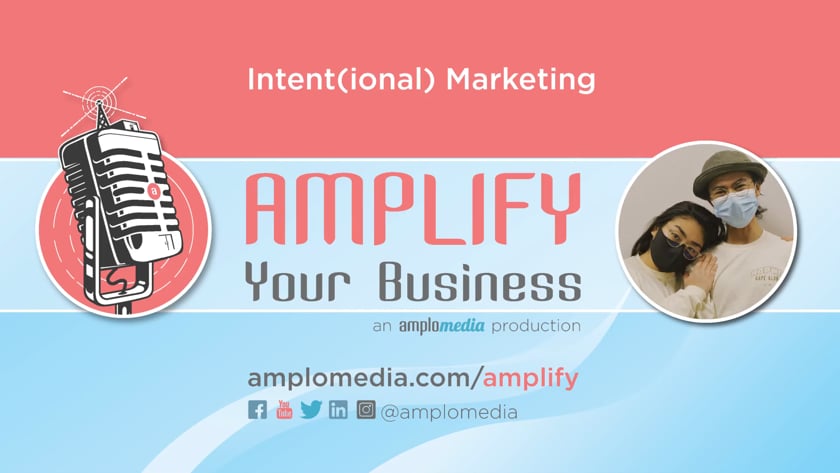 Why did you decide to open Intent Coffee? [0:45]
Ever since high school, Mavi and Reika always dreamed of owning a business that would house all of their passion projects - a cafe, a woodworking shop, a daycare, a dance and photography studio. Fast forward a few years later and unhappy with their current jobs, Mavi and Reika decided to pull the trigger on starting their dream business and open the doors of Intent Coffee. 
What makes you unique in the coffee shop space? [5:06]
Intent Coffee is the first specialty coffee shop to serve Filipino coffee in Canada. It's also the first queer- and BIPOC-owned shop in the city. 
As the name suggests, everything from their space to their product is curated with such intent. Their coffee is exclusively grown, sourced, roasted, and brewed by Filipino producers. It's rare to see one ethnic group directly handle the coffee up its "value chain" from seed to cup while still having autonomy and equity in the product. 
Regardless of who you are or where you come from, coffee has developed its own culture across different ethnic groups and nationalities. Intent Coffee aims to promote diversity in the city by encouraging other communities to enter the entrepreneurial space and start businesses and passion projects of their own. 
Tell me a little bit about the collaborations you take part in [8:07]
In the Philippines, there's a custom called Bayanihan. It refers to a fundamental aspect of Filipno culture: communal unity, helping others without expecting anything in return. Being born and raised in the Philippines, Mavi and Reika hope to showcase their culture and promote community building through Intent Coffee's collaborations. 
Intent Coffee started as a collaboration in and of itself. Before opening Intent, Mavi worked at another local coffee shop. Southgate Mall, where Intent Coffee is currently located, approached Mavi's old employer to see if there was interest in opening up a second location inside the mall. Mavi's employer knew that Mavi was passionate about opening his own coffee shop at the time. So instead of opening up a second location, Mavi was offered the opportunity to open his own cafe. 
WIth the community's help and contributions to their GoFundMe, this demonstrates the very idea of Bayanihan: giving chances and opportunities to each other when you already have enough. To support Intent Coffee, visit their Instagram profile and click on the link in their bio. 
What are people looking for when it comes to marketing during a pandemic? [15:27]
Small businesses employ a majority of people (around 80%) in our communities. So when the pandemic started, a lot of key messaging across marketing campaigns pivoted to focus on supporting local businesses. The fact that Intent Coffee is already collaborating and profit-sharing with other small businesses already aligns with this messaging and Intent as a brand. It's this kind of messaging that hits close to home that resonates the most with audiences. 
How can we increase our reach? [19:44]
There are a number of distinct communities that Intent could target in a future social media ad campaign, the Filipino community being the most obvious. Lance suggests boosting popular posts. 
When a certain post receives a high number of likes and shares, these are indicators to the algorithm that this content receives high engagement. Highly engaging content is an asset to social media platforms like Instagram, because this enables users to stay on the app and, in turn, offer Instagram the opportunity to serve more ads (and make more money). 
The great thing about boosting posts is that you don't have to put thousands of dollars behind it, $20 can be more than enough. You can also adjust the parameters of the boost to target certain audience interests or geographic areas. Since Intent Coffee is located on the southside of the city, a post can be boosted so it is served only to people located on the south side of the city. 
Another tactic is to showcase collaborations within social media. For example, Intent Coffee could create a Tik Tok video that's also a Filipino-owned business (that just so happens to be another Amplify Your Business guest), Yelo'd Ice Cream & Bake Shoppe. It's this authentic, genuine, community-based storytelling that will only grow your reach even more. 
If we decide on starting a YouTube channel, how should that content differ from Instagram? [35:16]
YouTube is trying to get into the short-form Instagram Reels or Tik Tok game with YouTube Shorts. Traditional YouTube, however, is better positioned for interviews and longer-form storytelling. Lance suggests that Mavi and Reika still do the Tik Tok dances with their local business partners, but to also sit down and interview them (similar to what we do for Amplify Your Business) and post that as a YouTube video. Having different forms of content will help maximize your reach by catering to different people in your tribe. 
Where can viewers connect with you and try your coffee? 
Intent Coffee is located inside Southgate Mall by the southeast entrance right beside The Bay
Instagram @intentcoffee.yeg 
Tik Tok: @intentcoffee
Website: intent.coffee
Book a
15-Minute
Discovery Call
Curious about how Amplomedia can help YOU with your marketing?
Schedule a quick discovery call with Lance so that he can assess how we can best help you and your business.