In episode 62 of Amplify Your Business, Lance sits down with Carol Lamb of the Baking barn to talk about how she is growing her small baking business into an Alberta favourite. Watch and listen in part one of this episode as Carol talks about the importance of good, local products, breaking into local retailers and larger grocery chains, and the challenges she faces as she grows her home business.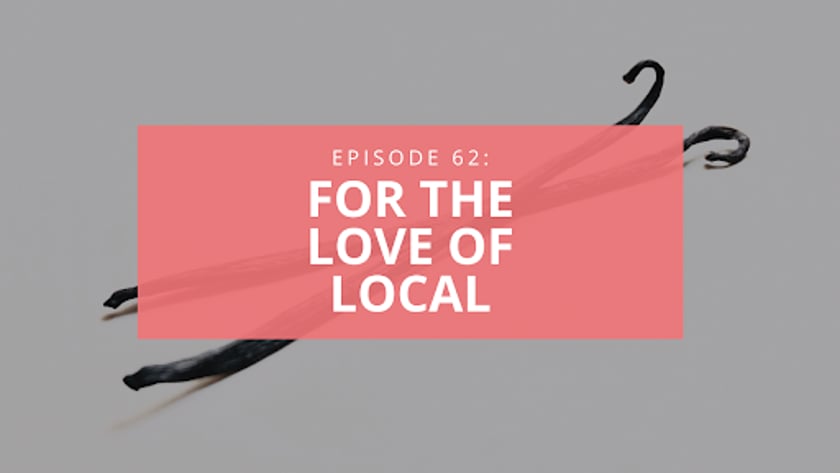 (00:55) What is the Baking Barn all about?
We started out making vanilla extract. My family had always made it at home and handed it out as gifts around the holidays, and everyone loved it! From there, we started to think about how we could grow as a business.
(01:50) So, what's the process that sets your extracts apart?
The cool part of our extract is that we use glycerin instead of alcohol, which makes it a little bit thicker and super sweet, giving a pure, sweet vanilla flavour. Depending on the recipes you use, the alcohol based products can change the taste, so the full vanilla flavour makes a big difference in baking.
We start with the glycerin in large containers and vanilla beans purchased from Madagascar. We split them down the middle to expose the "caviar" or seeds of the bean. We put these in the glycerin, and shake it once per week for an entire year, extracting the natural flavour over time. It takes patience, but it creates the perfect blend. Without letting it extract over a year, you don't get the same strong vanilla flavour.
Our operation is small, so we don't have the industrial process of the big players. We're not sure how they do it, but we know they only let the beans sit (in alcohol) for 48 hours! The longer the beans sit, the more unique and different flavours are present in the extract.
Vanilla extract is expensive, so I want to make an extract that the average person can afford. Our two ounce bottles are only $13.99, but many stores sell two ounce bottles for $16! We want as many people to enjoy our extract as there can be.
(07:17) Why Madagascar beans? What makes them special?
We have always been told that they are the best vanilla beans in the world. If you take any time to research, that's what it'll tell you. Over the years I've sampled beans from all over the world, and each place has its own taste and colours, but my experience is that Madagascar beans are a cut above the rest.
(08:21) What different products are you marketing with this extract?
One of the first new products we've explored is vanilla sugars.
(08:55) Carol shows a picture from 1945 of her mom reaching up to her dad, wanting to ride on a load of sugar beets.
That was the beginning of calling it Baking Barn, for my mom. We have 5 generations of working in Southern Alberta sugar, so it was only natural for us to also sell vanilla sugars. To make this sugar, we use the leftover beans from making the extract, dry them, and mix them in with large containers of the sugar before letting them sit for four months. This leaves you with deeply flavoured vanilla sugar. We have a few different sugars: Cinnamon, Nutmeg, Spiced, and so on.
(12:22) What about the Vanilla Powder?
We get that from Madagascar. They grind the beans with seeds in them, making a pure powder. It's not always easy to find (only one place in Lethbridge sells them), but it gives a great strong, vanilla flavour for many baking recipes.
(13:31) Where did this idea come from, then?
We've always been the type of people to make everything at home from scratch. Many years back, we decided to try making our own vanilla. Remember, it takes a long time to test and perfect the extract, but it came from our love of all things natural and local. Homemade and as fresh as possible is how we like it.
(15:22) How has your business been impacted by the pandemic?
We experienced a large shift. Previously, we had sold our products strictly at farmers markets, but the pandemic shut these markets down. We decided to try going into stores, and we're lucky to have had an easy time breaking into store shelves. We started a smaller stores, and now we're in all Calgary Co-Ops, soon to be in Freshon Bros  and Save-On-Foods. It's great to see these stores focusing on selling local products.
(17:45) What process did you use to get in the door at these larger stores?
I would phone them and say that I was a local business owner with a great extract that I think they would love to carry in their stores, and they said "okay"! Most smaller, independent stores that aren't big chains don't have formal processes, so getting into those was as simple as a conversation with the owner. As I started talking to larger chains, I would talk to purchasers. I thought about changing my pitch to something more refined and professional, but I had the most success speaking from my heart and relying on my passion.
(19:41) Talking about larger stores with buyers that you have to go through, how did these conversations happen?
I would cold-call them. I had been told by others that they loved local products, but they were some of the last ones who decided to carry me. Once I had those folks in my corner, their people reached out to me. The hardest part was filling out the papers they sent me! But once they're excited and want it on their shelves, they help you out with that.
(20:56) For those who aren't close enough to get your product right now, how can they find it?
Unfortunately, they can't right now! I'm not sure what to do about that either. It's all part of the growing process - we didn't even think of doing this until the pandemic hit, and we're fortunate to be on shelves in the Calgary and Edmonton area, but it's hard. Everyone has told me to sell on my website, but I haven't done it yet because I'm the only one working on the business side and I want to focus my energy on the stores I'm in. I need to work on my marketing, instead of sending extracts out to people hoping they take a liking to it. 
Shipping is another issue. It costs a lot to send my products in the mail, and I find it hard to believe that a customer would pay expensive shipping costs on top of what is already a premium product. Unfortunately, I haven't explored that route yet.
(22:46) Lance provides Carol a different perspective on the benefits of online retail and ecommerce.
Book a
15-Minute
Discovery Call
Curious about how Amplomedia can help YOU with your marketing?
Schedule a quick discovery call with Lance so that he can assess how we can best help you and your business.