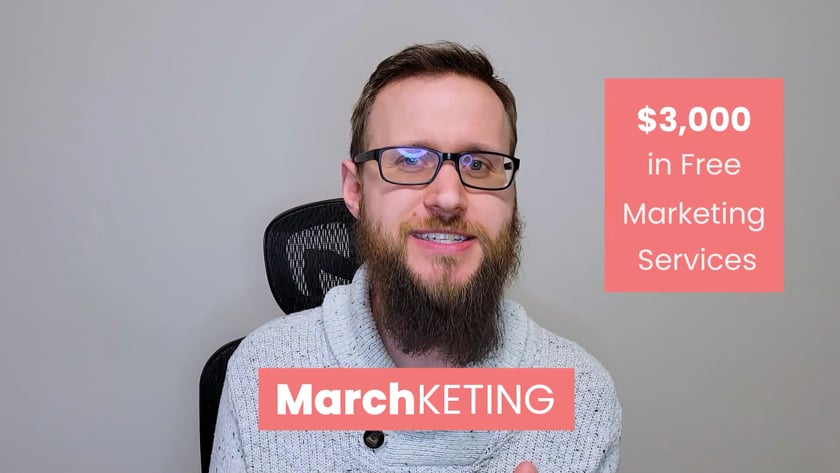 Like Andrew said in the email, we'd love to feature your company on our weekly web show, Amplify Your Business - and give you the chance to win $3k in FREE marketing services as part of Marchketing! Here's the interview Lance did with Andrew, to give you a feel for the show.
Amplify Your Business is a weekly web show that's been running since the very start of the pandemic…so that's almost 2 years now! Kinda hard to believe isn't it? We wanted to shine the spotlight on Canadian businesses (just like you!) and let the founders tell their entrepreneurial stories.  
We were so impressed with what Andrew has created with Freebruary that we couldn't sit on the sidelines and let all of you have all the fun, that's why we came up with Marchketing! After interviewing Andrew, Lance decided that he wanted to help every one of you participating companies and give you the chance to win $3K in FREE marketing services when you join us for an episode of Amplify Your Business! Here's how to apply (it's 100% free) to be on the show: 
Step 1: Schedule a 15 minute call with Matt to discuss the show and ensure you qualify for the show.
Step 2: If you qualify, Matt will book an hour of your time for the interview with Lance.
That's it!
Think you have an entrepreneurial story that you'd like to share?
Book a
Discovery Call
Marchketing is your chance to get more customers. We can help with that.
Schedule a quick discovery call with us so we can see if you're a fit for the show, and you might just win $3k in FREE marketing services!