This episode of Amplify Your Business is sure to excite the fitness and home warrior enthusiasts who are tuning in. Lance chats with Jack Yang, co-founder of Duonamic, a fitness gear company. 
He starts off by introducing Duonamic's Eleviia pull-up bar. It's far from a regular pull-up bar and lends itself to those who are constantly on-the-go or want to take advantage of a small space to get a solid workout in. The Eleviia contains a powerful internal spring system that allows it to be lightweight and ultra-portable. 
From Jack's early days as a corporate mechanical engineer (which he still does as his day job) to sourcing materials, finding manufacturers, hiring fulfillment centres, and realizing that digital marketing is a whole other part of running an e-commerce brand, tune in as Jack tells his journey of how he built Duonamic to what it is today and the marketing tips Lance has to offer (this episode is jam-packed with them!)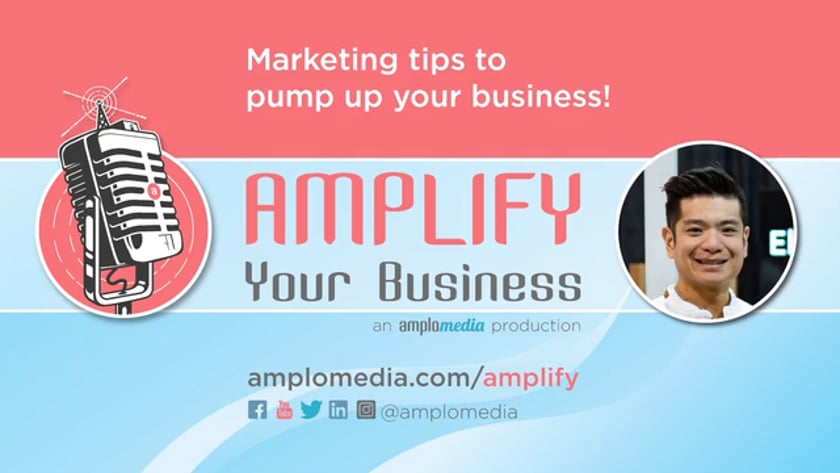 Micro-influencers can create macro effects! [11:15]
You don't need to collaborate with only the Kim Kardashians of the internet to market your product online. Oftentimes, micro-influencers who have tens of thousands or even hundreds of thousands of followers can result in higher click-through rates without spending big dollars. In effect, you're spending small dollars to gain big traffic and awareness in return.
List-building will help stretch your marketing dollars [17:02]
As Lance mentions, collecting leads aka asking customers upfront for their contact information and marketing to them directly in this way is a lot cheaper than paying for ads. You can collect leads by developing a lead magnet. This can take the form of anything - in Duonamic's case, for example, you can offer a free workout plan after a website visitor enters their contact information on a form. They haven't purchased anything yet, but that small exchange of value can pay off in spades down the road.
Email-Drip Sequences [19:35]
The email drip sequence is a highly structured and well thought-out sequence of emails that aim to nudge your potential customers further down the funnel and to eventually make a purchase. Ideally, you should include 3 to 5 emails minimum in the sequence. These emails can include some sort of incentive to buy, such as more specific product information, a coupon code, more compelling benefits (not features) about your product, testimonials from influencers or real purchasers, or even someone from your team who talks about the story and/or engineering behind your product. The goal here is to take away any and all potential objections your leads may have (whether it relates to price, quality, reputation, etc.). There's inherent value in how you speak to your target audience.
Optimize for Conversions! [25:05]
Use what you already have to maximize conversions.  In other words, if you're already getting decent incoming traffic to your website, focus on warming up more of that existing traffic further down the sales funnel through email marketing and remarketing ads. Not only is this efficient, but it's also economical in that you don't have to spend more marketing dollars to pay for ads to get in front of a colder audience.
Remarketing Ads [26:32]
The pixel enables you to follow your website visitors around and place very targeted ads to them. These leads are already aware of your business (i.e. they're warmer leads). It's going to cost you a little bit of money, but it will pay off more in the long run with an increased chance for conversions.
But is email marketing even effective these days? [28:16]
While it's true that email marketing isn't as effective today as what it once was because people are getting inundated with marketing emails every year, the data says that open rates are still clocking in at 30-40% on average. As a marketer, that's a significant chunk of your audience that you could potentially be missing out on (and that you'd have to pay big dollars to get in front of) if you choose not to use email marketing at all.
SMS or Text-based Marketing [29:12]
The open rate for text is way higher. But framing these texts in a way that is less pushy or sales-y can be more tricky as it's a more personal means of communication. This would be another remarketing tactic to explore.
Facebook Messenger or Whatsapp. [30:07] 
Another tactic to consider is a chat platform like Facebook Messenger or Whatsapp. This platform has the capability to send information to people who have signed up to those messenger lists (this is another way to build your list!). Be careful, though, as Facebook has very restrictive rules with Messenger marketing compared to other platforms.
Push notifications [30:55]
You've probably seen pop-ups for push notifications before. When you turn on push notifications on your web browser, this enables the marketer to display a message within a website (usually at the bottom-right corner) and it can be shown to the viewer regardless of what they are looking at online. For example, if we were browsing pull-up bar products on Walmart's website, Duonamic can display push notifications right as I'm browsing to remind me about the Eleviia pull-up bar. Like the pixel, push notifications offer a more prominent way to follow a consumer around as they surf the web.
Live Chat or Chatbots [36:50]
Chatbots can be programmed to answer questions that your website visitors may have (i.e. they're a live version of your store's FAQ). This can serve as a great way to field customer service requests to those who may have more complex questions and need to chat with a live customer service rep. What's also convenient is that you can set up the live chat feature to have questions sent directly to your phone. This gives customers immediate reassurance and a faster way to alleviate their concerns.
Google Ads [39:50]
Search ads can be extremely effective when used correctly. The people who are searching for certain products, like a pull-up bar, have already developed a search intent (i.e. they're already in-market and would like to make a purchase soon). It involves identifying specific keywords that you should be bidding on and weighing the expensive keywords versus the less expensive keywords. The more keywords you include, the more volume in traffic, and the higher chances for conversions.
Display Ads: Similar to how traditional billboards work, you're trying to capture the audience's attention while they're surfing a website. You'll often see these ads on the bottom or sides of a website.
YouTube ads: YouTube is being used so much for fitness videos right now. As a marketer, you can place your video ads to play before a fitness video because the ad content is directly related to the videos that a viewer is searching for (i.e. search-intent ads). You also have the ability to put your ads in front of bigger influencers' videos as a way to increase incoming traffic.
We hope that this episode of Amplify Your Business left you with some insights about digital marketing strategy for your e-commerce business!
Book a
15-Minute
Discovery Call
Curious about how Amplomedia can help YOU with your marketing?
Schedule a quick discovery call with Lance so that he can assess how we can best help you and your business.