We've all heard the phrase "Work smarter, not harder!" Well, in this case working smarter means doing less work but without sacrificing any revenue. And, a great way to make that happen is by leveraging membership websites with various tiers of access, and creating a constant source of recurring revenue from customers you've already won over! In Episode 8 of Amplify your Business, Lance Johnson shares some valuable tips and tricks with Chloe Skerlak, Holistic Reproductive Health Practitioner & Fertility Awareness Educator, which will enable her to generate recurring revenue from her business going forward.
Lance started off with a quick review of Chloe's website pointing out quick & easy areas where it could be optimized for more conversions. For more in-depth information on optimizing your website for conversions, check out Episode 1!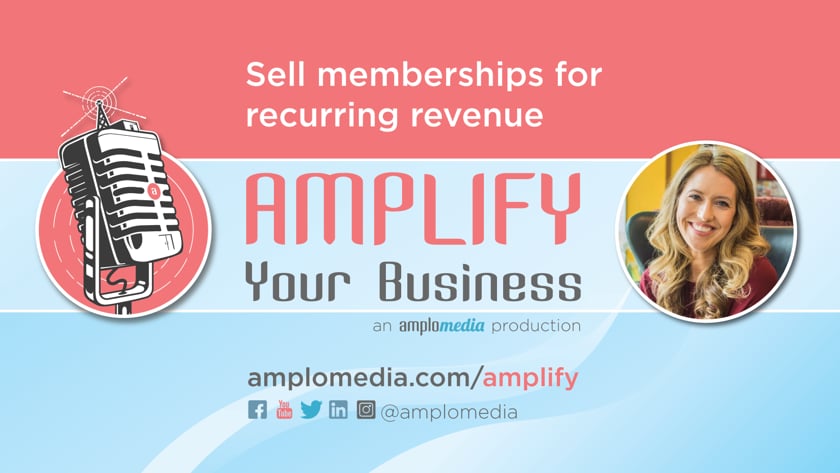 Now without further delay, below are some great snippets of information you can expect to find in this episode:
Enhance your course functionality with a WordPress friendly LMS like LearnDash. (15:03)
Creating course content is one thing, but presenting it to your audience is another. If your website is built on WordPress then we recommend using an easy to use Learning Management System (LMS) like LearnDash. For a relatively low price and simple setup, you can create an eLearning style course with multiple lessons, chapters, and quizzes to test knowledge as students progress. Using an LMS allows you to award certificates, track progress, and even lock down the sequencing of lessons within the course if you have pre-requisite requirements for progressing to new lessons! Not to mention that LearnDash (and many others) integrates nicely with Stripe, PayPal, or other payment gateways, meaning people can easily pay for your course content.
Give the people what they want! Utilize different tiers of membership access on your site. (17:24)
Another way to monetize your content is to create different membership tiers (i.e. free, basic, and premium). The idea here is that each tier adds an additional level of access to your content, so things like longer courses, bonus materials, discounted one-on-one sessions, and even exclusive live broadcasts with you, the expert! Not to mention understanding the level your members are at in their journeys allows you to position appropriate content in front of them to market the higher membership tiers. A great, and again relatively inexpensive, plugin that we love to use for WordPress membership sites is called Memberpress. Memberpress gives you the ability to tier your membership as well as add member forums to your website, which are great for cultivating a community atmosphere! Allowing members to communicate in a forum can build brand loyalty, and reaching out to each other for support can also help to take some of the burden off of you and your staff if you can get to a point where experienced members are able to contribute with useful, helpful information about your products or services!
'Hack' lead generation magnets by giving away the good stuff up front. (22:00)
This might feel counterintuitive, but a great way to 'hack' lead generation is to give away your best content - for free. No, seriously! The purpose of giving away free content is to get potential customers interested in your products or services and get them onto your email list. Why? So that you can use highly targeted email marketing to nurture them into booking that consultation or making that purchase. So think about it for a second, if you gave away your least compelling content, is that going to drive people to want more? Probably not. Instead, you take strategic snippets from your highest quality content and use that to tease your audience. They'll see this great, helpful content and think "Wow if this was free, imagine how good the paid stuff is!!" And presto, you've piqued their interest. And we're not talking about giving everything away - your pay-gated content still needs to expand upon what you're willing to give for free, but that doesn't mean that the freebies need to be lower quality. They still need to do the job they set out to do, which is to generate quality leads!
Get strategic with your content creation and filming. (24:14)
Since we started off talking about working smarter and not harder, we would surely be amiss if we didn't mention repurposing content. Seriously, thinking ahead about your content creation needs (writing, photography, filming, all of it!) can save you some big-time hours down the road. So, before you film your next video or write your next blog post, think about the different ways you could use that piece of content. And it doesn't always have to be just reposting the same thing! For example, we film these Amplify Your Business episodes live, but then we clip out the golden nuggets of information to share with our social media audience later on. That way we're getting more content for multiple channels rather than just this one episode and we're doing it without having to plan and re-film segments later. See? Smarter, not harder. If you're filming for a course that you'll be selling, film some promo content during the same session, take a quick pause for great video thumbnail opportunities, and think about how you can carve out some snippets for lower or free membership tiers. Repurpose your content, always.
Leverage dedicated landing pages to lower your bounce rate and skyrocket conversions. (26:22)
Have you ever clicked on a post, a link in someone's email, or an ad on Google and immediately backtracked once you hit the page on the other side? Yeah, that happens. But why does it happen? Because people aren't being savvy marketers, that's why! It's all about relevancy. Your post, ad, or email needs to align with what's on the other side of that valuable click. Especially if it's an ad. If you're paying for that click you really want it to work for you. What your audience wants is exactly what interests them about your content, so give it to them by using a dedicated landing page. Nike doesn't send shoppers to their homepage if someone is looking for men's running shoes, because they understand what the would-be-shopper is looking for - men's running shoes. The more aligned your landing page is with your pre-click content, the more likely you are to convert that prospect, not to mention the more time that prospect will spend on your website. And when people spend more time on your website, Google reads that as a positive signal that you're delivering value to your audience, which means better SEO rankings! And another hot tip for conversion-optimized landing pages? Use video testimonials. They're more compelling, more genuine, and hey, people love watching videos! 
Mine your existing database for customers with video + email marketing best practices. (29:28)
What's step one once you have your membership site up and running? Hit up your existing audience letting them know what new and exciting opportunities you have made available to them! Send those emails, craft those social media posts. And, what's the best way to reach them and ensure they not only hear, but also understand your message? Use video. Yes, even in emails! There's a sneaky way to include video in your email and get more people clicking through to your (conversion-optimized) landing page, and it's really simple. Take an eye-catching thumbnail from your video & overlay it with a play symbol, you know, the one that shows up on every YouTube video. That way your email openers will think they're hitting play on a video, but since video doesn't actually render in most emails, they're heading over to your landing page where you have the video queued up. Have your video followed by testimonials and valuable information to nurture your audience towards conversion.
Let search engines guide your content creation. (32:31)
When you're creating content for your membership site a great way to figure out what your audience wants to learn about (and 'hack' the YouTube algorithm at the same time) is to use the search bar. Take your overarching topic and enter the first few words into YouTube's search bar and see what autofill is prompted. That autofill is pure gold - the first suggestion is what YouTube has determined to be the most commonly searched query right now. Use that to your advantage! Answer that question, figure out the solution to that pain point, and formulate your content around it. This enables you to have highly relevant course content that you know people are looking for (and will probably pay for), but you also have the answer to YouTube's top searched query. With that, you'll be able to get more eyes on your video once you post it on YouTube.
Use a test audience to set your price points. (39:04)
Finally, if you're not sure what price point to use for your membership tiers, test it out! You don't even need to have your content loaded up and ready to go, you just need to make it look like you do. Set an initial price point that you think is reasonable and spend about $100 on Facebook or Instagram sending traffic to your landing page. When people get to the page and click to complete their purchase for your pay-gated content, show them a message saying there's been a technical glitch, but they should leave their email address so you can let them know when things are back up and running. That way you get their email address (so your $100 ad spend isn't awash) AND the data will let you know how many people were willing to pay that price for your content. If you don't get any bites, then you know you need to make adjustments.
The bottom line is that acquiring new customers is the hardest part, so making sure that you're generating as much revenue as possible off of the customers that you've already landed is key to optimizing your business. Because really, what sounds better: a one-time purchase from a customer who carries on their way afterward, never to be seen again? Or, ongoing income from a member who might even become an evangelist for your brand and spread the word to their network? Unless your one-time purchases are worth a lot of dough, we're going to go ahead and say you'd rather have option two: recurring revenue 😉.
We covered a lot of information in this episode, and we hope that it inspires you to work membership options into your product or service offerings!
Book a
15-Minute
Discovery Call
Curious about how Amplomedia can help YOU properly set up membership access on your website? We'd love to help!
Schedule a quick discovery call with Lance so that he can assess how we can best help you and your business.