In episode 64 of Amplify Your Business, we take the series international and sit down to interview Hamid Nazari, Founder and CEO of Monosens, a software-based manufacturing technology company based in Tehran, Iran. Watch as Hamid describes how his business operates, how they have grown, and what it's been like for him to scale an international startup.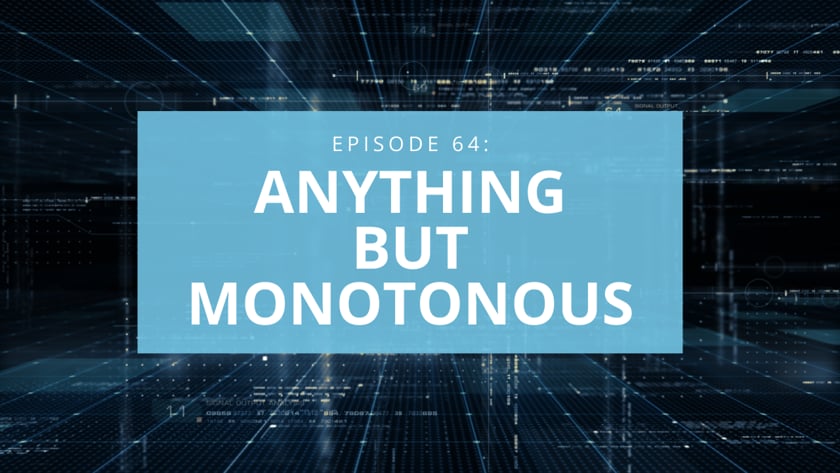 (00:57) Tell us about Monosens Technology. What is it you do?
Monosens Technology is a platform that helps industrial machinery manufacturers predict which of their machines need maintenance or after-market services and spare parts. For example, when a machine is delivered to a factory, we make it easy for them to manage what maintenance is coming up in the next month or year.
We collect a lot of data and use it to extract useful information that can predict the useful life of the machine and what possible maintenance is coming up or will be required.
() So you're using the internet, as well as artificial intelligence, to predict things like the lifetime and maintenance requirements of equipment? How does this all work?
Our platform has three parts. The first is collecting data with wifi aura technologies, using wifi for smaller pieces of equipment and aura for larger areas. After collecting the data, the most important step is to understand the data. The data we collect are raw and cannot be easily worked with. To do this, we use deep learning in order to extract information from the raw data and present it on a dashboard where the user can see what's going on in the machine, like whether there are problems, what the problems are, and what parts of maintenance it may require. This dashboard also helps to predict the remaining useful life of the machine or if it is predicted to fail within the next 30 days.
(4:54) What industries are you servicing with this technology?
We are currently working with industries related to rotating machinery, such as pumps, turbines, and gearboxes. However, we're targeting low-voltage electric motors. Many different machines across a wide group of industries rely on these types of motors. 
For example, one part of our business here in Iran is focused on the packaging industry - many of their machines rely on these motors.
(06:25) It's fascinating that you're a start up out of Iran, but decided to set up your first international office in Calgary. What attracted you to Calgary, and more broadly, Alberta?
I already had great connections to customers and other organizations in Calgary, like their Economic Development group, that helped us start. Our network here is really what made it easy for us to set up. My co-founder has already moved to the city and started our office there!
(08:00) With Alberta being a hot-bed of oil and gas and manufacturing, it certainly makes sense. But on top of that, Alberta has done great things in the AI and machine learning sphere. Did this play a role?
Absolutely. Business is not just managing or producing a product. Being close to knowledgeable and skilled people in these fields, even our customers with experience in those areas, are incredibly helpful for taking the product to the next stage.
(08:59) Speaking of the next stage, what's the future for Monosens Technology?
We want to deliver sensors to customers, completely free, only charging customers based on the data they use. We want to move away from being a hardware company and towards an AI-focused, software company. 
The data we use is not just for the end user. I can be shared with different suppliers and manufacturers to help manage their monthly inventory, for example. We can leverage the data we collect and sell it to others along the same supply chain.
Also, data is unique in that competitors cannot do it cheaper. Hardware can be produced more cheaply and sold at a lower price by using inexpensive materials, but data has its own intrinsic value for the customer that cannot be undercut.
(11:55) That's brilliant. So where are you operating now? Are you completely global, or focused just on Iran and Canada?
Since the first day of our start-up, we've wanted to be a global business. We have customers in Turkey and Canada, as well as many local customers in Iran, but we have plans to expand more broadly with a more commercial version of our product available in 2022. We're also connected to international companies in Calgary, like Rainmaker Global, who will help us expand further into regions like Europe, South America, and Asia.
(14:47) As a global entrepreneur, what are your biggest challenges?
In Iran, there are many restrictions from Europe because of economic sanctions. It isn't easy to export products. Some countries are easier than others, but western nations are hard to connect with. Calgary has been great for us because it has enabled us to connect with industrial manufacturers in Canada. 
Connecting with people in other countries, particularly countries that present opportunity but are harder to break into, creates more opportunity for you to grow your business, and maybe even change your life. COVID-19 actually presented an opportunity for me, because it made it easy to meet people and introduce yourself online, instead of getting on a plane and meeting people in person.
COVID has leveled the playing field. Previously, meeting venture capitalists in countries like the US would have been near-impossible, but now I've been able to connect with a firm in the US that can help us by giving feedback and providing investment, opening up doors in the future. I like to see every problem for the opportunities it can present, and COVID-19 has been a great opportunity.
(19:00) So what has it been like for an Iranian company to connect with Canadian and American investors? Has it been difficult?
When it comes to investment, the sanctions make it difficult. But, having our co-founder and an office in Calgary gives us a foothold here, making it much easier to raise money.
I don't want this business to be a local company. I want to be international, and for this reason, I am looking to move the company to Canada.
Book a
15-Minute
Discovery Call
Curious about how Amplomedia can help YOU with your marketing?
Schedule a quick discovery call with Lance so that he can assess how we can best help you and your business.