In Episode 9 of Amplify your Business, Lance Johnson had a great discussion with Gordon Sheppard of Expert Training Solutions about some of the reasons why organizations should look to making a shift to online learning, even after this period of social distancing, and how to go about setting up your eLearning project for success.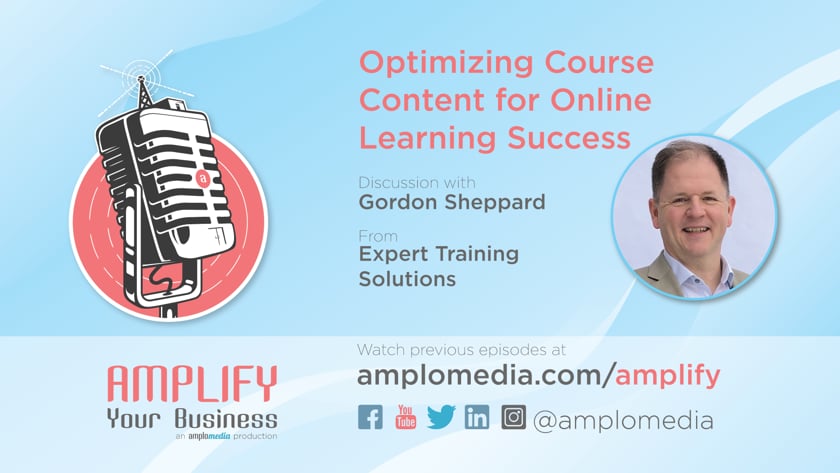 Below are a few of the valuable bits of information you can find in this week's episode:
Online learning has a place even after the COVID-19 pandemic is over and workforces return to the office. (5:18)
There is no denying the importance of eLearning solutions right now, as organizations deal with remote employees and members, often for the first time. But with the time it takes to create a successful eLearning course, is it worth diving in now, as workplaces are starting to open back up? The answer is yes. Whenever you invest in training you are providing benefits to your members and helping your employees to go further, faster. Online training allows you to take your expertise and optimize it for efficient, flexible delivery. This means that individuals can work towards course completion from where and when they learn best, all the while fulfilling their requirements. Integrating eLearning into your organization can also help close generational gaps in your organization by integrating the expertise of the more senior leaders with the innovation of the younger workforce. Not to mention having a properly laid out training program that proves your investment in your people and their careers is a phenomenal way to stand out as an employer in today's market.
Cost doesn't have to be a barrier to entry when it comes to eLearning. (16:00)
Let's get real for a minute - eLearning projects can be a fair investment of both time and money. But that doesn't mean you should write off online learning for good! What's important is that you are aligning your budget with your goals, as with any other business endeavor. So before you jump in, think about what the purpose of your course is. What do you need your employees or members to accomplish, and why? If you have a heavy volume of critical, complex training that requires verification of results and certifications for each course completion, then you may be looking at a higher budget operation. However, eLearning is great because it can be flexible. For instance, you could chunk your course down into smaller, bite-sized 'microlearning' segments and create them over time. Additionally, technology is such now that you don't have to spend a ton of money when you're creating simple content. We've worked with some really great online eLearning platforms and tools that enable you to create simple, but effective, course content that gets the job done without getting bogged down in the weeds with complex software. 
Also, if you're experiencing a bit of sticker shock when it comes time to sign a contract for your project, think of it this way: If your training is necessary, and otherwise you would be organizing an on-site retreat or seminar with speakers, food, travel, and even lodging for out of town individuals… well, you'd be looking at a pretty big bill at the end of the day. When you go about creating an eLearning course in a strategic way that's in line with your goals, it can actually be more cost-efficient (and time-efficient) than most traditional, in-person learning methods!
Organizations should know about these often overlooked aspects when starting an eLearning project. (25:35)
There are a couple of aspects of eLearning course creation that are often overlooked during the planning process, and they are production time and budget. Building an online course is a big undertaking, and it's not uncommon for questions and conversations to arise partway through production that result in a need to either add time and budget to the project or to lessen the complexity of the course and even look at cutting out pieces of content. In order to avoid this, we recommend the following:
Set aside 3 to 5 discovery meetings with your key senior people fully engaged - understand your strategic goals, wireframe your course content, and consider if knowledge checks (quizzes) will be required.

Understand your organization's pain points when it comes to why eLearning has been unsuccessful or underutilized in the past, and work to come up with internal solutions to ensure you will make the most out of your investment.

Allocate an additional 20-30% to your initial budget structure as well as your production time to account for unforeseen hiccups along the way. For example, if a subject matter expert gets sick and needs to delay content creation.
Including a resource section makes your eLearning course(s) a relevant asset, even after completion. (46:41)
Think about what happens after an individual completes your course. What do they do with the materials? Do they ever revisit the same course again for a refresher on what they've learned? Including a resource section is a great way to turn your course from just that, a course that is taken to be successfully completed, into a 'living' strategic digital asset for employees and members to keep alongside them as they continue along their journey with your organization. Think about external sources that were used to help research during content creation, along with any links to relevant legislation, government, or other third party resources that could expand upon your course or be otherwise useful down the road. Another spin on a resource section is to include a glossary of terms that people may need to look back and review at a later date.
Being strategic about your content creation is key to building successful eLearning materials. (55:50)
When we create eLearning courses it's common for the client to provide us with the course content. However, it's also common that we end up having our writers do a lot of editing to that content, which incurs additional costs - both time and money. This is because a writer, specifically someone who is experienced in writing course material, is not always the same person as your blog writer, your social media content creator, someone else on your marketing team, or even your subject matter expert. It is best to have a professional writer from the start who can extract information from your subject matter expert in a way that is comfortable and efficient. Whether that is a zoom call, an in-person interview, or simply having the SME put pen to paper and write their thoughts out, a professional writer will be able to turn that valuable information into digestible content that is suitable for an eLearning course, without the extra editing time and cost!
That said, if video is a key element in your course, your subject matter expert may not be the one who ends up delivering the material on screen either. No matter how savvy someone is on a topic, it doesn't necessarily mean that they were born to be on camera! We've seen plenty of experienced, knowledgeable individuals with incredible amounts of valuable information to share with an audience shrivel up and become awkward and uncomfortable on camera. In these situations we simply find an 'actor' to be your on-camera personality and feed them the information that needs to be delivered!
If you're crunched for time, you don't need to have a full course created right out of the gate! (60:47)
When a project has a set deadline sometimes we find that the day that the project needed to be started in order to deliver on the requested date within the available budget constraints has actually come and gone. That's simply a result of organizations not fully understanding the scope of the production side of things - which is completely understandable, and why we are involved in the first place! In these circumstances, there are a few options. First, it is important to understand that you don't have to have a finished product to launch! Gordon calls it a 'minimum viable product', and we love that. It doesn't mean that your course is lower quality than what it should be, it simply means there is more to come. So, a course could be released in versions. Version 1 would release on the original go-live date and would contain however many chapters or modules that were able to be created in that timeframe. That gives the production team time to work on Version 2, which is simply the addition of the next iteration of modules, while your employees or members are working their way through Version 1. This way no content needs to be cut from the course, and everyone still gets started with their online learning on time and on budget!
There are a lot of different ways to leverage eLearning for your organization and a lot of ways to put together a successful course. The bottom line is that you, as an organization, need to determine your goals, your budget, and you need to find a production team that you trust to get you to the final product (and if that's us, hey, we're happy to work with you!). We encourage you to watch the full episode to dive deeper into some more of the budgeting and content creation tips and tricks, and please reach out if you have any questions about what was discussed!
Book a
15-Minute
Discovery Call
Curious about how Amplomedia can help YOU leverage eLearning? We'd love to help!
Schedule a quick discovery call with Lance so that he can assess how we can best help you and your business.