This week on Amplify Your Business we're joined by Jade O'Hearn, CEO & Founder of Pachira Social Enterprise. In this episode we'll learn all about what Pachira is, how it works, how their team is helping small and local businesses grow their market share, and where the company's name came from. Today's episode is sure to inspire you to get into the giving spirit!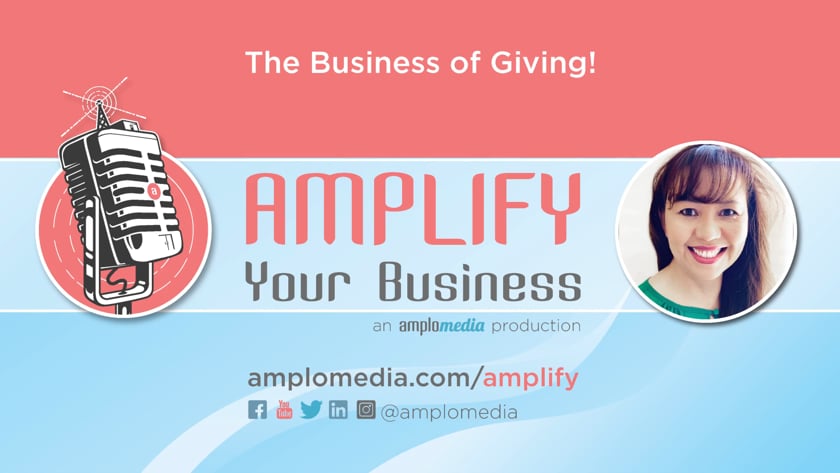 What does Pachira Social Enterprise do? (0:35)
A charitable management software company startup in Calgary Alberta. What that means is that they've built a web app platform that allows users to earn funds towards their individual giving account. Within this 'virtual piggy bank' the users collect these funds and then later redirect to support and donate to social causes or charities that resonate with them. Pachira's platform also has an online marketplace that connects businesses to their user base, which is how they earn these funds. They're working to support small and local businesses across Alberta, which is so exciting! 
What types of companies or businesses are on the platform? (1:50)
Pachira was incorporated in February 2020 and at the time they were really concentrating on bringing in local and small businesses. Then the pandemic hit! Jade and her team had to pivot quickly when these smaller businesses weren't sure if being on the platform was the best move for them at the time, given the uncertainty of everything surrounding COVID-19. As a result, Pachira now has over 1,600 popular online retailers such as Home Depot, Walmart, Amazon, etc. 
Not to worry though, local and small businesses are still on Pachira's radar and they're starting to re-engage with those merchants now that there is a little more stability in the economy. Jade and her team are thrilled to be able to help smaller businesses or those just starting out reach new audiences and expand their market share.
So, how exactly does Pachira's platform work? (3:40)
When a consumer shops online using Pachira's platform they can purchase all the same items they normally would from these retailers and other businesses, the only difference is that once the purchase is completed the consumer receives funds into their Pachira account. Those funds can be saved up and later donated to the social cause or charity of choice! As a consumer, the shopping experience isn't impeded at all.
It works a lot like many other of those online rebate platforms out there, but Pachira allows you to put those funds directly into social causes. Pachira is right in tune with the growing desire to give back and contribute to improving our global community.
Another way to describe Pachira is a fundraising, crowdfunding platform. (6:22)
Unlike other online rebate platforms Pachira is striving to empower individuals to give, and give their way. Built within their charitable management software is a fundraising, crowdfunding platform. Pachira has over 800 charities within their marketplace, but they also invite sports teams, University athletic clubs, church groups, and other social initiatives to consider using their platform.
Right now Jade's team is onboarding a social club called The Pathfinders and Adventurers in Alberta. Their group is about 12,000 members strong, and they're saving up for an important convention coming up in August 2024. Pachira is a great, safe way for their members to raise funds and prepare for the big event, and all members have to do is direct their online shopping through Pachira! Talk about empowering the next generation of changemakers and leaders.
Can you speak to the credibility of the charities on Pachira's platform? (10:10)
Pachira has an alliance with Charity Intelligence, a third-party organization that assesses and reviews charities according to five different criteria. The charities are then given a star rating up to five stars, and Pachira only partners with charities who have earned that full five star rating. Why only five star rated charities? Well, they've learned that one of the barriers to giving in the younger generation is a lack of confidence in choosing organizations that will use donations to create the impact which the giver is looking for. 
Pachira does invite other charities to reach out to them directly if they feel that the platform could be a good fit to help them reach their causes, and those are taken on a case by case basis after a vetting process is completed.
What types of criteria should local businesses be aware of if they would like to be considered for Pachira's platform? (12:05)
For local and small businesses Pachira ensures that they are incorporated first of all. This helps build confidence and a sense of legitimacy of the business among the consumer base. Jade and her team will also speak with the founder or owner of the company to make sure that there is alignment of values between both the applicant company and Pachira. They're looking for a giving spirit, and a key factor is the company looking to implement or already having implemented some aspect of corporate social responsibility into their business model. An open, honest and transparent conversation to determine fit is really more important than a checklist of criteria. 
Is there a minimum cost or a required percentage that goes into the 'virtual piggy bank' for the consumer? (13:55)
Yes, Pachira does ask for a 15% program fee (of total sales, before taxes). Of that 15%, 10% is placed into the consumer's account while Pachira retains the final 5% for further business development and upgrades to their platform technology. 
Does the business need to have an online store in place already? (15:02)
If the retailer already has an online presence, that certainly makes things a lot easier. However, it's not a requirement. Within Pachira's platform is what's called a web card, created for any retailer that doesn't currently have an online presence. Pachira's team takes care of the web card design according to each business' branding requirements PLUS they host the web card online for free - wow! The products aren't actually kept on the web card, but this web card essentially captures what the company is about and how to locate their brick and mortar store. Consumers who shop at these physical businesses can simply upload their receipts to Pachira and that is how they receive their funding!
Pachira is hoping in the next couple of years to implement a receipt scanner into their app to streamline the process for consumers, so that's something that their 5% program fee goes towards.
What sort of geography is covered by Pachira? (20:17)
Right now Pachira is limited to Alberta with retailers and small businesses, but not-for-profit partners are Canada-wide. The focus is on managed, intentional growth to ensure that they are able to provide the highest level of service to all of their users.
What is a social enterprise? (21:51)
Being a social enterprise company is kind of an intersection between profit and purpose. Pachira likes to consider themselves smack dab in the middle of cause and commerce, but there is certainly a spectrum of social enterprises. On the one hand you could have for profit organizations focused heavily on corporate social responsibility, while on the other you could have a not-for-profit organization that utilizes a conventional business revenue model in their organization. The social enterprise ecosystem is definitely still developing, which is another layer of challenge for the Pachira team when it comes to choosing which partners to onboard. 
Where did the name Pachira come from? (23:45)
Pachira comes from the Money Tree, which across many cultures is a symbol for giving, well wishes, and prosperity. It really encompasses the giving spirit that Jade and her team are so passionate about. Forty years ago Jade's parents came as refugees from Laos with their children in tow, and they are so grateful to have been 'adopted' so to speak by Canada on arrival. Jade remembers her father telling her that Canada was now her home, and it would always be her responsibility to give back and give freely to her new community. Read more of Jade's captivating, inspiring story here. 
Is it accurate to say that people, especially younger generations, are gaining more of a desire to give back, and do things with purpose and intention? (26:04)
Pachira discovered during their research that 82% of millennials make a choice to purchase from companies that have that corporate social responsibility aspect to their business model as opposed to those that don't. The giving ecosystem is huge across Canada, it accounts for about 16.5% of the Canadian GDP, and Jade sees that only continuing to grow as we come out of the pandemic. 
Thanks for tuning in for another episode of Amplify Your Business, we hope you enjoyed learning all about Social Enterprises and how Pachira is helping to grow the giving ecosystem in Alberta! Let's all keep thinking about how we can give back to our communities.
Contact Pachira:
Email:
info@pachira.ca
On social media:
Twitter: https://twitter.com/pachira_empower
Facebook: https://www.facebook.com/pachira.empower.giving
Instagram: https://instagram.com/pachira.empower.giving?igshid=dlb23q204xm3
LinkedIn: https://www.linkedin.com/company/pachira-social-enterprise-inc/
On their website:
https://www.pachira.ca/
Book a
15-Minute
Discovery Call
Curious about how Amplomedia can help YOU with your marketing?
Schedule a quick discovery call with Lance so that he can assess how we can best help you and your business.