Hello and welcome to another wonderful episode of Amplify Your Business! We started this web series back in April as a result of the Covid-19 pandemic because we wanted to help small businesses get through a tough year by giving them free digital marketing advice that they could take away and use immediately to help pivot their business online - a definite necessity in 2020. When Lance first dreamt up the concept for Amplify Your Business we thought "Ok, super cool, but ambitious. Produce a weekly web series in the middle of everything else going on, not to mention our existing projects? That's a tall order." Nevertheless, we gave it a go and here we are… 31 weeks and change later, at the start of Alberta's second provincially mandated lockdown. So, while we thought Lance was a bit off his rocker for wanting to start a weekly web series in the middle of a pandemic… other people were busy starting full-on businesses. Meet Franco Maione of Vima Realty, a brand new real estate brokerage located in downtown Edmonton with a slick new business model. We had a couple questions for Franco including "Who the heck starts a real estate brokerage in the middle of a global pandemic??" Listen in to this week's episode to find out.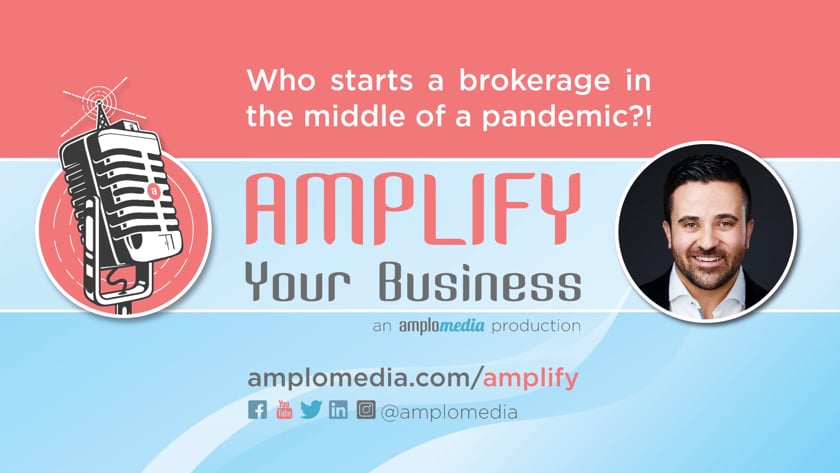 What sets Vima Realty apart from your standard real estate brokerages? (0:30)
Those of you who aren't realtors and never had any interest in becoming realtors may not know this, but the standard 'big box brokerage' model actually results in a lot of overhead for agents. These brokerages are focused on their brand and their business, leaving their agents on the hook for things like desk fees (yeah, just to have space in the office they work out of…) and marketing costs. Agents with these brokerages leverage the power of the brand they work underneath as a catalyst for success, which can be great but doesn't help much when the agent has a slow month and is staring down a stack of bills and fees to pay.
Vima Realty flips the system on its head and helps position the agent for success by making the agent the superhero of their own story. As Franco says, Vima is NOT in the real estate business, they are in the business of serving and empowering realtors. So how do they do it? They introduce a new way for agents to conduct their business in the most efficient way possible by utilizing some of the industry's most advanced and innovative technology tools, as well as providing coaching and training to help them create a solid business for themselves. After all, home buyers and sellers don't actually pay as much attention to the brokerage since they're having conversations and building a relationship with the agent directly. Vima allows agents to focus on what matters - their clients - while they take care of a lot of the overhead that comes with working under the umbrella of a big-box brokerage. Neat, huh?
Let's talk tech. (5:03)
Listen, we all know how much technology has evolved over even the last decade and how vital it is to doing business in this day and age. But not all technologies are created equal, and Vima Realty not only knows that but uses it as a key selling point for their brokerage. They've invested big time into "less than a handful" of tools for their agents to use - tools that would be tough for an agent to invest in out of their own pocket. And it's "less than a handful" because they've done the work and researched the BEST of the best in terms of industry-specific technology. There's no need for them to present their agents with an overwhelming amount of options because the tools they have work and work well. Entrepreneurs often downplay the importance of having high-quality technology and fully functioning back-end systems set up and ready to go because of the cost, but really these tools pay dividends down the road as they streamline procedures and optimize marketing efforts. Plus top of the line tech can help big time if a business needs to make big changes or pivot on its heels, you know, like in case of a pandemic that forces global economic shutdowns
.
Franco breaks down three of Vima Realty's top tech tools in the episode, so definitely give it a watch if you're a tech geek (like the majority of our team is), but one, in particular, caught our attention, Studio HQ. What Studio HQ does is provide an interactive digital listing brochure that leverages the power of storytelling to bring emotion to the forefront of a real estate listing. Seriously, no more "Look at this pristine 3 bedrooms 3 bathroom walk-out basement on an established, tree-lined street in a top-notch school district." That's great and all, but it doesn't really paint a picture in the potential buyer's mind wherein they see themselves living life and making a home in this property. We love the concept of these interactive brochures that feature storytelling and video in a way that not many real estate listings are currently using.
The spark that started the flame. (11:10)
Franco has previously worked in the real estate industry as an agent, so when exactly did he get the idea to get Vima Realty off the ground? Well, quite simply, when Covid-19 entered our lives. There are a lot of negative things one can say about Covid-19 but there is certainly no denying that the world's most famous virus is responsible for some creative business moves.
The real estate industry, along with many others, suffered some dramatic blows when the pandemic really started to take over our lives back in the spring. That shouldn't come as a surprise, because in a world where the closest we can safely be from another person is six feet apart and even family members, let alone strangers, are persona non grata in our households, it's hard to imagine participating in things like open houses and agent-led house showings. Not to mention the fact that economically a LOT of people faced financial challenges, which doesn't exactly make for a great time to go out looking for a snazzy new home to purchase. So with canceled showings, open houses, and a lack of leads, agents found themselves in major cash crunches when it came time to pay their overhead and marketing costs. Enter the concept for Vima Realty. A modern brokerage that solves a lot of the problems that a modern real estate agent is facing (and frankly, has faced for years). Agents mostly operate remotely while still having that traditional walk-in option with the help of co-working spaces and a client meeting room. Without a massive office space and permanent desk space for their agents, Vima operates with a lower overhead allowing them to provide the tools & tech necessary to accomplish their goal: empowering agents to better serve their clients. It's a win-win.
Starting a brokerage in a pandemic, why though? (14:39)
So Vima Realty opened its doors in October 2020. The concept is there, we get that, but why would Franco want to take that leap and actually start up the business right now? Why not wait? Well, he says it was actually easier than you'd think to pull the trigger, even though there is a lot of fear going around right now. Fear about personal finances, businesses going under, and even entire industries collapsing. But to take a step back, people will always need to have places to live, and that means that real estate isn't going anywhere. The housing market ebbs and flows in terms of pricing for sure, but so long as there are buyers and sellers it will always be there. Franco also notes that pandemics have happened before. Not to put a damper on the severity of Covid-19 for today's world, but the world has seen and conquered these situations before, businesses and their owners have adapted and moved on. So, while Covid-19 has challenged realtors in many ways, there isn't a brokerage out there that is really jumping on board with adapting their business model to help their agents. Franco's leap of faith positions Vima Realty to fill a space in the market and lead the way for change in the industry as a whole. Bravo, Franco, we love that!
Complexity is the enemy of execution. (17:40)
Vima Realty exists, but what about their agents? How does a start-up brokerage find realtors willing to jump ship from some of those big box brokerages and join their ranks? It's not easy for agents to leave brokerages, there's loyalty, relationships, a sense of security, among other things that keep them tied to those desks (fees and all). Plus, Franco isn't about poaching agents from other brokerages. It's a small community in Edmonton, about 3,400 realtors, and having respect for the competition is an important and admirable part of what makes Vima so great. 
With that delicate balance of needing to build up the number of agents attached to Vima Realty without poaching or being 'shady' about it, how have they managed to capture some early adopters? With a simple, straightforward, and powerful agent value proposition. Keeping it clear and concise allows realtors who are considering a shift to really easily understand the value they'd get from Vima. There is no dancing around the subject and fluffing it up with fancy language, with Vima, it is what it is. Franco takes that clear value proposition and delivers it in combination with the power of storytelling to build trust and respect for their brand and has himself a winning pitch.
Isn't this show about digital marketing anyway? (21:25)
We had a ton of fun listening to Franco's story about the beginnings of Vima Realty, but it's time to give him some of what he came for - digital marketing advice to help amplify his business! 
First up: organic marketing.
Let's be real, sometimes small businesses don't have huge budgets to toss out into the pay to play world of Facebook and Google advertising. And even those who are lucky enough to have those deep pockets still need to keep up on the organic (read: free, except for time & effort) side of things. So, Lance really wants Franco to put an emphasis on education; teaching their social media and email audiences about the WHY behind Vima Realty. Why do they choose to invest in tech, why do they operate out of a smaller space, why do they focus on taking so much of the burden off of their realtors. It doesn't have to be negative pieces about the competition, in fact, smear campaigns will often garner entirely the wrong type of attention. Focusing on Vima's reason for being is really the way to go here. Testimonials are also an excellent way to showcase the benefits that realtors would see by working with Vima. Lance suggests getting some of those early adopters to hop on a video and deliver some key messages about what made them make the switch. Keeping it conversational, lighthearted, and focused on the shared pain points that realtors have in common makes the testimonial come across very genuine and not at all forced or salesy.
Now, we have to touch on paid marketing.
Even on a shoestring budget, paid advertising is important. There are strategies to use that help keep costs down (check out our Amplify Your Business archives for more!) while vastly increasing reach and getting key messages in front of the right people. What Lance wants Franco to focus on is lead nurturing. Realtors aren't going to make the jump from one brokerage to the next at the drop of a hat, it takes time and research for them to come to that decision. Campaigns need to nurture them down that funnel by putting dollars behind things like Facebook lead forms or video ads that send interested clickers to a landing page with a web form. From there Franco can look to keeping Vima top of mind by remarketing on social media and Google while simultaneously dripping out valuable content via email - after all his email marketing software is top of the line! Basically, instead of trying to close them at the top of the funnel, the goal is to get them to dip their toes in the Vima Realty water so that they can learn over time about the benefits that they could have by becoming part of the team.
Show, not tell. (29:12)
There's a reason that webinars are so widely used in sales funnels, regardless of industry. They work. What webinars allow a business to do is a) capture the information of interested leads for future nurturing and b) SHOW the benefits that they offer potential customers. In this case, Lance suggests that Franco leverage webinars to really showcase the technology and tools that Vima Realty provides for their agents. Talking about it is one thing, but it's hard to deny how much easier best in class tech can make a person's life once that person sees the tech being used right in front of their eyes. Then again, as with paid advertising to generate leads, remarketing to these webinar registrants and keeping them up to date on all things Vima Realty via email will help keep Franco and his team top of mind when these realtors are finally ready to make the leap from big box to big value.
Don't be afraid to coach. (31:20)
Last but not least, Lance takes us back to testimonials for one last quick tip. Don't be afraid to ask the person giving the testimonial to articulate their message in a way that addresses objections and pain points a little better. It may require more than one take, but giving a little coaching will really help make sure that the end viewer is going to get the most possible value out of watching that testimonial video. We're not saying ask them to lie - that's a big no-no - but prompting them to articulate their own original thoughts in a way that is digestible and informative for leads will really take their testimonial to the next level and pay off big time.
We hope that you continue to get loads of value from our Amplify Your Business episodes because we certainly love making them. Through this web series, we've gotten to learn about so many amazing small businesses like Vima Realty and we're truly inspired by the amount of dedication that today's entrepreneurs and small business owners have. And hey, if you happen to be a real estate agent looking to make a change, definitely get in touch with Franco by email (franco@vimarealty.com) or phone (780-975-3339). He'd be more than happy to have a conversation!
Book a
15-Minute
Discovery Call
Curious about how Amplomedia can help YOU with your marketing?
Schedule a quick discovery call with Lance so that he can assess how we can best help you and your business.