In this two-part episode of Amplify Your Business, Lance interviews Matt Hodgson, Co-Founder of Outbreaker Solutions. Outbreaker is a local biotech startup that creates antimicrobial plates made of, you guessed it, salt. Just pure table salt. Who knew salt had germ-killing abilities?! With the current pandemic, slowing the spread of germs and bacteria remains paramount.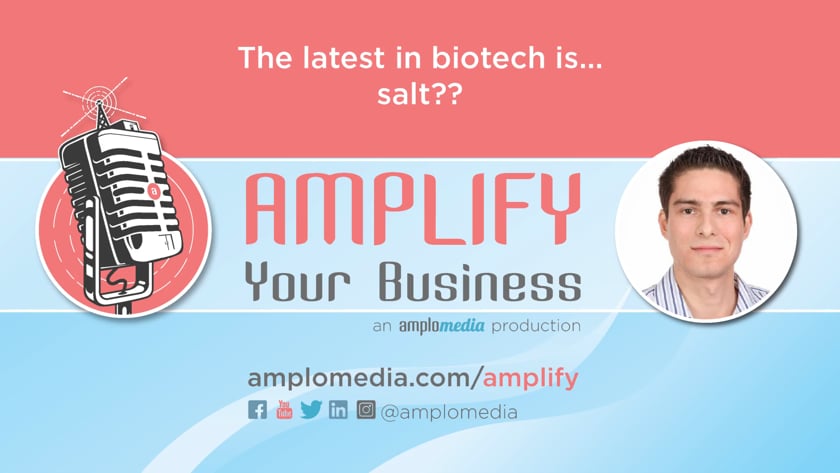 What is Outbreaker Solutions? [0:23]
We're a local biotech startup in Edmonton. We've researched and developed an antimicrobial surface made from salt. Yup, pure table salt. When you compress salt, it becomes a ceramic-like surface that does a good job of killing germs, bacteria, and fungi (about 99.9% are killed within the first few seconds). 
But how does it work exactly? What's the science behind it? [2:06]
It's a really simple but effective concept. 
On a molecular level, pathogens (like bacteria and viruses) are housed in a tiny water droplet. When a pathogen lands on the salt surface, a tiny bit of salt dissolves into the water, dries up, and recrystallizes. The actual bacteria or virus is effectively ripped apart and destroyed in the process. Salt has been used for a long time to preserve food, but only now is its antimicrobial powers being brought to light.
How long can we expect a salt surface to work before it needs to be replaced? [3:12]
They're expected to last a long time. At least a few years.
Our salt plates are about a centimetre thick. The amount of salt that erodes from day-to-day use is miniscule. So, until you're through that full centimetre of salt, it could be years before it would need replacing.
How did the business start? [7:25]
About seven years ago, my business partner, Brayden, randomly met the original inventor of this salt block technology, Doug Olsen. Over time, we've formed a relationship with Doug to help commercialize this product. 
There wasn't a lot of research to back up this technology at the time, so we worked on developing a research program to gather data. Another point in the process involved securing the intellectual property and filing the patent. Now, our efforts lie in developing more products and making them more accessible to consumers. 
What was business like pre-covid and now? [10:02]
The Covid-19 pandemic has presented a number of fascinating opportunities for Outbreaker. 
Before Covid, we focused on bacteria, particularly with antibiotic-resistant bacteria in medical, hospital, and healthcare settings. 
Now, Outbreaker has shifted gears to focus on viruses and viral transmission. We won an innovation challenge from Roche Canada and received a grant to kickstart research testing in partnership with the UofA. In this research, we tested the novel Sars-Covid-2 strain directly on the salt plate. We hope to have these results published very soon. 
As well, we recently partnered with the Edmonton Transit System (ETS) in a six-month pilot program. In it, several salt push-plates have been installed in different transit centres throughout Edmonton.
The spread of pathogens has always been a concern but since the onset of the pandemic, more and more people are becoming hypervigilant about the bacteria that exists on everyday surfaces, and the risks of getting infected from poor hygiene practices.
How did the pilot program with ETS come to be? [13:25]
It was a lot of work over a long period of time. 
Before the pandemic, we met with the City to explore ways in which the City could support their innovation as a local startup. We also met with ETS who displayed a keen interest in forming a pilot together, but not immediately - until the pandemic started.
The City is a huge entity made up of many different layers. The amount of time it takes to speak with various people and stakeholders from various departments is substantial. Coming through to finalize and implement this program has been extremely gratifying. 
I'm a strong advocate for government institutions supporting local startups by implementing more pilots. It really makes a huge difference and doesn't have to involve huge sums of money being exchanged.
As for our pilot with ETS, our end goal is to get an academic publication peer-reviewed and published. We hope to share the data and research gathered from this pilot by late summer / early fall 2021.
Are you making sales right now or are you still proofing the concept before taking it to market? [18:14]
At this point, we're still in the data collection phase. 
One of the main things we need to overcome is this regulatory hurdle. An area that we operate in, as a nature of the product, is protected health claims. In order to make the claim that our product "effectively kills up to 99.9% of germs and bacteria", we have to pass this through the EPA, Health Canada, and other regulatory bodies in the United States. And that takes quite a bit of time.
As for sales, we hope that by Q3 or Q4, we'll have something to bring to market.
What are the lessons you've learned from this experience as an entrepreneur? [20:44]
Patience is a big one, along with its close relative, perseverance. 
It's important to note that the market we're trying to break into is still in its infancy. So a lot more patience is required when convincing regulators, early adopters, and other innovators that this brand new, never-seen-before product and technology is really worth its salt (no pun intended).
Book a
15-Minute
Discovery Call
Curious about how Amplomedia can help YOU with your marketing?
Schedule a quick discovery call with Lance so that he can assess how we can best help you and your business.