In episode 66 of Amplify Your Business, Lance speaks with local serial entrepreneur Shauna Madsen about her journey as a small business owner and how she is using her experience to empower other entrepreneurs in the community with her innovative new platform: Skip The Big Box.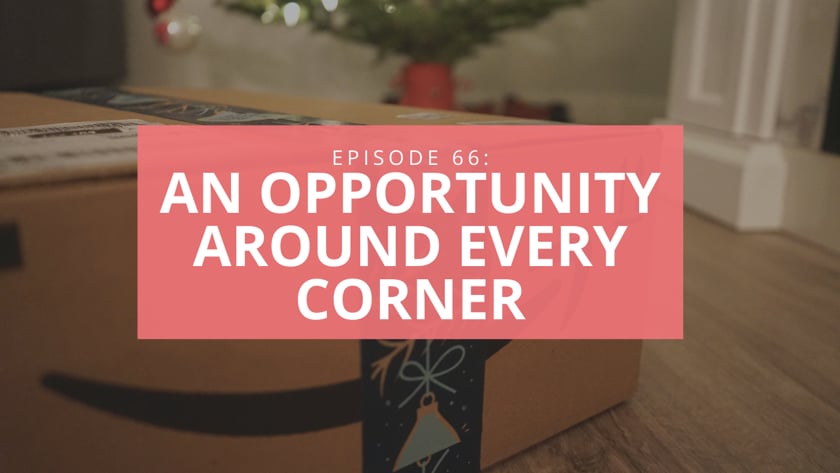 (1:07) So Shauna, you have a long history as an Entrepreneur. The first business you started was Madsen Avenue. What's the story behind that?
We are a marketing, branding, and planning company, but it started in 1988 as a stationery company. People start businesses for many reasons, any mine was a necessity. As a single mom, I needed a job that could support my family, but my options were quite limited. I had a printing press in my basement, and had the idea that I could print business cards for successful business women across Canada.
I saw an ad in the paper for a program that invited small business owners to share their ideas. So, I applied! I was about six weeks into the program when we started working on pricing and financials, and I realized that I could not make any money on this business. I explained my problem to the instructor, and she said to conduct more research. I started interviewing companies and suppliers in Edmonton, and I found a product that had not yet hit the market: recycled paper. 
I learned everything there was to know about recycled paper. Luckily for me, this was at the start of a big environmental push and I found my niche by supplying recycled paper products to businesses. Over time I grew my small press in my basement into a company that offered marketing, branding, and planning services. As of today, we do lots of business planning work. Our Encore CEO program is an award-winning program emphasizing value-based business planning.
(4:48) When did you start with the Encore CEO Program?
We started developing it in 2019 as an online program, launching it in January of 2020 immediately before the COVID-19 pandemic shut everything down. This forced us to sit back and take things in. The small businesses we catered to were scared and uncertain, and everyone was starting to go online. We stopped what we were doing for the time.
Later in 2020, I was delivering one of my paintings to a client in November, and we discussed the situation in the world. I thanked the client for supporting local artists, and they informed me that they would support everything if they could, but they didn't know where to find these businesses. At that point, a lightbulb went off in my head. Skip The Big Box was born.
(10:01) Tell me more about Skip The Big Box. How was it formed, and what type of businesses do you have in your database?
Skip The Big box is built on a strong directory technology, making it highlighly searchable and easy to find small businesses. My previous experiences were heavily informative to Skip The Big Box - I opened an Art Gallery in 2005, and I remembered the difficulties imposed by the constraints of being a small business, which have only been amplified by COVID-19. 
We provide an easily searchable, online directory for Alberta-based small businesses, with plans to expand in the future. Many merchants feel that Amazon has heavily impacted their sales. My research tells me that despite popular claims, Amazon does not always provide more convenient or better service, but they have the money to throw at marketing to make consumers believe they do. At Skip The Big Box, we want to give small businesses that same ability to be easily searchable and discoverable by members of their community.
(14:32) You have lots of different businesses like services, products, home businesses, and many more, correct?
Yes, as well as business-to-business. Anyone who has a passion for supporting small businesses should be using our platform. Businesses can be added to the directory by signing up on our website. Our memberships start at $27 per month. 
We've also built a marketing program based on targeting categories of messaging. While it's not based on specific businesses, we like to spotlight our members, because it helps to build connection and trust with business owners and encourages customers to visit them! When was the last time the CEO of any large company thanked you for doing business with them? Visiting your favourite local business is an experience. Customers like to be recognized and appreciated. The ultimate advantage of small businesses over big box stores is our authenticity and the fact that we come from the heart.
Consumers are also more inclined to support local businesses than they ever have been. People are more aware and conscious of where their money goes, and they understand the benefits to shopping locally, from putting money back into their community to reducing their carbon footprint. I believe that COVID has slowed us down and forced many of us to look at our values, and we are starting to realize that we want to build relationships with people, not just shop at the big box stores.
(24:12) You are an entrepreneur at heart. Is this natural to you, or do you spend lots of time sitting down, planning, and strategizing before seizing an opportunity?
It's a little of both. I'm creative, so I see ideas everywhere, but I've learned to look at the big picture around opportunities. I like to say "slow down to move forward". Take a look at what it is you actually have to work with. 
Don't forget to build your business on a foundation of values. When you are authentic to yourself and your values, things seem a lot more simple. It's easy to look at "gurus" who promise success after following their programs, but that won't work for everybody. Often, keeping things simple and slowing down is the best approach.
(26:31) Where do you see the opportunities for the average small business, going into the next year?
It depends on the perspective you want to take. We know the negative things that COVID has caused, but we have to take lessons from it. We now know the impacts outside forces can have on our businesses. You can build risk mitigation into your plan, but ultimately, that means nothing. Go back to what your mission, vision, and values are, and think about the kind of team you can set up based on those values. If you already have a team, learn more about their values and how they can help you move forward
Then look at what you actually offer. This will help you look at your company itself, your customers, and the messages you want to share. You also have to think about competition, not in the traditional sense, but look at them as opportunities to learn and collaborate. Whatever they aren't doing presents opportunities for you to add more value to customers (provided it aligns with your mission and vision). However, try to approach it from an angle of collaboration and creativity. You can't be creative and competitive at the same time, so try to be creative first, and you'll be surprised at what you can accomplish.
(28:45) I love that! Personally, the only competition that's problematic to me are the different ideas and opportunities competing for my time and energy. There's so much opportunity out there.
You should read the book titled "Essentialism". It breaks things down so that you only focus on what's essential, which is perfect for creative people. As creatives, we see ideas and opportunity all around us, but we can't do everything.
(30:46) What do you do to maintain your focus?
I have a working and dynamic business plan. Every time I see an opportunity, I slow down, and assess it against my vision. If it doesn't meet my vision, I can't follow it, or shelve it in the short term.
You must have a plan for your vision, development, and the future of your business.
Book a
15-Minute
Discovery Call
Curious about how Amplomedia can help YOU with your marketing?
Schedule a quick discovery call with Lance so that he can assess how we can best help you and your business.