We would say these are unprecedented times, but you already know that. And, the fact is, businesses must go on. Throughout this time of working from home, and all events being canceled, we have been getting asked a lot about how to network when all of the networking events are canceled. So, in Episode 7 of Amplify your Business Lance Johnson is giving his best advice on how you can turn virtual networking into a lead generating goldmine.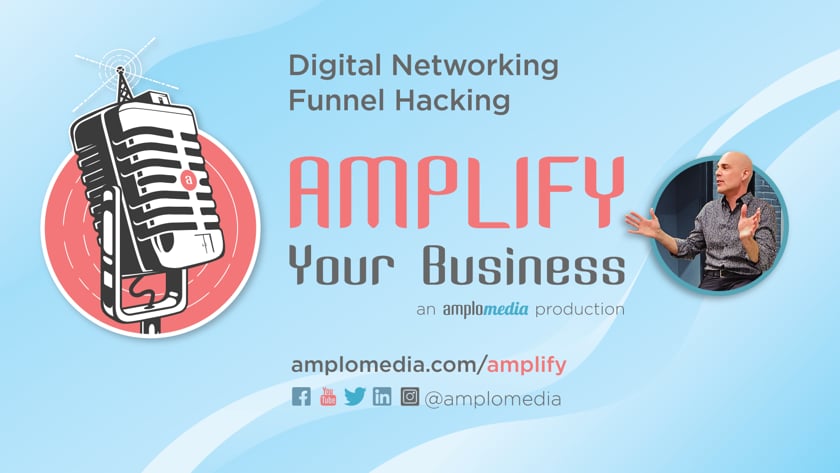 Here are a few things you can expect to get out of this episode:
The chatbox is your friend. (2:21)
Virtual meetings are not the time to be reserved. You gotta put yourself out there, and sometimes that means giving your contact details in the chatbox. Most online meeting platforms have a "chat" feature, and you should be taking advantage of it as soon as you get on the call. A best practice Lance explains is adding your name, contact information, and a sentence or two that captures the essence of your business to the chatbox as soon as you get on the call. You could think of it as an elevator pitch.
Follow-up, follow-up, follow-up. (8:50)

When you're giving your information to your fellow virtual networking attendees, be sure and ask for theirs in return. This puts a little bit of power into your hands, so you can start the conversation instead of having to wait for a potential connection to reach out to you first. With that, it's pretty customary to initially follow-up with an email to ask for a follow-up conversation. The key factor is including a link to your calendar. The other important factor is having that calendar embedded somewhere on your website. Not only does this drive traffic to your website, but it also enables you to track people once they are there, enabling you to remarket to them through ads in the future. Additionally, tracking could give you the opportunity to see what people are interested in on your site, and inform the direction you should take in your follow up conversation.
Get your potential clients into an email drip. (13:29)

As a business owner, you've probably heard of a buyer's journey, and it's so important not to neglect the process while you're working toward gaining new customers and clients. Once you have your initial discovery call with the contacts you made in your virtual networking opportunity, get them into an email drip. Regardless of how well your conversation in the discovery call might have gone, your potential client may not be ready to buy just yet. So, now is the time to nurture those leads, and email is such a strong medium to keep your brand in front of your leads.
Virtual marketing is incredibly effective when you use it the right way. Find virtual networking opportunities to attend that complement your industry; give people your contact information and let them know who you are, what you do and the heart behind your business; follow-up with potential leads; build those relationships and continue to nurture them along the buyer's journey.
We hope you walk away from this episode feeling empowered to generate new leads! Now scroll up, and catch the whole thing!
Book a
15-Minute
Discovery Call
Curious about how Amplomedia can help YOU start generating leads from your digital networking events? We'd love to help!
Schedule a quick discovery call with Lance so that he can assess how we can best help you and your business.