Welcome to another episode of Amplify Your Business! This time around Lance interviews Rhett Bagnall of Specialized Benefits. Specialized Benefits is an Edmonton & area based insurance brokerage focusing primarily on small businesses with less than 20 employees solopreneurs. Mom and pop shops and other small businesses are a vastly underserved market when it comes to insurance, and Rhett and his team have been doing great work servicing that area for the last 20 years. They work closely with a number of major carriers and are always shopping around to make sure their clients get the best value for their dollar.
Now, full disclosure, our group benefits at Amplomedia are handled by Rhett. We absolutely love his attention to detail and the individualized service we get from his team at Specialized Benefits. Every year before we're up for renewal we get a detailed recommendation for the next year based on our overall usage. We're always getting the best value from our benefits, and wouldn't hesitate to recommend Rhett and Specialized Benefits to anyone looking for a new insurance brokerage!
Now, on to the episode!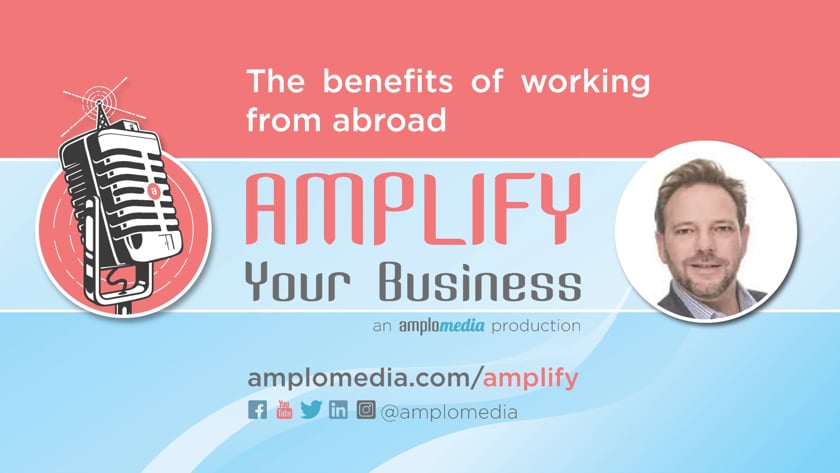 We encourage you to watch the episode to get the most value out of this discussion between Rhett and Lance, but keep reading for a few of the key nuggets of information!
Benefits: The Bottom Line (4:00)
Here's the thing, small businesses are always trying to get the best bang for every buck they spend because let's face it - none of us are made of money! So with everything that's gone on in the last nine or so months with Covid-19 and let's say… unpredictable… political landscapes on both sides of the 49th Parallel, what trends can we see right now when it comes to benefit plans and bottom lines?
Rhett's been through about three different kinds of economic downturns living and working in Alberta throughout his career, so he knows that anytime the world gets turned upside down, there is an ongoing conversation about business' bottom lines and what to do to keep them from dipping too low. And what's always one of the first areas to be put up on the chopping block? Employee benefits. Can cutting benefit plans save money for your small business? Yes! But at what cost?
Employee benefit plans should be seen as a reward, a thank-you to a well-deserving staff who keep your business churning out goods and services. If employers want your staff to show up and do their jobs, they have to keep them not only happy but healthy! Sick, hurt, or burnt-out employees are no good to a business, and will end up hurting the bottom line in the long run. Why though? It's not as simple as a sick day here and there. The big cost of unhealthy, unhappy employees is that dreaded T-word… TURNOVER. And turnover hurts a business' wallet a lot more than keeping a solid employee benefits plan in place. At the end of the day, a benefit plan won't take long to pay for itself, which is something rapid employee turnover will never do.
Use It Or Lose It… The Year-End Paramedical Purge (6:22)
One trend that Rhett sees frequently in his industry is the 'use it or lose it' idea that a large number of plan holders have when it comes to their benefits, specifically paramedical benefits (think massage, chiropractic, physiotherapy...). The notion being that by the end of the year there is some amount of saved up 'cash' that they can and should be using before the calendar year rolls over and the amounts are reset. Why? Because there is a feeling of entitlement when a lot of employees see that dollar value listed next to "Massage Therapy" on their benefits package - the feeling that they have 'free massage money' to use up each year. 
The reality is that those benefits come at a cost, and that cost is your benefit plan premiums. You know, that part of your paycheck that goes towards your benefit plans and not your snack supply or fun in the sun fund? Yeah, the more benefits you and your team use, the higher that premium gets and the smaller your next trip to Cabo becomes. Less usage = fewer increases in premiums. The onus is on the employee, to not overuse benefits unnecessarily, but is also on the employer as well as insurance brokerages themselves to make sure people are educated about how benefits work and the consequences of misuse. The bottom line is if you're hurt or sick, your benefits are there to be used. If you're just looking for a nice relaxing back rub, maybe buy a foam roller or ask a friend for a helping hand first.
Health Spending Account… What? (8:33)
Most (fortunate) people have seen some form of a traditional benefits package. That booklet new employees get on day one of a new job with shiny pictures of smiling professional faces and happy, relaxed team members. "Welcome to your new job, in exchange for your service you'll be compensated X% up to $Y for service Z, etc., etc." That's all very well and fine, but sometimes can get expensive (see above re overuse of benefits). Add in the variability factor that small businesses have to deal with and you can quickly end up with expensive premiums! Think of it this way, a team of 100+ employees is going to have people with a lot more in common in terms of benefits, and benefit usage averages out across the team. Looking at a smaller team of 5-10 there will likely be a lot of variation between the benefits that team members utilize. Some may use none, some may use all. And that leaves little opportunity for the usage to average out across the team, and you'll end up with some of your team paying a high premium and using very few benefits. Not ideal!
Enter the hybrid plan which involves, you guessed it, a Health Spending Account! What exactly is a Health Spending Account though? Well, HSAs are essentially an extra 'bank account' (in a hybrid plan, on top of a slightly reduced traditional benefits plan) that employees can use in whatever capacity they want - massage, dentist, doctor, vision, etc. So, if the dental portion of your benefit plan covers up to $2,000 per year, but you need an emergency dental surgery that leaves you with a $2,500 bill, you can bring in your HSA to help cover that cost. Employees have the ability to manage their benefits according to their individual needs while employers mitigate the cost of premiums since insurance companies actually charge a smaller administration fee to adjudicate claims paid for using an HSA.
Interested in learning more about hybrid plans? Get in touch with the team over at Specialized Benefits by emailing them at info@specializedbenefits.com.
Ok, not that talking benefits and insurance plans isn't a hoot and a half, but it's time to get down to the best part of this episode - let's talk travel & working remotely!
Staying Together, Far Apart (5:05)
Rhett recently took a trip to Greece and, long story short ended up extending his stay so his return to Canada would align with Calgary's new pilot program for rapid Covid-19 testing on arrival through YYC airport. He took the extra time in Athens to experiment with working remotely - something he's always wanted to be able to do more of. Let's face it… none of us in Alberta truly want to be tied to our desks all winter while it's snowing and -40 outside. 
The insurance industry has been moving more and more online in recent years in terms of being able to complete applications and contracts without requiring face to face appointments, but that doesn't mean that consumers have as well. Enter Covid-19. The pandemic has forced people to adapt to doing things virtually and using technology to its full potential in order to get things done, and the reality is that consumers are also now realizing in the last few months that we truly can make a lot of traditional pen to paper tasks online. 
What was the biggest challenge? Time zone. Of course, that can be mitigated by choosing a locale a little closer to home, but even with the 9 hour time difference between Edmonton and Athens, a simple shift to mid-afternoon to evening work hours was all it took for Rhett to be able to communicate regularly with his team in real-time, keeping the wheels turning at Specialized Benefits. On the plus side, that opened up his mornings to explore the city and enjoy a nice lunch outside without any sight of snow or cold winter winds. 
The New Normal is now… Normal? (21:28)
At the time of recording, Covid-19 is still on the loose and in Alberta, we've been staring down a gauntlet of increasing restrictions among rising case numbers and still no confirmed vaccine in sight. However, we know the sun will rise again and the dust will settle. So what does that landscape look like when the day comes?
Well, we've been calling it the 'New Normal' for about 9 months at this point, but Lance thinks it's time to just call it… Normal. Comfort levels with video conferencing, improved communication via email and phone, and really just having to adapt to an unfamiliar time has really liberated us from needing to remain in one physical space, and it looks like that's the way things are going to stay. A lot of island destinations around the world have been opening up their borders to would-be remote workers and heavily marketing to that angle - come take an 'unlimited vacation' and work at the same time, they say. We mean, who's Monday morning mood wouldn't be improved by sitting on the shores of Bora Bora and with the sun rising over the ocean in the distance? There is definitely a remote work tourism movement afoot, and it's here to stay.
But Don't Buy a One-Way Ticket Just Yet… (24:59)
Rhett cautions that besides time zone shifting, there still remain other challenges to overcome. It's too early to tell if things would really work out for long term stints working on a beach with a laptop!
For one, there will always be those traditional clients who are a little old school and not quite comfortable with online tools and activities. Not everyone is immediately going to entrust Google Docs with the ability to safely and securely sign off on their important contracts and applications, not to mention those that simply don't have the equipment or space to build a proper home office!
Another challenge is getting that human connection. Sure, while you're in Costa Rica you'll have plenty of human interaction with the locals, but what about your team back home? People are social creatures and oftentimes work better collaboratively - in the same space. Not to mention, as Rhett puts it "when the cat's away the mice will play". He recommends letting clients and team members get used to working without a physically present authority in the office around the clock before jumping into too much remote time.
What About Business Development? (29:22)
Covid-19 has really turned the tables on where and how business, especially business development, takes place. Zoom meetings, webinars, and virtual networking events have taken place of conferences, association gatherings, presentations, and happy hour get-togethers. While Lance has found that sometimes these online events often incorporate smaller breakout sessions that can ultimately prove more fruitful in terms of professional and business development than trying to network your way through a crowd of hundreds, Rhett believes that this is not a permanent fixture in the lives of entrepreneurs and business owners.
Rhett brings up the example of dating apps like Tinder and Bumble - extremely effective in bringing people together and forming initial connections, but each couple still ends up at a coffee shop or a restaurant continuing their conversation face to face. The same concept applies to business development because at the end of the day, no matter how effective online meeting tools are, business trust and relationships are more easily fostered in person. And on another note, online events don't provide those chance encounters with industry leaders and peers that can happen as a person goes about their daily life, and it's hard to argue with the benefits of those in person opportunities.
All Healthcare is NOT Created Equal (35:11)
Lastly, if we can transport you back to the world of insurance, let's talk about healthcare for a minute. With the way the world is now, there are undoubtedly more risks to your health when traveling abroad, both for personal and business reasons. What happens if you catch Covid-19 in a foreign country? Not all countries have the extensive healthcare availability that we are used to in Canada, and no one wants to be caught having to pay out of pocket for an extended hospital stay. 
The good news is that carriers have come out with specific Covid-19 travel insurance coverage. So, Rhett's parting advice is to always do your research before you travel, and ensure that you invest in travel coverage. What may seem like an inconvenient way to spend $40 can, and does, save you thousands of dollars should something happen to you during your travels. And he's not just saying that because he's in the business, he's been on the receiving end of the benefits of having comprehensive travel coverage in what could have been a very expensive situation. 
That's it for this episode of Amplify Your Business, we hope you walked away with insight into what small business owners should be thinking about when it comes to employee benefit plans and remote work as the world pivots on its heels. Also, we're sorry if we gave you too much of a travel bug in the midst of a global pandemic… 
Book a
15-Minute
Discovery Call
Curious about how Amplomedia can help YOU with your marketing?
Schedule a quick discovery call with Lance so that he can assess how we can best help you and your business.