We're back with Lorena from Duzu Dates for Part 2 of this Amplify Your Business episode. Today we're shifting gears a little (while keeping our pun game strong) and looking at the "date"ing limits entrepreneurs should have with their business. Hear Lorena's thoughts on the importance of defining success as an entrepreneur, and how this idea of "living the dream" isn't necessarily the same for everyone.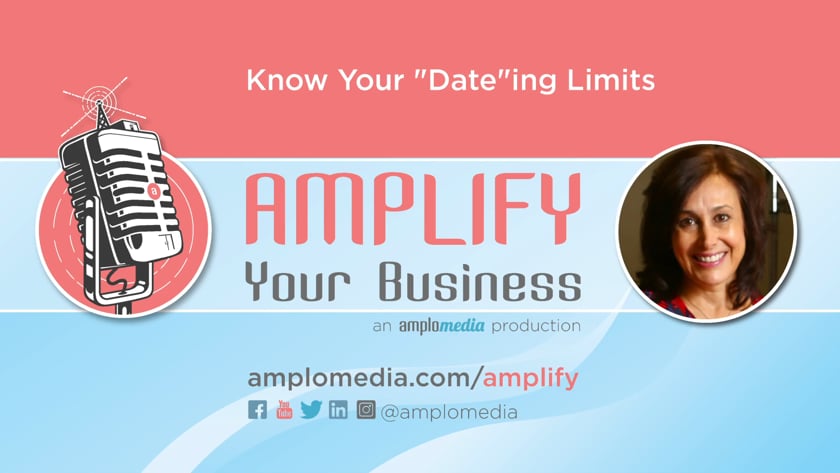 What was your journey like back to full-time employment while growing Duzu Dates on the side? [00:35]
When you're deeply invested in and "in love" with your business, it often becomes a part of your identity. As with any relationship (business or otherwise), it's important to manage boundaries so you don't hurt yourself. This is something that most, if not all, entrepreneurs experience but very few talk about.
Lorena stresses that every entrepreneur's journey is different. Some entrepreneurs have financial goals they want to meet and others may want an avenue to inject all of their passion and time into. Regardless, there's a lot to sacrifice and it can get very expensive especially when you're first starting out. 
By February of 2020, Lorena finally had a good team and processes in place and a solid customer base. She considered going back to full-time work. She wanted the stability that a full-time income offers but also the flexibility of a remote, at-home position that allowed her to grow Duzu Dates. It had to be a remote sales position for a food distributor, and it had to be a company whose mission complemented her values. She knew exactly what she wanted and could afford to be a little picky.
The next day, things took a serendipitous turn. During an in-store demo, Lorena met a sales rep for a food distributor. This sales rep was so impressed with the demo that she connected Lorena with her manager. Soon after, she was offered a position! And in good timing too because this took place last March when the lockdown in Alberta just started. 
As an entrepreneur, it's important to celebrate the wins and milestones you achieve on your journey, but it's equally important to keep a practical and sensible frame of mind. Taking stock of the numbers and the financial health of your business can be disheartening when you realize that your goals are a lot farther than you imagined. Sometimes you have to switch gears and make sacrifices, even if that means going back to being an employee, just so the business stays afloat.
How was it, emotionally and personally, to tell friends and family that you're no longer running Duzu Dates full-time? [11:16] 
Lorena admits that she's received her fair share of unsolicited business advice. Although it comes from a place of love and care, she's keen to point out that "everyone is an armchair CEO"--they've always got something to say or something to suggest to make the business "better" without realizing exactly the place that she's in. This can no-doubt create a sense of pressure to please those who offer us advice and want to see the business succeed (but on their terms). 
It took a while, but she ultimately put her foot down and realized that it's her business. She can run it in whatever way she wants to. She's proud of the balance she's achieved from running her business and working full-time. And she has something to show for it because Duzu Dates recently won Avenue Magazine's Made in Alberta Award! 
As Lance puts it, if you're basing your business decisions on a scarcity, fear-based mindset, this will directly affect the output you receive. Lorena's steady income as an employee, enables her to maximize the time she puts into her business, maintain a healthy work-life balance, and ultimately grow the business on her terms.
Lorena closes out this episode with such a refreshing and motivational perspective: 
It's important for entrepreneurs to choose what they want for their business, to spend their time how they want to, and to grow their business to the level they want. There are no "should-be's" and there isn't one set, universal formula that guarantees you success. The growth of the business is limited by your time and energy. Those with little are more likely to "manage" the business instead of "work" on it and vice versa. Neither is right nor wrong. Be unapologetic in your views, take stock of your goals often, and when at a crossroads, make it a habit to ask yourself "Does this make me happy? Does this help me achieve my end goal?"
Check out Duzu Dates!
Website: https://www.duzudates.com/
Facebook: https://www.facebook.com/duzudates/
Twitter: https://twitter.com/duzudates
Instagram: https://www.instagram.com/duzudates/
Book a
15-Minute
Discovery Call
Curious about how Amplomedia can help YOU with your marketing?
Schedule a quick discovery call with Lance so that he can assess how we can best help you and your business.