One question we have gotten quite a bit lately is, "How can I set myself up for success when it comes to appearance in video calls?" Video calls aren't new, but they are definitely more widely used now, that (possibly) ever before. And, since this is our current reality, for now, it's important we position ourselves the best we can. In Episode 10 of Amplify your Business, Lance Johnson explains how you can level up your video calls and make a solid impression from the comfort of your own home.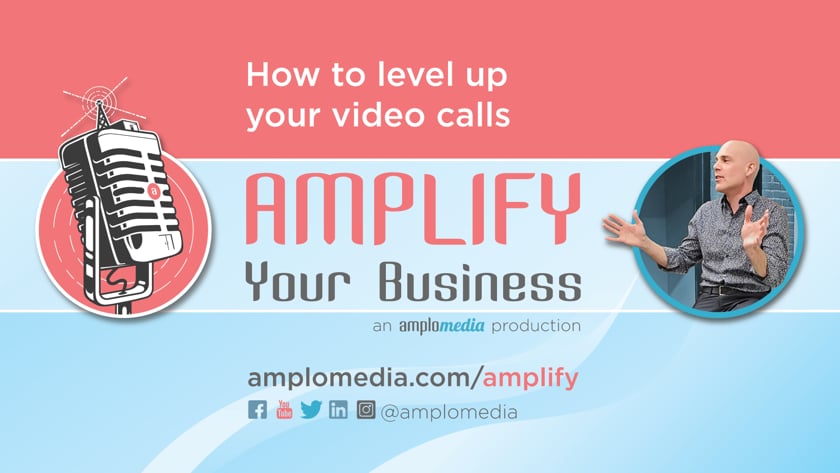 Here are some highlights you can expect to get out of this episode:
Good sound is vital (3:09)
Nobody wants to spend the first 15 minutes of a meeting going through the whole, "Can you hear me now?" scenario. That's why audio is a huge component to video calls, and simply ensuring you have good audio is a great way to start leveling up your video calls. You can have the best elevator speech and the perfect proposal, but if people can't hear you well they're going to get distracted and begin to tune out. A few simple ways you can enhance your audio is using an external microphone, ear pods, or headphones.
You might be at home, but business is still business (5:50)
Listen, we know it's tempting to work in your pj's when you're working from home, but the fact is, they never had a place in your in-person meetings, and they shouldn't have a place in your virtual meetings. A good rule of thumb for virtual business meeting attire is, if you wouldn't wear to an in-person meeting, don't wear it. Keep it on the business side, more so than the casual. Overall, this increases your credibility and positions you more favorably in the eyes of your fellow meeting attendees.
Virtual backgrounds - do it right, or not at all (11:05)
While you might rather be on a beach somewhere in the Caribbean, broadcasting that as your business meeting background could serve as more of a distraction than actually serving as a positive alternative to whatever your current background is. We aren't bashing virtual backgrounds; there are definitely perks to them, but using them correctly is a major key. When selecting a background, make sure it ties into your profession. A background that fits well for Amplomedia, given we are a video-first company, would be a video studio. Make sure you put a little thought behind what your virtual business setting might be before jumping at the first one that simply looks neat. A few additional things that can make a virtual background appear more clear would be having a clean, plain backdrop. Setting up a green screen can be really helpful in ensuring your virtual background stays clean and crisp. However, if you aren't able to have a seamless virtual background, we recommend skipping it altogether.
When it comes down to leveling up your video calls, the key lies in minimizing distractions and maximizing professionalism. We hope you enjoyed the episode and gained a few golden nuggets you can apply to your work life and level of your video calls!
Book a
15-Minute
Discovery Call
Curious about how Amplomedia can help YOU with your video needs? We'd love to help!
Schedule a quick discovery call with Lance so that he can assess how we can best help you and your business.