In episode 75 of Amplify Your Business, Lance heads down south to Mexico for a conversation with John and Teresa Bodle, owners of Blue Moon Cabo! One day, John and Teresa decided to buy a boat, move down to Cabo, and start a business. The rest is history! Watch as they share their story of starting a tourism business during COVID-19 and how giving back to the community is at the core of everything they do.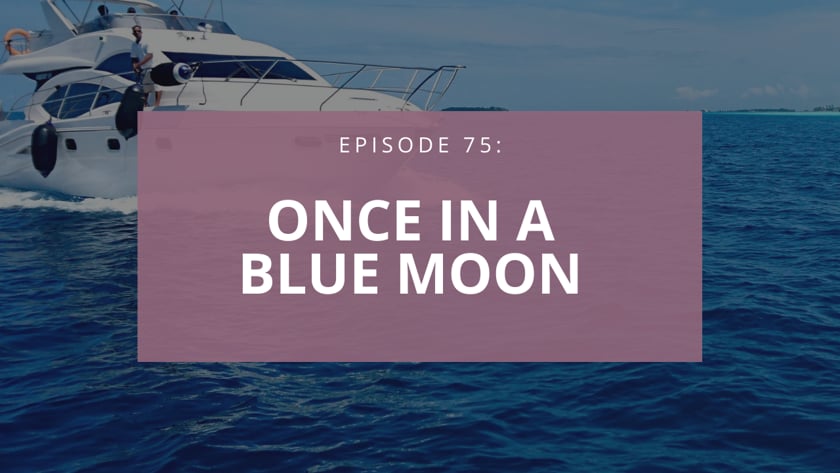 (0:58) What is Blue Moon Cabo all about?
John:
Well, I was a professor at the University of Tennessee for 28 years, but I decided it was time to start a new life. Two months ago, we bought the boat and started our business the same day! We primarily do private party groups of 30-40 people as well as snorkelling, whale-watching, and fishing trips.
(2:42) There are a lot of boats here in Cabo that do something similar. What sets you apart from the others?
John:
There are a lot of boats - 500-600 when the slips are full. Most of them are fishing boats. When we were looking at business opportunities, we decided against fishing as a primary revenue stream because there's a lot of competition in the space and we would have to rely on price-cutting to compete. While there are lots of fishing boats and larger yachts that carry 100-200 people, there aren't many that accommodate smaller parties like we can. We want to provide an upscale, mid-size experience for guests. There's only one other boat in Cabo that does that.
You can never do enough research, but we've been coming to Cabo for over 10 years and feel like we know the market and vendors quite well. It's particularly important to know the people in power and the local vendors to run a successful business here.
(4:48) It must have been a little scary for you to start a business in a foreign company, John!
John:
This is my retirement plan. We're using my full retirement savings. Of course it's scary! But it would have been more scary not to do it, and I think we would have always regretted not giving this a real shot. By finding the right niche, the right boat, and the right time, we felt confident enough to come down and get started.
Teresa:
It is absolutely the right time. Cabo is booming and people are coming here from all over the world. It's an internationally known fishing destination - there are lots of people coming here for tournaments - so we get lots of different people here.
(6:23) That's an interesting point. We're (hopefully) getting to the end of COVID-19 here, but international travel hasn't quite resumed yet and I would imagine there aren't as many visitors. Was it intentional for you to get started and capitalize on the coming growth in visitors?
John:
To be honest, it felt like an act of God. This boat came along just as I was getting ready to retire. Our son is an adult now so we feel comfortable going on our own adventures. The boat was at a great price (I do think COVID helped us here). We really are quite fortunate how everything worked out.
Receive the next Amplify Your Business episode straight to your inbox!
(7:09) What brought you to the Cabo area?
John:
For one thing, it's beautiful here. We were sitting on the beach enjoying our drinks, being tourists, and we thought "isn't there something we can do to give back to this community?". Teresa grew up quite poor in Juarez, Mexico, so we wanted to help the less fortunate. On that day, a boy came up to us selling home-made potato chips. We noticed his eye was looking off to one side - I believe it's a condition called strabismus - and we had just discovered a clinic down here that did eye operations. We invited him to lunch that day, and the next day he showed up with 3-4 of his friends. Teresa invited them to see a movie, and then they showed up the next day with 5-6 more friends. All of the sudden, we knew 10-12 children in-need. At this point we decided to found a non-profit called The Other Side of Cabo. 
Teresa:
We started to get to know them and their families, and this opened our eyes to how much they struggle. We knew we had to do something to help these families. This was seven years ago. 
(9:03) So what are you trying to do for these children?
John:
Our ultimate goal is for them to learn English and graduate from high school. If they can do this, they can get a good job in a tourist town, and it can provide them with the opportunity to escape poverty.
Teresa:
If they can get into a better situation, without dirt roads and breathing in dust all the time, we can encourage them. I know that if I was able to escape poverty from my childhood, then they can too.
(9:58) How does the charity encourage the children to complete their education?
John:
The first step is to establish relationships with the children and their families. We need to convince the parents that it's worthwhile to graduate highschool. Most parents in this situation believe they need to put the children to work (often selling trinkets and such on the beaches). 
Teresa:
We started by asking our close friends and family to contribute, other friends and neighbours, and now we work with over 50 children and their families. We talk to them frequently, encouraging them and checking in on them. We also encourage the sponsors to come to Cabo so they can meet the children and their families. I think it's a wonderful thing that not enough people are doing. We can create a true connection between the children, their families, and the sponsors, which is unusual in this type of situation.
You can learn more about Blue Moon Cabo at bluemooncabo.com. The boat is available to hire for tours, parties, and a variety of entertainment options.
You can find more information about The Other Side of Cabo at theothersideofcabo.com. Sponsors can choose the child they want to support and how they would like to contribute.
Book a
15-Minute
Discovery Call
Curious about how Amplomedia can help YOU with your marketing?
Schedule a quick discovery call with Lance so that he can assess how we can best help you and your business.