In episode 78 of Amplify Your Business, Lance is speaking with Evelyne Labelle, Co-Owner & Office Manager of Bow-Cor Custom Welding. After 15 years of owning the company with her husband, Evelyne feels like she's seen it all: three economic downturns, two major shifts in their management strategy, and learning how to manage a full-fledged business! Watch as she shares the experience and knowledge 15 years of entrepreneurship has taught her.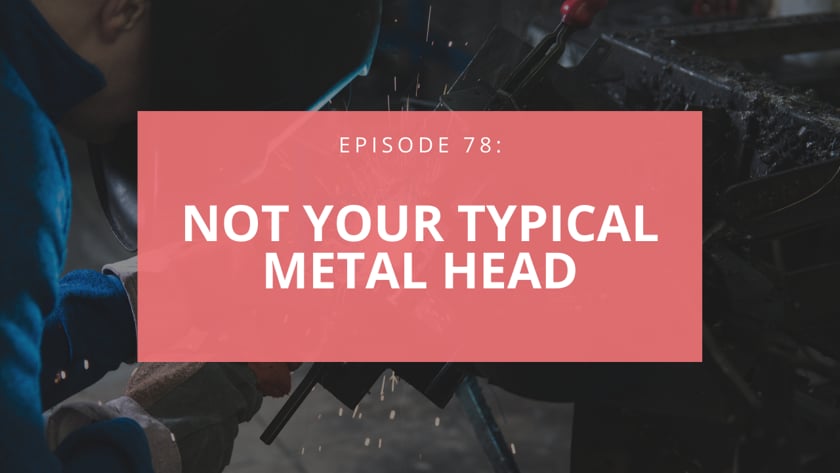 (0:53) What does Bow-Cor Custom Welding do? You don't seem like a typical welding shop!
We specialize in high-quality custom welding and metalwork. So we work with all types of clients from contractors, tradespeople, municipalities, park systems, and others to do custom fabrication. This usually includes staircases, structural steel, repair of chair lifts, and other areas. It's very diverse! We enjoy the challenges of these projects.
We started because the original founders of the business wanted to retire. My husband, who worked for them, was offered the chance to buy the business. After 9 months of negotiating and arranging financing, everything came together and we became business owners in 2007, so we've had it for almost 15 years! Initially, it was my husband doing most of the management and paperwork, working long hours and weekends. After about a year, I became pregnant and decided not to go back to my full time job after taking leave. It was at this point that I transitioned to working for the business so I could take some of the load off my husband.
(4:37) That must've been a bit scary! What was it like to handle a career change while raising a young baby?
When I made this decision, we'd been in business for a year and were more stable. We knew we would be able to continue living comfortably. But it was hard for me to leave that job - I loved my colleagues and enjoyed my role, so I was sad to go.
(5:45) What have the last 15 years in business been like?
It's been a rollercoaster. We saw three financial crises during this time, so there have definitely been ups and downs. Fortunately, these coincided with when we had our children, so we didn't mind being less busy during the down times. 
It was definitely a crash course in business management because neither of us had experience in business management. We've grown a lot in that department over the years. We actually had a realisation in 2017 while camping in California that we needed to make a change in our leadership - it felt like we were both doing the work of one and a half people! So we changed our structure somewhat to enable more flexibility (and sanity) in our lives.
(8:03) How did you restructure things to create more work-life balance for yourselves? Were there any difficulties with that?
We decided to promote one of our senior welders to the position of shop manager. This enabled my husband to step back and work in a quiet space where he wasn't interrupted all day long. Having someone full time in the shop managing production enables him to seek out different projects and look at new designs. This made us a lot more productive because we were able to handle more. It also made us both a lot happier.
It was easier for us. He was ready for it, and had a lot of trust in our staff that made him feel like he could rely on them. But it wasn't without difficulties. Initially, it felt like more work! We wanted to mentor the new person and provide them training, so it definitely involved an investment. Things are going smoothly now, but when you're making a shift like that it can easily feel like more work, at least at first. Based on that success, we did a similar thing and hired a full-time office manager so that I could also spend more time working on the business and not in the business. I would say the lesson here is to hire and staff up when you need it. If I could go back, I would have done this sooner because it has made us much more efficient and ready for growth.
Receive the next Amplify Your Business episode straight to your inbox!
(16:10) As entrepreneurs, we're told to bring on more team members all the time, but not enough of us do. In your experience, why do you think this is?
I think it's because of how much initial work is involved. The idea of hiring someone, training them, and investing in them involves a lot of work. When you're already so deeply involved and busy with your organization, it just seems like some impossible task. But, I think that we need to be able to look towards that future and realize how this can help us as a motivation to get it done. Of course it's easy to look back and see how necessary it was, but in the moment it can be very difficult to take the necessary steps and make it happen.
(18:51) How has COVID-19 impacted your business? What did you do to manage this?
There's often a slight delay for us when we experience a downturn, and this was no different. Our 2020 was still busy until the end of the year, but last summer in particular was when we felt the impacts. Our sales fell about 50%. We also started experiencing material shortages which caused delays for us on some projects. It was quite stressful. We also had a much harder time finding workers during the last year. Thankfully, it's picked up since the fall and I believe that 2022 will be a year of recovery for us!
When we first realized that sales were down, we started email campaigns to connect with existing and past clients about potential work. This paid off a lot in the fall when we started getting more projects in. Doubling down on business development and our relationships was vital for us. We also reached out to some  different contractors and made new relationships where we had to. 
(23:18) You mentioned staffing challenges. How did you handle that? Did you adopt any new tools or technologies?
We looked more than we normally do, and still had problems. We had a much easier time finding people in the fall as things started to return to normal (at least in the labour market).
Thankfully, we already employed digital technology to a great degree at the start of the pandemic, which helped us manage this a lot better than we may have. We could easily work remotely where possible, and other business aspects were already managed digitally.
(25:01) Have you made any business mistakes that you would be willing to share? How did you learn from them?
We did make a big one this past year. We were a little too trusting with a new contractor, and they ended up committing fraud, which caused us to lose a significant amount of money. Unfortunately, this was someone we had done business with before. This taught us that even though you have contracts in place and follow best practices, you can still fall victim to someone with bad intentions. Be very careful about who you are in business with. We are much more careful now in assessing the risks of potential partnerships as well as staying on top of our receivables. We also look closely at the lifecycle of projects and manage our cash flow accordingly.
(29:43) What does the future hold for Bow-Cor Welding?
We started business coaching about a year ago, and spent a lot of time working on our businesses vision, mission, and internal culture. We're also spending much more time and effort on marketing ourselves, which is creating some returns! Looking forward, we want to establish a CRM system and project management application that can help us manage the work we have on the go. We also want to work on a succession and exit plan, so that we can eventually sell the business. 
I also hope to get more time on my bike and to do more skiing!
Book a
15-Minute
Discovery Call
Curious about how Amplomedia can help YOU with your marketing?
Schedule a quick discovery call with Lance so that he can assess how we can best help you and your business.