With the massive amount of content floating around out there on social media and beyond, now more than ever before storytelling is the most important tool to have in your business's tool belt to ensure your brand stays relevant in the minds of consumers. That's why in Episode 17 of Amplify Your Business, Lance Johnson welcomes Dave Carroll, a Musician, Storyteller, and Author, to share how storytelling can be a powerful tool in furthering your brand's message.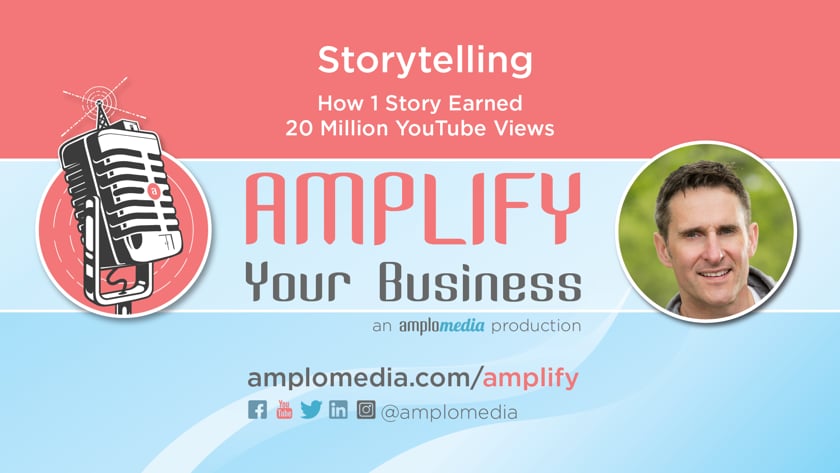 Here are a few key takeaways that will take you on your way to becoming a storytelling pro.
Storytelling makes your brand's message more impactful. (6:54)
The power of storytelling can do wonders for your business when trying to leave an impression with your audience. Think about it. Would you rather sit through a long, dry presentation where the speaker dumps a ton of dense information on you or rather listen to an engaging, lighthearted story that still delivers all the same relevant information? Probably the second choice, right? Storytelling allows you to imprint your message on your audience's minds because the information is being delivered in an interesting and easily digestible manner that is more memorable for your listeners. Tapping into your audience's emotions through storytelling will propel your brand even farther ahead of your competitors because emotional connection = brand loyalty.
How do you master storytelling? (10:36)
The master himself, Dave Carroll, says to think of storytelling as taking a well-crafted picture. It takes time to figure out what elements make a good story and how to develop a voice that fits with your brand, however, once you do you'll be able to tell a story that creates the emotional response needed to engage your audience. Adding an element of tension or excitement into your story is a great way to engage that emotional response and captivate your audience's attention. Storytelling also serves as a great way to toot your own horn. We understand, as Canadians, this can be a hard thing to do given that we're so humble in nature (😇) but you can easily use testimonials to do the boasting for you! Testimonials, especially video testimonials, are the perfect medium to help you tell your brand story as your clients can speak to how your product or service changed their life or how they do business. People see these heartfelt, genuine testimonials and develop trust in you and your brand which makes them all the more likely to do business with you. And isn't that what we wanted all along?
The power of compassion. (13:20)
One of the cheapest things your business can adopt that will make the biggest difference to your work culture and brand image is being compassionate. Why? Well, the best stories all have one thing in common, they tap into one specific emotion that causes you to feel strongly about the characters involved - and in this case, the character is your brand. That feeling is compassion. Compassion is something that we have all experienced (or should have experienced) in our lifetime. Think back to your favourite childhood storybook or movie. When the main character was in trouble, you felt so deeply aware of their potential suffering and became determined to alleviate that suffering. Compassion works the same way in marketing. Engage your audience's compassion through top-notch storytelling to make them feel invested in your success, and the sales and customer loyalty will follow.
This is the core focus of Dave Carroll's 3D Compassion Design, which involves five stakeholders: your employees, suppliers, customers, the community, and the environment. Dave states that by making compassion and intentionally doing good for others your company's fundamental core value when you do fall short your audience will still appreciate your effort and be more willing to forgive your mistakes. At Amplomedia, one of our mantras is "serve others first" and we will believe that by going the extra mile and having a compassionate mindset, Karma will come back to serve you well in the form of repeat business and positive customer reviews.
We hope you learned a few of the tips you need to become a storytelling pro and start captivating your audience with your messaging. But if you're still in need of some additional tips and tricks to elevate your messaging, don't miss out on the full episode above!
Book a
15-Minute
Discovery Call
Curious about how Amplomedia can help YOU amplify your brand's story in the age of social media? We'd love to help!
Schedule a quick discovery call with Lance so that he can assess how we can best help you and your business.