As many businesses have been forced to shut the doors of their brick + mortar, the importance of having an online presence is becoming more and more relevant. In Episode 6 of Amplify your Business, we talk with Dominic Stante, owner of Urban Thrift in Calgary, about the journey he has taken to add e-commerce to his consignment shop.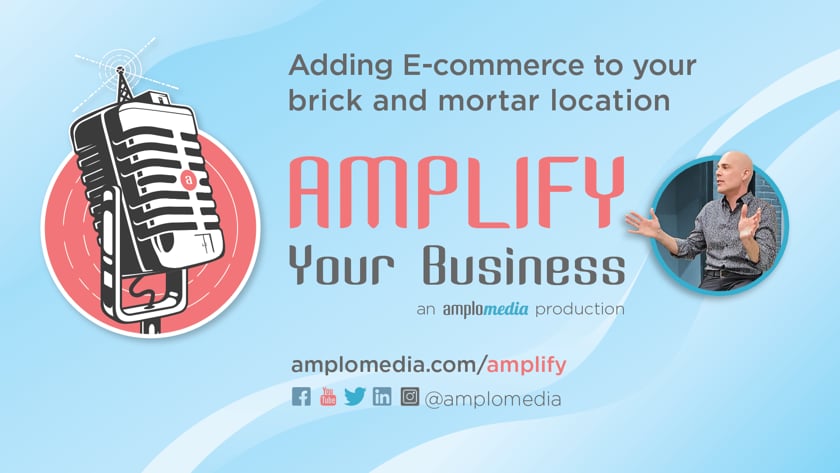 Here are a few things you can expect to get out of this episode:
Don't be afraid to evolve (4:08)
This might sound silly at first glance, but think about it. How willing are you to welcome change into your life? Especially when it comes to your business? You might absolutely jump at potential opportunities. OR, you might shy away from change because you feel like what you're doing now is working just fine. The reality is, everything is constantly evolving, and it's so important to ensure your business is as well.
Do your research (10:05)
There is a whole slew of platforms you can use to host your website; WordPress, Shopify, Woo Commerce, the list goes on and on. There might even be a niche website platform specific to your industry. The point is, there are a lot of options to choose from, and not one of them is going to be the absolute perfect fit. But, there will be an option that best suits your main priorities. Before diving into a search, make a list of all the things that are important for your business. Does your POS system integrate better with specific platforms? Do you have a CRM already set up that only works with certain websites? How much customization do you want? Is your website something you will handle, or you will hire someone else to design? What website host will integrate best with the rest of the systems you are currently using? Which leads us to our next point…
Integration tools are your friend (16:29)
While there might not be a website hosting platform that will meet ALL of your needs, there are additional integration tools that can be a great help! At Amplomedia, we use Zapier. This platform enables the rest of the software and platforms we use to 'talk' to each other. From email automation to serving ads, it's a huge help when it comes to creating a smooth workflow and operating system.
Don't assume your audience knows where to go (36:14)
When someone comes to your website, you want to provide them a simple, enjoyable user experience. And that includes making the navigation as simple as possible. If you have areas on your homepage that discuss content you have on another page (i.e. a product featured on the homepage), hyperlink it. Make sure your contact information is easy to find. Link your social media profiles and include the icons in the header or footer of your homepage. Give instructions on where they can go to learn more, direct their experience, and simplify it.
Now that we've scratched the surface on key points you can expect to learn, scroll on up to the video to gain even more inside information on creating and optimizing an online version of your business.
Book a
15-Minute
Discovery Call
Curious about how Amplomedia can help YOU succeed with setting up e-commerce for your brick and mortar locations? We'd love to help!
Schedule a quick discovery call with Lance so that he can assess how we can best help you and your business.