They say that employees aren't likely to love and work on the business as hard as business owners. Well, why not give them a slice of the pie through an Employee Ownership Program? An Employee Ownership Program can ensure entrepreneurs don't lose control of their business while creating incentives for employee-owners to work as hard in the business as you do. This is what Lance and Cory Jodoin, President of Jen-Col Construction, talk about in today's episode.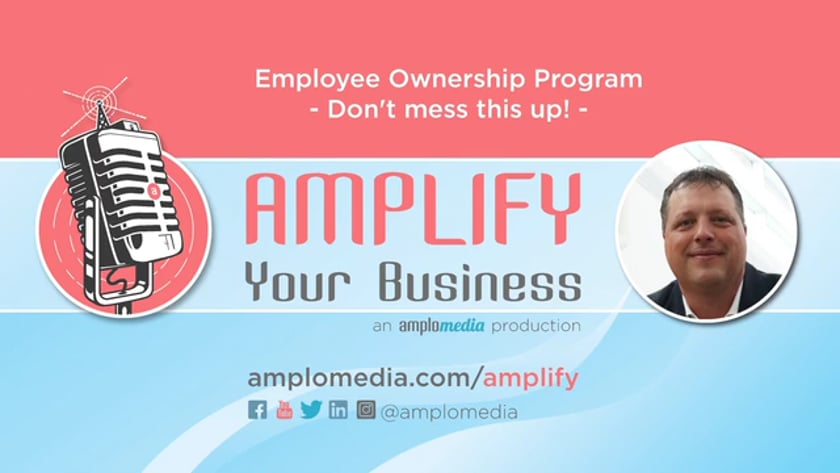 Tell me a little bit about your company [0:44]
Jen-Col Construction was started 43 years ago by Cory's parents. Cory joined the business in 2000. The company primarily focuses on municipal and private sector vertical construction. Although based in Alberta, Jen-Col has recently expanded their projects into British Columbia, too.
At what point did you decide to include employees as owners at Jen-Col? [2:32]
When you have founders retiring and you're the only one left holding the bag, it forces you to sit down and think about the company's future. Two years ago, when it came time for Cory to sit down with his father and discuss succession planning, the central question came to be "How can we structure the business now so it can scale faster beyond me and in the future?" It was after this point that Cory decided to create an Employee Ownership Program for the company.
Were the initial partners people who were long-term employees or did you bring on outside talent from the get-go? Besides succession planning, what were other reasons to create this program? [5:45]
In the beginning, initial share offerings were presented to five long-term employees that not only had lateral involvement throughout the company (on an executive and/or management level) but also vertical involvement (i.e. they spent some time in a certain position to prove their skills and work their way up). 
Cory's main motivating factor is to buy more time. He wanted to be able to focus his time and energy on other parts of his life. This includes raising his young family and spending more time with his parents. 
Ownership comes with increased responsibility and accountability. If an employee comes in who spends the time and effort to prove their character and skills, bringing them on as owners only drives them and the company to succeed even more. This principle strongly aligns with Jen-Col's mission: to build a better future. 
To add, Cory's forward-thinking planning has helped lessen the burden on his family and spread the risk so it doesn't lie with one person. This positions the business in a way that it's more likely to stay afloat in the event that Cory, or his successor, would ever need to exit the company.
Today, the same five former employees are still with the company. In January 2021, he sold more shares to some of the existing group. Cory comments on how much of a learning curve this has been because he spends a lot of time advising and mentoring new owners on giving a broader, more comprehensive snapshot of the company and how it's being run.
Tell me a little more about the way that you structured the program? [14:20]
First and foremost, he hired the best people who have done this before. This includes a great tax lawyer and corporate lawyer who can present you with different options and walk you through them. These experts start with performing a business valuation to see how much the company is worth, and therefore calculate how much the shares are worth. These calculations are incorporated into a complex agreement.
Over time, Cory's learned that there's a multitude of ways of setting up these agreements. There's not necessarily a "right way" of doing it. Rather, it's a matter of outlining exactly what you want and being able to understand how your lawyers structured it and why. Although the plan may make sense to you, it's equally important to ensure that it makes sense to your partners. It's a two-way street that needs to be seen as a win-win situation from both sides. 
The plan, as it currently stands, is modelled out until Cory turns 65 years old, at which point he'll be completely divested from the company. This same model applies to the rest of the owners (i.e. they all have to start divesting at 60 and be fully divested by 65). His overall goal is to sell to the right people at the right time. He isn't set on certain percentages because as the business grows overtime (which is obviously favourable), these numbers can fluctuate. 
Broadly speaking, Cory is realistically looking at a divestment of 5% per year. Cory emphasizes that, as an owner, you have to be all-in on this program. You have to be prepared to sell. On the flip side, if you're holding all the cards until you're 60 or 65 before you make a succession plan, you could end up in a last-minute scramble to find a new owner, or worse, fold. 
What is your criteria when considering potential partners [20:23]
It goes without saying that you have to work for the business. 
Like any new hire, you have to prove that you live, model, and believe in the company's values. You have to embody strong leadership skills, be forward-thinking, be trainable and open-minded, have a strong business acumen, among other entrepreneurial qualities. Cory also considers feedback from an employee's direct-report, peers, and clients to be equally important. 
Do you have set limitations on the percentage of shares any single shareholder can have? [22:47]
At the moment, no. Cory wants to monitor this closely because he wants to ensure it's spread throughout. 
The legal document that outlines these complex share structures and details about the employee ownership program is called the Unanimous Shareholders' Agreement (USA). Once this is signed by all parties, including all other owners in the business, everything is pretty much sealed and you're not allowed any do-overs.. Efforts to go back and change one minor detail can be cumbersome, time-consuming, and costly (because you have to get everyone else to agree on the new terms).
What are some other factors that go into assessing employee candidates? [24:41]
Time and age play a big role in these decisions. When you're an employee who's been offered an ownership stake in a company, you might be asking "What is my return on equity?" and "How long do I plan on working?".
Risk tolerance is also a factor that is often underestimated. Regardless of the business' projections in the next 5, 10, 15 years, not every owner has the same risk tolerance. Therefore, some may want to play it safe and not buy as many shares. 
Cory shares how interesting the dynamic has been to bring on five new partners. It's refreshing to have "new blood" and new-found excitement back into the business (not that these employees weren't excited before). It's definitely garnered a new perspective for a group who not only work for a business but now have a vested interest in all areas of it.
What's one lesson you've learned that would be helpful for other entrepreneurs? [28:22]
Be very clear with yourself and your lawyers on why you've chosen to go the Employer Ownership route and what you hope to gain from it. If not, you're going to struggle on answering the questions needed to set this up.
Were there any negative surprises when it came to setting this program up? [30:37]
Cory says there haven't been any negative experiences. Rather, a major eye-opener for him was the lesson on risk and tolerance this experience has given him. Now, being a year into the pandemic, the construction industry is on a downturn, material costs are going up, oil is also going down, it's been nerve wracking nonetheless. The biggest lesson he's learned is that people don't think like you. 
If you're a business owner who is considering an Employer Ownership Program, you have to set it up in a way that makes sense to a non-entrepreneur. Although potential partners may be entrepreneurial, it's important to realize that their involvement with your business has been on an employee-level. Therefore, their perception and tolerance of risk is completely different from yours.  
There will be a tipping point when you become fully divested from the company and no longer have control. Are you worried about that? What are you doing to protect yourself and the company? [32:03]
To Cory, this program has always been a value-driven decision, not financial-driven. 
You can have complete control over the company; but at the end of the day, your control is still limited and you won't receive the full value from having partners. Cory shares that this all goes back to hiring the right people at the right time. Partners are essentially extensions of you (as the owner) that complement your skill sets and values. If these people are needed to drive the company forward, then having complete control of the company should be the least of concern. In order to safeguard the longevity of your business, so that it grows beyond you and your lifetime, sometimes some control needs to be given up now. 
If you're a business owner who's considering an Employee Ownership Program, feel free to email Cory for advice and tips at cjodoin@jen-col.com.
Book a
15-Minute
Discovery Call
Curious about how Amplomedia can help YOU with your marketing?
Schedule a quick discovery call with Lance so that he can assess how we can best help you and your business.