If you're a foodie (or just hungry for some entrepreneurial advice) then you'll love this episode of Amplify Your Business. Our special guest this week is Karen Anderson, Founder of Alberta Food Tours Inc., and we are so happy to have her on the show to share her passion for inspiring people to really connect to what fuels them - their food!
Karen's journey to entrepreneurship started out after working as a nurse practitioner for 21 years. Over her years nursing, educating fellow nurses, and helping people become healthier through medicine Karen's analytical thinking brought her to realize that a fair portion of her patients were becoming ill thanks to a common denominator - their food choices. So the question in her mind became how she could affect people's food choices so that they didn't end up ill and in need of medical attention and hospital stays?
So, with that question in mind, as her family grew Karen took a step back from nursing and started volunteering for Slow Food International where she wound up with a seat on the board. Her work centered around connecting people to the source of their food and keeping heritage cooking skills alive. She ran large scale food-centric events such as A Feast of Fields, a true food festival showcasing local producers, food gurus, even live music! Eventually Karen started writing about food with columns for CBC as well as City Palate Magazine, taking on food issues and always promoting local, ethically sourced cuisines! Through these ventures she was able to gather amazing stories about food and food production, not to mention grow an incredible network of industry experts, writers, and great thinkers. It was this network that really helped kickstart what is now Alberta Food Tours!
What started back in 2006 with small ads in local, free newspapers for neighborhood walking tours has since expanded to be a fully fledged business with 19 team members offering Canadian Signature Experiences in four different Alberta cities (Calgary, Edmonton, Canmore, and Banff). They have even developed their own app that offers people the opportunity to take a self-guided food tour with the added element of clues & activities to help them determine where to go next! (More on that later...)
You'll definitely want to watch the full episode below to get the full impact of the 'why' behind Karen's amazing Alberta Food Tours, but if you're short on time keep reading for some of the best snippets of the conversation.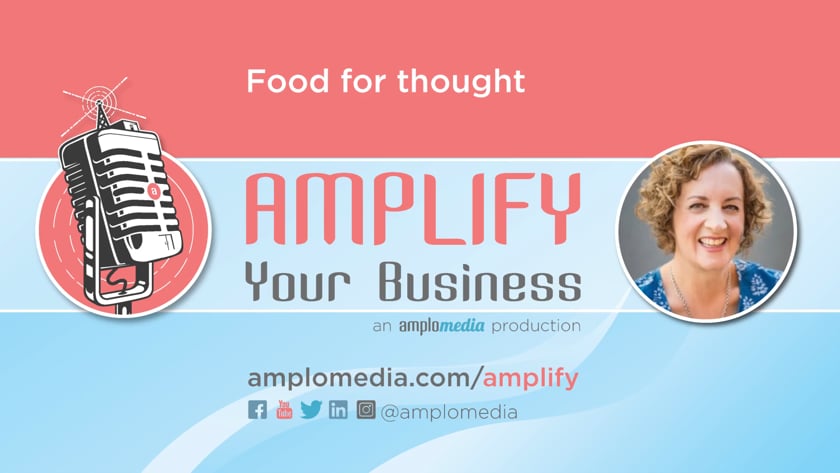 Alberta Food Tours Expands (11:36) 
With such strong growth over the span of fewer than 15 years in business, how did Alberta Food Tours do it? Karen has a few solid tricks up her sleeve that she's really learned to leverage. For starters, having a great, user-friendly website with lots of information about her company and the experiences they offer. Staying up to date online really helps your business take advantage of Google's search engine algorithm and her aesthetically pleasing, clean, easy to navigate website works hard at converting visitors into ticket holders for the experiences Alberta Food Tours offers.
Another tactic that Karen has done really well and that Lance wants all small business owners to take note of is social media marketing. Her brand is particularly marketable on Instagram (Instagrammable, if you will) thanks to having an ideal muse for organic social media - FOOD! Food is naturally one of the things that people love to love on social media, especially those visual platforms like Instagram, and Karen knows she's fortunate to work with a product that has natural relevance in the social universe. Lance's hot tip here is for those who are thinking and dreaming up new product lines or even new business ideas - keep in mind that piece about marketability on social platforms. Make it as easy for yourself as possible to get noticed, get that tribe following and engaging with you, and your bottom line will thank you. 
Lastly, leverage those relationships! Karen is a member of and contributor for many different Alberta based tourism organizations and she knows how to let that benefit her business. Being present when organizations need events or activities to market to their members has turned out to be fruitful for Alberta Food Tours, as they've been granted access to a lot of media trips and introductions to buyers from around the world. Not to mention, tourism organizations like Travel Alberta will often promote her brand when they travel to global conventions, sharing her great story and helping spread the word about what visitors to Alberta can do, besides take in the amazing scenery we have!
The A-Word: Advertising (15:52)
With social media, and often Google as well, so often being considered 'pay to play' platforms by small business owners, surely Karen must have invested a pretty penny in advertising to quickly gain the reach and brand awareness that she has? Well, actually no! The success of Alberta Food Tours is a lesson in organic growth done right. Karen mentions that great reviews have really been a good friend to the business, a lot of the time they're actually #1 on Trip Advisor for things to do involving food & drink! She says that initial word of mouth followed up with consistently delivering on their brand promises has carried them for a long time. 
Nothing truly comes for free though, and occasionally Karen's team has strategically chosen some social media posts to 'boost' (putting an amount of money behind organically posted content to briefly increase that post's reach). But without a huge advertising budget that's not something they do lightly, and every dollar serves a purpose. Where Karen would rather spend her money is on producing beautiful content that draws the attention of her viewership - namely professional, gorgeous photography. Because who doesn't love a good foodie pic?!
There's an App for That (18:16)
For a long time, Karen has applied a great deal of focus on becoming more user-focused. She had been wanting to create an app through which people didn't have to fit into her schedule, but instead could do self-guided food tours on their own time. Enter the Alberta Food Finder! This gamified food tour experience allows you, the user, to become the hero of your own experience while you solve 29 different clues that guide you to "savour flavours, discover hidden gems and reconnect safely while you eat, engage and explore Alberta".
The Alberta Food Finder app launched in October of 2020 with one location in Kensington (Calgary) and for $45 per play gives up to 4 people 2 to 6 hours of delicious fun using one device. You have to pay again to start a new tour once you've completed one, but as Karen points out this isn't just like any other app that has a one-time purchase fee, it's essentially a ticket to take a tour that just happens to be run through an app. We think this is such an awesome way to offer affordable, family-friendly, Covid-19 safe experiences that promote local, ethical, healthy food choices!! Keep an eye out for future experiences opening up on the app in other parts of Calgary, even the other cities where Alberta Food Tours operates.
Alberta Food Tours Gives Back (21:51)
After the launch of the Alberta Food Finder app in October Karen got to thinking about more product lines and opportunities, especially given the quickly cooling weather and varying levels of Covid-19 restrictions in Alberta. Let's face it, not everyone wants to be gallivanting about the streets of Calgary in the middle of winter - no matter how much fun the tours are! Inspiration struck when Karen met with some of her peers who were speaking into how much mental health, especially when it comes to youth, is suffering as a result of the pandemic. Lots of industry professionals dove headfirst into offering 'deliverable' food tours or food tours 'in a box', but Karen wasn't keen on getting into food delivery. Thinking back to her time in university when her family would send care packages and how much that meant to her, she thought that Albertans might really respond to the opportunity to show someone that they care while also helping someone in need.
All that conversation eventually turned into the Alberta Cares Package, which is Alberta Food Tours' take on a care package containing a collection of Alberta sourced, shelf-stable products that purchasers can gift, along with a handwritten note, recipe cards, and information about Albertan mental health programs.  Proceeds from the packages help raise funds to help two youth mental health charities (Impact Society, Calgary, and Typ Top Bakery, Edmonton). So far since launching the first Alberta Cares Package availability on November 8, 2020, Karen has been able to raise $1,500 for those two charities and has sold 250 boxes! To put that in perspective, this episode was filmed on December 2, 2020 - less than one month since the boxes launched. While this seasonal offering has come to a close Karen has some very chocolatey plans in place for heart month in February, so keep your ears to the ground for news!
Investing Time Where it Counts (29:36)
Earlier in the episode, Lance asked about advertising dollars, and Karen revealed that most of her efforts to market Alberta Food Tours have focused on the organic side of things, but that doesn't mean she's been slacking. In fact, it's the opposite. Karen and her team have been doing a lot of things, and a lot of things right. A lot of small business owners don't fully understand just how much importance Google's search engine algorithm puts on relevance, and how some simple tactics can make a big difference when it comes to your search engine optimization. To market the Alberta Food Finder app, Karen and her team invested time into developing what turned out to be a great six-month digital marketing strategy including an emphasis on local SEO with Google My Business and consistent development of quality content.
First, let's talk about Google My Business, which is essentially a free listing that pops up on Google's search engine results page (SERP) with details and information about the business in question. The searcher will see everything from operational hours, products, reviews, frequently asked questions, social links, and more, depending on how much of their profile the business owner has completed. Google My Business also shows posts from the business which expire every seven days, so regular post updates are critical. As you can see below, Karen has done a great job of filling out her profile so the listing for Alberta Food Tours has tons of great information to give would-be customers a solid overview of the company. 
Now, one mistake that Karen acknowledges making is that right off the bat she thought that she needed a new listing for each of her four locations. The problem? Filling out four different listings not only split up her reviews (meaning one bad review holds a LOT more weight), but it also meant that her listings were essentially competing against each other for top spot. Not to mention the headache of trying to manage, monitor, and post on four different listings at the same time! Not what you want as a business owner. Since then Karen has consolidated her listings into one and made note of the different locations within that listing, which follows best practices.
Next, content. Surely you've heard the phrase "Content is King." And that's true - with one caveat. Content is only King if you're providing consistent, relevant, high-quality content to your audience. That's another area Karen and her team have done a stellar job of. Investing into photography for social media content has driven up engagement and sent people flocking to her website, which she has regularly kept up to date with timely, correct information about her business that helps consumers make informed decisions about whether or not they want to book with Alberta Food Tours. The name of the game here? Get people to spend time on your website by incorporating information relevant to their web searches, and Google will reward you.
Karen's Advice for Entrepreneurs (39:44)
Karen says "if she can do it, anyone can do it" and we like that. Doing digital marketing well doesn't have to be rocket science, you just have to be willing to educate yourself and invest the time into doing the right things consistently (or having someone do it for you). Other than that, keep your business up to date with good quality technology, think about your relationships with partners, followers, and customers, and capitalize on the opportunities that present themselves, wherever they may come from. If the pandemic has taught us small business owners anything it is to always keep your eyes open and your heels ready to pivot. 
We hope that you enjoyed the story of Alberta Food Tours and that you were able to take away some valuable digital marketing insights to help you amplify your business. And as always, we're just on the other end of the phone should you have a question or need some support!
Book a
15-Minute
Discovery Call
Curious about how Amplomedia can help YOU with your marketing?
Schedule a quick discovery call with Lance so that he can assess how we can best help you and your business.