In today's episode, we meet with CK Dhaliwal, General Manager of Rapid Fire Theatre, Edmonton's prime improv comedy and theatre group. Beyond improv shows, they offer public workshops, youth outreach programs, and professional development workshops. Learn how Edmonton's funniest business has improvised new and creative marketing tactics throughout the pandemic.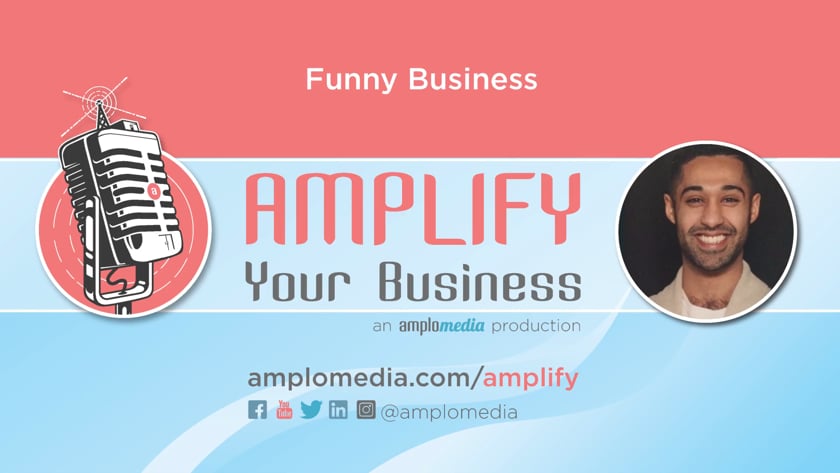 What does Rapid Fire Theatre currently offer online? [4:21]
Improv requires a level of intimacy with the audience. Rapid Fire used to offer weekly shows, but they've scrapped that for the time being due to low attendance.
Coming up in April, they will be hosting Bonfire, a virtual festival where the group experiments with new improv ideas and shows.  They've also transitioned their public workshops to online, too.
This is a big shift from pre-pandemic times since most, if not all, of their offerings were delivered in-person. The feedback they've received so far has been incredibly positive, with many first-time attendees expressing that they felt a lot more comfortable participating in a workshop from the comfort of their own home.
What kind of advice would you give to other businesses as they engage in creative brainstorming and/or marketing? [8:31]
We appreciate that small businesses are strapped for time and financial resources to put towards marketing. 
CK suggests that if you're considering social media as a means to advertise your business, it's important to remember that users go on these platforms to consume content, not to be sold to. Instead of aimlessly putting out ads and hoping you get a tug on your fishing line, this may not be the most effective use of time. 
Instead, he suggests exploring the question, "Who am I trying to serve?" or "Who is my ideal customer?" Then decide on a single platform, whether that's email marketing, Instagram, or TikTok and double down on engaging with your audience more with entertaining content. And when you're an entertainment company like Rapid Fire, this can be easier to do.
What are the social media channels you're currently leveraging? [11:57]
Facebook and Instagram, mainly. 
CK says that there isn't really a silver bullet strategy when it comes to marketing. Facebook is a pay-to-play game. Instagram is driven more by visual content, so it's key to create content that is unique to your brand but also aligns with each platform's preferred type of content. They've also recently tapped into TikTok.
One advantage Rapid Fire has over other brands is they have a unique cast of performers. CK has harnessed the value of his team by creating a sort of "internal influencer marketing program", where each cast member gets paid to post their own personal branding content on TikTok. We see this happen on other platforms like LinkedIn where an employee's personal brand can strongly inform a consumer's perception of an organization. It's important to test different platforms with different types of content to see what resonates best with your audience.
How are you managing the reality that your competition has changed to the digital realm [22:09]
This is the million-dollar question. Rapid Fire is competing with every piece of online entertainment which includes all streaming platforms, DVDs, VHS tapes even, basically anything that people can consume digitally. As a consumer of streaming platforms like Netflix, you have full control over your experience. Over time it's been increasingly dubbed as the "Netflix-and-chill" lifestyle which is powerful in its own right.
What Rapid Fire does differently, CK explains, is that each of their shows are truly unique. You watch it once, but the next show won't be the same despite having the same actors or the same live suggestions from the audience. It's especially unique because in a time where everyone is physically disconnected, we still want to feel like we're part of something, that we belong somewhere.
Can you share any important lessons you've learned so far? [28:27]
Do market research.
CK interview everyone on his team and even his predecessor when he was first hired on. The objective of this is to get an idea of how people perceive the company, both internally and externally. Through this, CK was able to gather different areas that needed better communication, like how Rapid Fire has a youth outreach program, but a large percentage of their donors don't know this.  
Secondly, build your tribe.
It's important to build an email list and test different offers to your audience. What's more important to your consumers – a 25% discount off of your product, or an impactful brand story about who you are?
With a lot of uncertainty in the world currently, what lies ahead for Rapid Fire Theatre? [35:04]
This year was a time of testing and rebuilding a stronger marketing foundation and community base. If this work wasn't done now, the organization would lose a lot of momentum as a brand. This time really serves as an opportunity to reset and reflect.
In the near future, CK plans to continue hosting their annual festivals, pay-as-you-can events, virtual workshops, and other things that can further inform their consumers on their brand story. Once the pandemic is over, they hope their target audience will be a lot warmer and receptive to attending in-person events.
How can people get in touch with you?
Email: gm@rapidfiretheatre.com
Book a
15-Minute
Discovery Call
Curious about how Amplomedia can help YOU with your marketing?
Schedule a quick discovery call with Lance so that he can assess how we can best help you and your business.