In Episode 14 of Amplify your Business, Lance Johnson sits down with Karen Unland, co-founder of Taproot Edmonton and a longstanding member of the journalism & entrepreneurial communities in Edmonton. Karen's vast experience has made her an expert on media and how to capitalize on it. Together they break down what is earned media, the role it can play in your marketing plan, and a few tricks of the trade that will help you understand what you have to do to get it!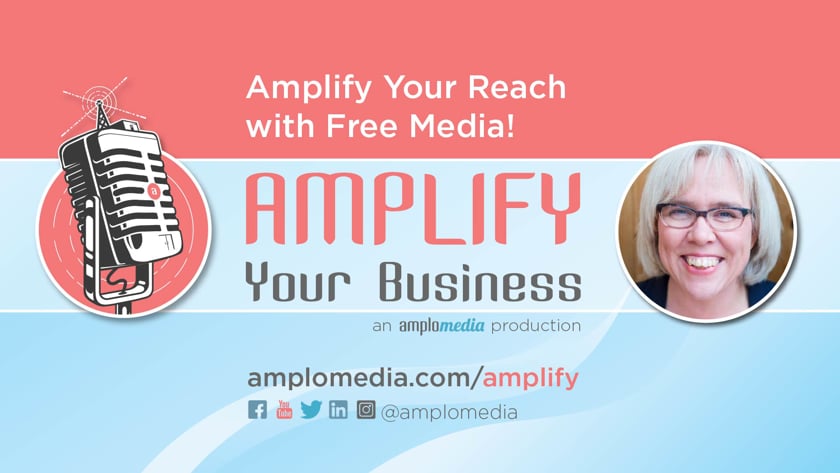 Here are a few valuable tidbits that we think you should take away from this episode. 
What is earned media? (5:55)
By definition earned media is essentially free coverage that you earn from a third party who has taken a particular interest in you or your business's doings. Earned media can take form in many shapes: some common platforms can be traditional news outlets, podcasts, or being a guest on another business's video series (😉). When you leverage earned media properly, your business benefits from third-party validation which in turn proves to the media's viewership as well as your own prospects that you offer legitimate and valuable services. And who doesn't want to be seen as legitimate and valuable? Although earned media seems fairly straightforward, it takes a lot of thought and effort to properly implement into a marketing strategy and to effectively leverage to improve brand awareness.
Is earned media free? (9:45)
While there's no direct fees attached to the exposure you receive from earned media, it's not exactly free. The cost of a good earned media campaign comes in the form of the time and resources you will expend on developing your plan, preparing the content, and then pitching this content to those who can broadcast it to their audiences. Earned media also has a cost in the form of control, or more appropriately the lack of control or influence you have on the story that will be told. 
How do you implement an earned media campaign? (13:20)
When you implement an earned media campaign you should approach it from the perspective that the media you are wishing to leverage is like any other business. Media outlets want to serve their audience (i.e. their custom base) and their product is the content they publish. The better they are at sharing interesting and relevant stories the more successful they will be at growing their audience base. Knowing this, you will need to have an engaging pitch to convince them of the value of your story - you know you're awesome, but they don't...yet. Be prepared before you start your pitch. This means do your research and get familiar with the media outlet of your choosing. And remember, practice makes perfect.
How to make your pitch stand out in a sea of competition. (16:30)
The best way to capture the attention of the person reading dozens of pitches and news releases is by personalizing a well-crafted email or letter. Now before you start to write detailed paragraphs explaining your business and the idea you are selling, remember your subject line is quite possibly the only thing your recipient will read - unless you get their attention right then and there. Focus on creating an impactful, to the point, and relevant subject line; be engaging, interesting, and promise value for that person if they keep reading.. And don't forget to follow up your standout subject line with, well, valuable content on the other side!
Leverage your owned media to get yourself earned media. (30:00)
We've been talking about earned media… so what is owned media?, Owned media can be your business's social media presence, blog posts, videos, or any other content that you are producing in-house. This type of media has two major audiences: people and Google. Both expect you to release current and relevant information on a consistent basis that demonstrate value by answering questions and solving problems. Owned media should never be intended to serve as another selling pitch but rather an opportunity for you and your business to showcase your expertise in your field. In other words, leverage your owned media to earn your place as a thought leader in your industry! By cleverly and strategically implementing owned media into your marketing plan you become more interesting and desirable from a journalist's perspective. Think about this: when you watch the morning news, how often do you see special guests sit down with the anchors to chat about their industry? (The answer is every day.) Wouldn't you like to capitalize on this opportunity to showcase your expertise and your brand?
So, have we convinced you that earned media is an important part of your overall marketing strategy yet? There was plenty more that was discussed in the full episode above, so make sure you watch it in its entirety and learn how to incorporate earned media, how to get the attention of journalists and news outlets, and how to leverage what you already own. Plus, don't forget to check out Taproot Edmonton - a member supported hub for local journalism!
Book a
15-Minute
Discovery Call
Curious about how Amplomedia can help YOU learn to leverage earned media to amplify your marketing strategy? We'd love to help!
Schedule a quick discovery call with Lance so that he can assess how we can best help you and your business.