In part two of this episode of Amplify Your Business, Lance gives Carol some tips and tricks about how to use video marketing in the customer's buying journey. They cover social media platform recommendations, best practices, and some strategies to help Carol get started! If you've been thinking about adding video marketing to your mix, be sure to watch this episode for some expert insights. In-case you missed it, Lance spoke with Carol in part one about her experience growing the family business.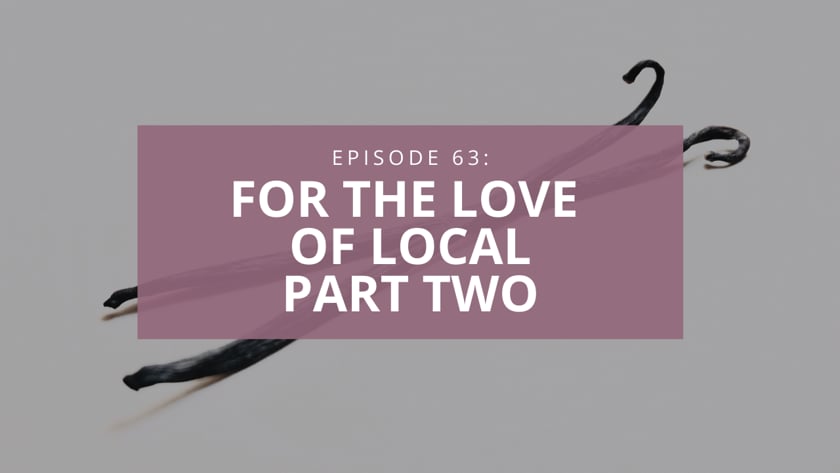 (2:00) One of the biggest questions on my mind is about videos. I've been wondering if it's worthwhile to start video marketing to introduce myself to customers, but I don't know where to start or where to post them!
As a video-first digital agency, we like to incorporate video into our campaigns wherever possible. We do this to help customers build relationships and make informed decisions about brands.
Show customers what makes you more unique and different from everyone else on the shelves, emphasizing the quality of your product and how it results from your process. These factors help to set you apart, so anyone who wants to use a quality product will be able to identify you. An overview video like this is a great start.
The day to day content that you might put on social media should be your recipes. How might you inspire people to use the product? The content you create should focus on how your product can be used in common recipes with unique twists that show how your product takes things to another level.
Recommendation #1
I recommend you start putting videos on your Facebook profile. Since you already have this profile, it would be an ideal place to start, but keep in mind that it is a pay-to-play platform. Only about 1% of the people who follow you will actually see the posts in their feeds unless you boost it somewhat. If you spend even $20 per post, you can greatly expand your reach and get your video in front of more eyes. 
Recommendation #2
If you're more interested in growing your brand organically, you should look to other platforms. I recommend TikTok, which uses an algorithm that helps to show your videos to much broader audiences. I also recommend Instagram, which is owned by Facebook. It's similar to Facebook in that you need to pay somewhat to share the video broadly, but it does a better job of spreading content organically than Facebook.
The key thing is….
However, the key to any of these platforms is that people need to engage with it. If people respond to your content, it will be shown to more and more people. These companies want people using their platforms as much as possible, so they show users content they think they will like. This gets the user to spend more time on the platform, which then gives the company more opportunity to show the user ads and earn even greater revenues. This makes it even more important to push out content that people enjoy and love. 
(09:43) That makes sense! But aren't Facebook and Instagram connected, so anything I post on Facebook will also be shared on Instagram?
They are owned by the same company. If you have an account on both that is connected and the accounts are connected, you can set it up to have your posts shared on both platforms, but that will only happen if you have enabled this connection. It's easy to do!
I would recommend, however, that you be careful about sharing the exact same content across different platforms. Each platform shows content in different ways. For example, if you show an image or video on Facebook, you can add a description with "@" mentions and hashtags. You can do the same thing on Instagram, but Instagram also has different content types, like reels and stories. Instagram is also a more vertical viewing experience, as opposed to Facebook which is a more horizontal experience. Facebook also lets you include a link in posts, but you can't do this on Instagram, so any links you post there will be ignored. To maximize engagement, it is best to post unique content independently.
It's the same principle as any other product: if you want people to engage with it, it's important that you are putting out unique, quality content.
(13:12) So once you start, you should probably do it consistently and regularly, I would assume. Consistency must be so important for retaining an audience.
Absolutely. Think of it as a community: these platforms are social networks - you have to be social to be successful on them. When you sell at the farmer's market, for example, you are likely engaging with people over time, getting to know them and their friends, what they like and don't like, because you're having conversations with them. If all you had was a table with a monitor playing a video, people may stop to watch and maybe buy, but you won't sell nearly as much as if you have conversations with them to get them to understand you and what goes into your products.
It's the exact same thing on social media. The brands who have conversations and create online communities are the most successful with social media. The challenge is, it takes time. Now you have to have those social media conversations on top of your farmers market conversations. However while frequency matters, quality matters even more. It's better to do fewer things and have great engagement, than do many things and have no engagement. The platforms will see that as low value, and push you further down that totem pole because you are not adding value for their users.
(21:07) Thank you! Having someone like you to understand these things is invaluable. I know I can't do everything, so having a marketing company do these things for me would be fantastic. You have shown me how important it is, so I would be very comfortable letting someone like you handle this.
Absolutely. As entrepreneurs, we understand how important cash flow is, but it gets to a point where we start to be barriers to our own growth and control too much. However, we still have to be strategic and make sure that the money we do spend is getting us the returns we need. Marketing can absolutely be a cost if you don't look at it strategically. 
For example, consider video content and how it can be used in multiple different areas. For instance, if you're creating a video with the recipes, you can post it to social media, as well as your website, but maybe your retailers can also share it on their website and social media. Some retailers will even have TV screens in their spaces that show different suppliers where you could show this video. Especially through COVID, more and more retailers have started using video in store to showcase products. You could also use it at farmers markets, with a screen behind you that loops your different recipes to grab people in, giving you the chance to engage them and show the product. There are many different ways to use video, but you want to be strategic so you can maximize investment. 
(25:59) Of course, it's all tied together! You've got me really excited to start working on video! Like you say, we can be deterrents to ourselves, but you've told me some simple things that can bring me out of this and get me started!
Book a
15-Minute
Discovery Call
Curious about how Amplomedia can help YOU with your marketing?
Schedule a quick discovery call with Lance so that he can assess how we can best help you and your business.