Today on Amplify Your Business, we're talking about getting your business digital. Joining us for this episode is Heather Thompson from the University of Alberta's School of Retailing, and Jessica Roth from the Leduc, Nisku, and Wetaskiwin Regional Chamber of Commerce. Watch as we chat about Making Edmonton Digital and how it has provided support for businesses to get online during the COVID-19 pandemic.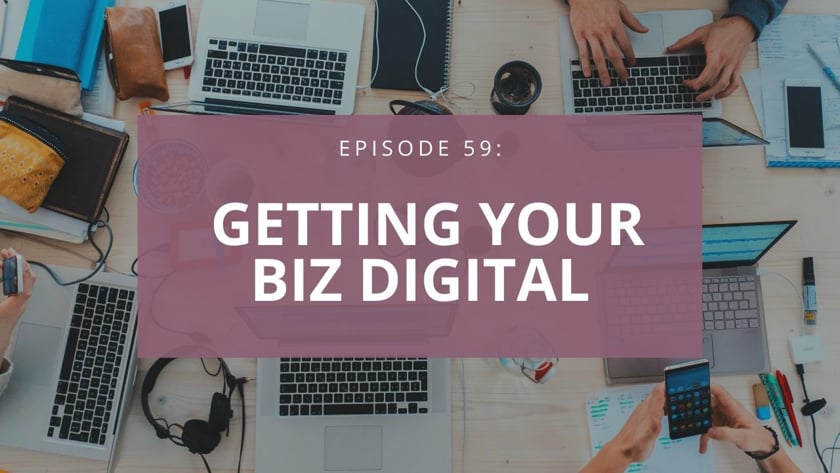 Heather, you started a program here in Edmonton called Making Edmonton Digital. Can you tell us more about that program? (1:02)
Making Edmonton Digital started just over one year ago. At the beginning of the pandemic, one of the things Heather kept hearing was the impact it was having on businesses. At the School of Retailing, they have a Student Consulting Group, and Heather thought this was a great opportunity for these students to use their digital savvy to help local businesses while also adding value for the students. She connected with Braidon Reid at the City of Edmonton, who runs the Corner Store Program and has always wanted this type of support for businesses in Edmonton.
Braidon had been in talks with Digital Main Street out of Toronto, which was created when Chris, the founder and a previous City of Toronto employee, noticed that businesses who struggled the most were those with a poor (or even nonexistent) online presence. He wanted to provide a service that would help businesses establish and improve their online presence so they could continue to operate in a physical capacity, because it was no longer possible to do so without being on the internet. Unfortunately, this trend has only been accelerated by the COVID-19 pandemic.
Created as a partnership between the City of Edmonton, the University of Alberta, and Digital Main Street, Making Edmonton Digital pairs Alberta School of Business students with Edmonton small businesses to provide them with 10-12 hours of support to enhance or create their digital presence. Students have since helped 715 businesses, with plans for many more.
What do the students usually do for the businesses in the program? (5:28)
Students work with businesses to develop an implementation plan that addresses the specific challenges that business faces. This may be helping to set up Google My Business profiles, social media planning and support, establishing e-commerce stores, and many other areas. The goal of the partnership is for students to provide instruction and hands-on guidance, so that when the business had used up its 12 hours, they were prepared to manage their digital presence and take the next steps on their own. Students would also create implementation plans for businesses that outline what their next steps should be, given where they were at with their digital presence.
Jessica, the Leduc, Nisku, and Wetaskiwin Regional Chamber of Commerce is partnered with Heather's team for a similar program called "Get Business Digital". What's that all about? (10:54)
Getting businesses online in the Leduc-Nisku-Wetaskiwin region was always something the regional Chamber had meant to do, but it often got put on the back-burner. That all changed when the COVID-19 pandemic virtually ended foot traffic for many businesses. The Chamber needed a dynamic program that would work for the diverse range of businesses in the region, and they needed it fast.
They knew Heather through other channels and had heard of Making Edmonton Digital, but knew it was only for Edmonton (according to Jessica, the story of their lives). Jessica and the Chamber talked with Heather and found a way to bring the program to the region by discussing the idea with the municipalities, who were very much excited and on-board to provide funding and support for offering the program in the region. Because of their connection, Jessica and Heather were able to make this program extension happen within just a couple weeks! Jessica was able to leverage the Economic Recovery Task Force in Leduc to streamline the project and get businesses the help they needed.
And boy, did they need it. Businesses quickly signed up to take advantage of the program when it started in June. Starting with the City of Leduc, they quickly got Wetaskiwin, Calmar, and Beaumont to join the program and provide additional support to businesses in the region, helping Get Business Digital meet their goal of helping 100 businesses in just 100 days!
So what criteria did businesses need to participate in these programs? (15:35)
For Making Edmonton Digital, businesses required a license with the City of Edmonton. This was later expanded to include proof of taxes paid in Edmonton, as they found a number of businesses would benefit from the program. The same was later true for Get Business Digital.
Was capacity a limiting factor for deploying the program more broadly? (18:21)
Capacity remains something Heather and Jessica are particularly conscious about. An important part of this program was the enhanced student experience for the consultants. Moving forward, capacity has been a chief concern as they navigate expanding the program with the strain it can place on student workloads. Knowing that the first responsibility of students is their studies, Heather and Jessica continue to explore ways to expand the program, deliver on their promises to businesses, and continue adding value for the student consultants.
So given that, is the program still underway? (21:02)
Phase I of the program is now completed, but the University is working to create a regional funding application over the next 18 months where municipalities will be able to get digital support from students for their businesses.
Jessica, what results of the Get Business Digital program can you speak to? (24:13)
One benefit that many businesses report is the opportunity to work with students. Often, businesses in the region don't consider students as a resource, but this program has exposed them to the knowledge and skills of the students. Many are becoming more interested in work placement and co-op programs for hiring students as a result.
Many businesses also speak to the tangible benefits of digital marketing. Getting found online, communicating with their customers, and expanding their marketing toolkit are benefits that many businesses have enjoyed as a result of the program.
Heather and Jessica have also invited viewers to get in touch with them via email. You may reach Heather at heather.thomson@ualberta.ca and learn more about Making Edmonton Digital at makingedmontondigital.com. Jessica has also invited viewers to email her at jroth@yourchamber.ca or visit https://www.gettingbusinessdigital.ca/.
Book a
15-Minute
Discovery Call
Curious about how Amplomedia can help YOU with your marketing?
Schedule a quick discovery call with Lance so that he can assess how we can best help you and your business.