This week on Amplify Your Business, we have not one, not two, but three special guests from Threshold Impact VMS (or VMS for short). VMS is a mentorship program for University of Alberta alumni entrepreneurs and is modeled after the highly successful Massachusetts Institute of Technology (MIT) VMS program.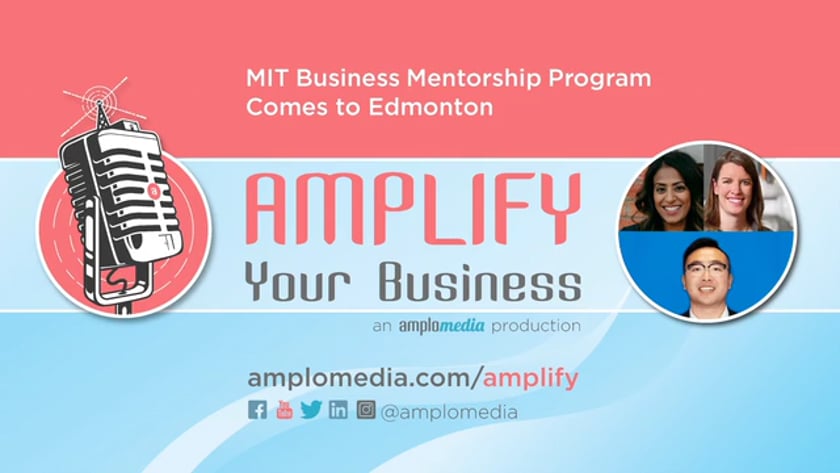 Lazina McKenzie, Program Manager
How did the program start? [1:00]
Threshold Impact Venture Mentoring Service (or VMS for short) is a program that started at MIT in Boston over 20 years ago as a way to help researchers and inventors commercialize their findings and get them to think like entrepreneurs. 
The program started gaining popularity ten years ago. This led to other universities and communities creating their own mentorship programs to help local entrepreneurs. To date, there are about 104 sister programs globally. 
Over seven years ago, VMS was formed at the University of Alberta and involved an interesting collaboration between three key bodies: (1) The Office of Alumni Relations wanted to connect with the majority of UofA alumni, the majority being entrepreneurs; (2) The Alberta Business conducting research on the economic impact of increasing entrepreneurship in Edmonton, and Dr. Ray Muzyka, former CEO of Bioware, who approached the UofA to be involved in social enterprise. 
Key individuals from each body banded together to visit MIT. They then built the bones of the business model for VMS, and eventually piloted it. 
Since VMS is a UofA program, are there any restrictions as to who can join it? [4:30]
VMS program members can be divided into two groups: mentors and clients (mentees). 
Lazina notes that you don't have to be a UofA alumni to be a mentor, nor do you have to live in Edmonton. Many of VMS' mentors are business leaders who want to give back by mentoring budding entrepreneurs like Charles. 
A vast majority of VMS clients are UofA alumni. These are individuals, like Charles, who are seeking guidance in navigating the entrepreneurial world. Lazina mentions that you don't technically need to be a UofA alumni to join; you can be affiliated with the UofA as a faculty member, a researcher, a staff member, or a graduate student who is trying to build a business. 
What are your goals for VMS? How many clients have you connected to mentors since starting? [6:37]
With Muzyka as the main founding mentor, he connected with business leaders in his network that formed the other 20 founding mentors of this program. The pilot group consisted of nine entrepreneur clients. Through various stages of testing, the founding members developed a set of criteria that potential clients would need to meet in order to be accepted into the program. 
Today, VMS has grown to 119 members and 49 clients. On the mentor side, there isn't a lot of turnover. Lazina says this is largely because many business leaders have a strong calling to give back to the community by offering their time and rich knowledge. It also provides business leaders a well-connected, positive community to join. There's definitely a lot of value being exchanged from both sides. 
It's important to note that VMS does not work in silos. Its benefits go beyond the walls of the program itself because it encourages further networking within the Edmonton community as a whole. Over time, VMS has also secured partnerships with other, prominent business leaders in Edmonton, like Dentons and MNP, allowing the program to be sustainable long-term. 
Roberta MacGillivray, BGE Indoor Air Quality Solutions, Program Mentor
What is your background? [9:38]
Roberta is the CEO and Co-Owner of BGE Indoor Air Quality Solutions. Headquartered in Edmonton, BGE's purpose is to deliver safe, clean and healthy indoor environments. BGE manufactures and distributes air filtration products. They are also a service provider that provides installation and maintenance of these products. There are timely opportunities within the air quality industry considering the effects of the pandemic and the importance of having safe and clean environments to live and work in.
Why did you want to be involved as a mentor? [11:45]
Roberta has been in VMS for 3 to 4 years. As a UofA BComm graduate, she has a number of ties to the university. She was first introduced to VMS at a speaking engagement when she was asked if she was interested in being a mentor for the program. Roberta always knew of the inherent value in mentorship and decided she wanted to give back. Currently, she's working with two ventures, Selenium Interiors and Kemet Pharmaceuticals. 
VMS is especially unique in that multiple mentors are assigned to one client. VMS does not offer 1-to-1 mentorship. This way, different perspectives are brought in to look at different areas of the business, which ultimately encourages well-rounded, holistic solutions and multi-directional learning. This feature is a key pillar of the original MIT program. 
VMS strives not only to help entrepreneurs grow their businesses, but to also help grow their mindset around entrepreneurship. They set the objective that by helping you (as an individual) grow, this directly helps your business grow. 
Another key piece to this objective is that VMS helps mentors coach entrepreneurs. All VMS mentors receive training in executive coaching. This training is also offered to some clients who manage their own team members. This further solidifies a "common language" or "mental model" that clearly sets out the mentoring services being offered.
How long will you work with an entrepreneur mentee before you leave? [24:30]
Roberta says there isn't a time limit or deadline for her involvement; however, a partnership can end for a number of reasons. She says that business owners may choose to shut down the business and try something else, other times clients may need a group of mentors to help them reach only a certain stage in their business before transitioning mentors. As a mentor, it's important to recognize how your skills and experience will directly help client businesses - and that level of helpfulness won't be the same across the board.
What would you say to someone who is interested in being a mentor? [40:28-42:54]
Along any of our journeys, whether that's in business or in life, we've all had someone who has helped us along the way. If you're someone who is interested in giving back or loves teaching or being part of something bigger than yourself, she would recommend that you get involved. 
The University of Alberta is one of the best think tanks in the world and an important resource for Edmonton. The impact you would make if you worked with the UofA, either through VMS or another program, will be huge. 
Also, she believes that the entrepreneurial spirit is alive and well in Edmonton. "We need to put a bigger spotlight on that and form a community of encouragement and positivity." 
Entrepreneurship shouldn't exist to shy away those who don't have much business acumen because that's how great ideas go to waste. 
Charles Wong, CarePros, Program Mentee
What is your background? When did you start the program? [18:37]
Charles is the Founder and President of CarePros, an accredited social services provider that supports youth with mental and physical disabilities and their families, with respite and complex group home care. Carepros' goal is to empower individuals with disabilities to create personal success from childhood to adulthood. 
He became involved in VMS a little over a year ago. At the time, Charles was experiencing immense change within his company. He was in the middle of growing his team from 30 to 130 members and needed guidance in four key areas of his business, namely:
How do I scale a distributed workforce?

How do I navigate government policies, ministries, and public relations?

How do I set out my growth strategy?

How do I create a culture that involves direct participation for key employees (i.e. profit sharing, employee stock ownership plan)?
After being introduced to VMS by Lazina and her team, Charles knew that joining the program was a no-brainer. At the time, VMS had about 100 mentors. 
Charles had the opportunity to pitch these four year areas of his business during the Entrepreneur Rally, a VMS-hosted event where entrepreneurs can pitch their business problems to win mentorship instead of money (it's kind of like Dragon's Den). A few weeks later, a number of mentors approached Charles and offered support.
What has the program enabled you to do in terms of your business and personal growth? [31:03]
Charles highlights that the most important thing that VMS has enabled him to do is expand his mindset as an entrepreneur. 
Since he joined VMS in the middle of a pandemic, and with the pivot from physical to virtual meetings that came with this, Charles recalls how much he was challenged mentally. Despite this, Charles was able to hit the ground running with his engaged and very supportive mentor team. 
Charles also reiterates the effectiveness of having a "double-layer" support system, namely his VMS team of mentors who helped him as an individual and the advisory board, which dealt only with his business. 
Throughout the pandemic, CarePros was and has always been classified as an essential business. He is extremely fortunate that they were able to grow very rapidly during the pandemic. 
Despite tackling older issues, new ones quickly replaced them from maximizing the effectiveness of the advisory board, to focusing strongly on people, culture, diversity, and inclusion within his company. This was especially urgent considering the onset of a massive social justice crisis that is happening around the world and hitting close to home for CarePros since more than 50% of CarePros staff are part of the BIPOC community. Quickly addressing these different facets of the business was a skill he honed with the help of VMS.
One of the early partners that Charles engaged with was MNP. Right before the pandemic, MNP offered him a Virtual Innovation Workshop that included a team of 5-6 members of their firm (all at senior levels from various sectors) to volunteer their time and help CarePros. Through this workshop alone, Charles was able to navigate through eight main topics that were most relevant to CarePros. This eventually led to Charles collaborating directly with MNP's management consulting team, auditing team, cybersecurity team, and more. These opportunities wouldn't have happened if it weren't for the VMS program. 
What would you say to a fellow entrepreneur who is struggling to encourage them to join VMS? [42:55]
The VMS program is the first opportunity he's had to reconnect with the UofA as a public institution. Secondly, the ability to reach out and ask for him is a huge sign of maturity and growth. VMS is a rich program that can offer you convenient access to resources you likely wouldn't be able to find on your own and in a reasonable amount of time. Thirdly, there's a strong, positive community that lives within the VMS that dispels this notion of business being cut-throat and difficult. It's not a strict mentor-mentee arrangement but rather a mentor-mentor and mentee-mentee cross-collaborative, engaging environment. VMS is an inclusive space for various businesses, startups, tech-dependent or not-so-tech-dependent companies.  
How does somebody become a mentor or a mentee? What's the application process like? [46:17]
There's a number of criteria but one that Lazina highlights, that's important to both mentors and clients, is the humility piece - not having a strong ego, being coachable. They seek out these things from the moment they sit down and meet with you.
To be a VMS mentor (and it goes without saying), you have to be an entrepreneur. There isn't an official application process if you want to sign up to be a mentor, however. Typically, it operates on a referral process. If someone from our current mentor pool thinks there's someone in their network who they think will be fit for VMS and our culture, they'll often refer mentor candidates. 
There is, however, an official application process for our entrepreneur clients on the University of Alberta website and Threshold Impact VMS website.  
For other questions, or to learn more about the program, you can connect with the VMS team directly by email at vms@ualberta.ca.   
Contact Information
Roberta MacGillivray, CEO and Co-Owner of BGE Indoor Air Quality Solutions
Visit bgecleanair.com
To contact Roberta, send a Linkedin Message.
Charles Wong, Founder & President of CarePros
Visit carepros.ca
To contact Charles, email charles@carepros.ca
Book a
15-Minute
Discovery Call
Curious about how Amplomedia can help YOU with your marketing?
Schedule a quick discovery call with Lance so that he can assess how we can best help you and your business.