In this episode of Amplify Your Business, Lance interviews Nada Choufi, founder of Mother May I Bake. We get to learn about Nada's reinvention of a family recipe combined with rich Alberta ingredients with a twist. If you're an entrepreneur who's chosen to skip the farmer's market and go directly into wholesaling (which is what Nada has done), be sure to tune in as this episode is jam-packed with marketing tips for you. There may or may not be sneak peeks into Nada's delicious recipes for spicy cauliflower wings and chocolate chickpea cookie dough, too.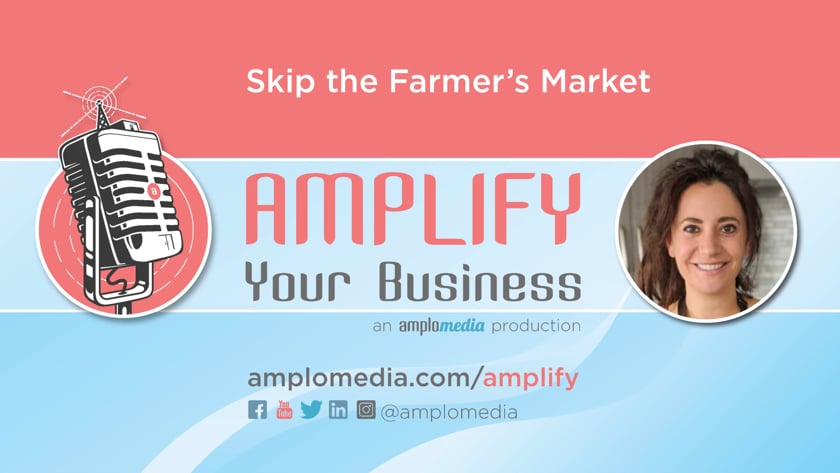 Her Hummus Journey [7:55]
Why hummus? Well, Nada says that she wanted to incorporate her Lebanese roots back into her kitchen. Hummus became her first product for sale, with its recipe being passed down from her ancestors as she adds in her own twist. 
Plus, hummus is vegan, nutritious, colourful, and is a hit with her kids (which is what really matters when you're a busy mom like Nada). She says she likes to keep her recipes short, simple and mom-friendly (as they should be). Over time, she's developed a wide variety of hummus with unique flavour profiles which you'll see in-store: traditional, sweet potato, roasted beets, and spicy. 
Nada admits that nailing down a recipe, and maintaining the same great taste per batch when mass-producing was probably the most challenging part of her business. It really took a lot of time to achieve a balance of flavours, something that isn't too sour, too spicy, while ensuring that no one ingredient overpowers the other. 
The two branches of her business, Nada, explains, include food blogging and her hummus sales. She really wanted to convey the idea of nurturing through cooking through her branding, which Lance notes she has successfully done both on social media and on her website.
Going from a home kitchen to a commercial kitchen [12:38]
Right off the bat, Nada signed off with Co-op retailer. She realized this was no small feat and had to be prepared for it from the get-go. She talks about how building a kitchen team is similar to building a sports team roster. There are also a lot of other things involved that were brand new to her, like finding production dates, a kitchen that's big enough, lining up schedules, making something work for everyone on her team, and realizing that slapping labels onto containers by the thousands is really time-consuming. It's these little, new things that stimulate growth, she says. And growth is something she does everyday. 
Lance chimes in, saying that we may not have a certain foresight if we've never done something before. Mass-producing a product scales the tiniest tasks to huge ones. 
Nada's Current Marketing Strategy [17:22]
Nada currently uses Instagram and Facebook as her main driver of traffic to her website and to increase brand awareness. She wants to grow her following to 10,000 followers so she can use the swipe up link feature in her Stories.
Lance quickly scrolls through her Instagram feed and sees  that she's successfully included lifestyle content in it. She's pulling back the curtain a little bit so you can see her life as a busy mom, which again perfectly aligns with her branding.
Email Marketing [22:05]
Nada mentions that she will typically send a thank you email and/or share a recipe to anyone who signs up to her newsletter. This is done in a more ad-hoc style versus being automated. 
Lance's advice:
Because Nada is wholesaling her food products (i.e. she's not retailing them on her own online store), she needs to approach marketing from a slightly different way. It would be helpful to boost certain posts on social media. For example, she could put a little bit of ad spend (it could be as little as $50) behind her vegan cauliflower wings recipe post on Instagram. It will increase her reach very easily and help her attain her goal of 10,000 followers a lot faster. 
Also, double-down on creating value for your mailing list subscribers. Regularly deliver recipes and other content to your subscribers. Lance suggests using geographical targeting when sending out emails in order to more accurately categories your audience. 
Website Review [28:55]
Nada has created a very user-friendly, intuitive website which is what all websites should strive to be. From learning about your business, what exactly you offer, where and how they can purchase your products, all the way to the "Thank you for your order" page, You want customers to have a no-fuss experience.
A helpful tip would be to include some language that speaks a little bit more into what your subscribers are going to receive in their inboxes if they choose to sign up for your mailing list. 
Keep in mind that if you currently have Google ad placements on your site, this may cause some customers to "click away" from your site as this might disrupt your branding. 
If you offer other related products like merch, Lance encourages that you incorporate content that promotes these related products in your social media content and newsletters too.
Other Marketing Questions [33:02]
At what point should I start outsourcing?
In a nutshell, sooner is better than later. But you have to be careful because you want to remain practical and ultimately make decisions based on your bottom-line cash flow. 
Lance recommends that if you feel that you are at a place where you're feeling overwhelmed by wearing too many hats, start talking to marketing agencies who keep your bottom-line and cash flow in their pitches instead of vanity metrics like the number of likes on posts, shares, or followers they get you. Good marketing agencies will want to ensure that you make money at the end of the day.  
Establish a stronger partnership with your retailers
Keep an open line of communication with your retailer. If you plan on introducing your product to a new store, tell your retailer while, at the same time, throwing a little ad spend behind your social posts targeting those who live in/around the area of that store. This will keep your brand top-of-mind for your customers, further building more brand awareness, while driving more in-store traffic. 
We hope you enjoyed this episode and that you were able to walk away with some valuable digital marketing insights. And if you're hungry for more marketing tips, don't forget to check out our other Amplify Your Business episodes, or drop us a line below!
Book a
15-Minute
Discovery Call
Curious about how Amplomedia can help YOU with your marketing?
Schedule a quick discovery call with Lance so that he can assess how we can best help you and your business.