We've heard people say email marketing is dead. If we're being honest, we'd be willing to bet those people only say those things because they likely aren't providing value to their audience. No one wants an email in their inbox that doesn't provide some sort of value, and if you send emails without value, your audience isn't very likely to convert. Email marketing is a great way to stay in front of your audience and nurture your leads into becoming loyal customers. The key to this, however, is providing great value.
In Episode 13 of Amplify Your Business, Lance Johnson sits down with Danielle Mohr, owner, and founder of Fine Point Writing, to discuss key tips to providing the utmost value to your target audience, and increase conversions through email newsletters and lead magnets.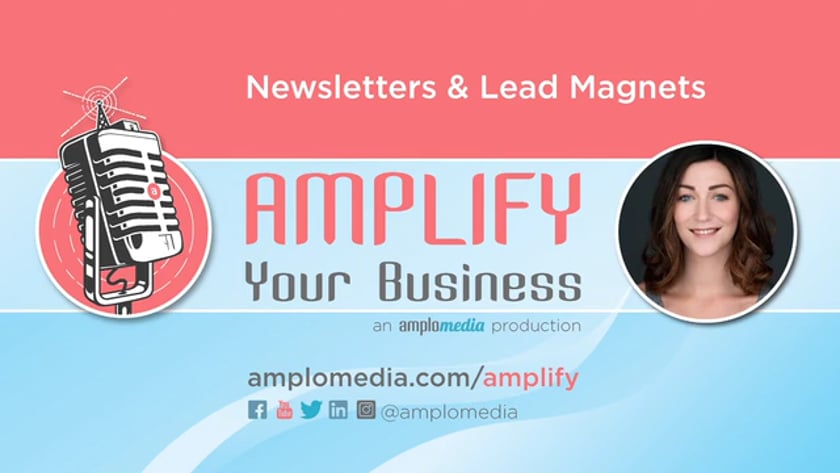 Here are a few highlights you can expect to get out of this episode:

Increase conversions with stellar landing pages (3:06)
When you send out newsletters, you're likely asking your audience to do something. Whether it's simply checking out your latest blog, or downloading a guide to blogging, one way to increase conversion among your audience is to lead your contacts to an informative landing page. If someone clicks on a button from your newsletter, you want to make sure they gain value from what's on the other side of that button. Build content around your call to action, share the benefits your audience can expect from doing what you're asking of them, and show your audience the value they will get from acting.
What happens when someone converts? (9:10)
You have probably downloaded a white paper, or registered for a webinar where you submit your name and email and then you get taken to a thank you page. This is a great place to add in an upsell. After someone acts on what you are asking of them, direct them to a page that thanks them, and also includes other ways they can get involved with the services or products you are offering. In this episode, Danielle has a mastermind course she is promoting in addition to the free download she is offering. Lance recommends adding information about the course to the thank you page in an effort to optimize the opportunity she has of being directly in front of an audience who is actively interested in what she has to offer.
The shorter the sequence, the better (12:57)
When it comes to your conversion funnel, it's important to keep it short, sweet, and simple. When you're planning how you want your audience to convert, consider writing out the entire funnel. Take time to consider how many times your audience will have to click through pages or forms to get to their final destination. The reason for this is to minimize the number of lost conversions. As more and more clicks and emails get thrown into the mix to achieve a single call to action, the more likely your audience will lose interest, and the higher probability of you losing conversions. And that's a lose/lose situation. Keep it short and simple.
Who is your lead magnet for? (19:13)
Sometimes it can difficult to narrow down your target audience. We often hear clients say their target audience is extremely broad. But, casting the net too wide is never a good idea because it doesn't help you get the clients you really want. Having a clear image in your mind of who your buyer is can be extremely helpful when it comes to creating a valuable, personable lead magnet. We call this creating a buyer persona. The key is to start general and then narrow it down from there. What are your target buyer's needs? What does he/she value? What is this person looking for? Where does he/she shop? What's the education level? Income? Do they have kids? What's their gender? Interests? Height? Weight? Name? This might sound tedious, but having an ideal buyer persona will enable you to create content that resonates with your audience, and be more personalized for the people you are trying to attract. 
At the end of the day, whoever your audience is, and whatever form of lead magnet you decide to use, the overall goal should be to provide value. When you provide value to your audience, your audience will keep coming back for more. 
Book a
15-Minute
Discovery Call
Curious about how Amplomedia can help YOU generate more leads and convert them into paying customers? We'd love to help!
Schedule a quick discovery call with Lance so that he can assess how we can best help you and your business.