In this episode of Amplify Your Business, Lance is stepping away from the computer and going to Fitset Ninja, one of the first ultra ninja warrior gyms to exist in Edmonton. Tim Gourlay, Founder of Fitset Ninja, gives us a tour of the gym. 
During the tour, Tim talks about his entrepreneurial story, how Fitset Ninja came to be, and the three main pivots he had to take in order to be ahead of the curve, pandemic permitting. From Ninja gym equipment, gym murals, and even a gym classroom, this episode is sure to entice your inner Ninja Warrior.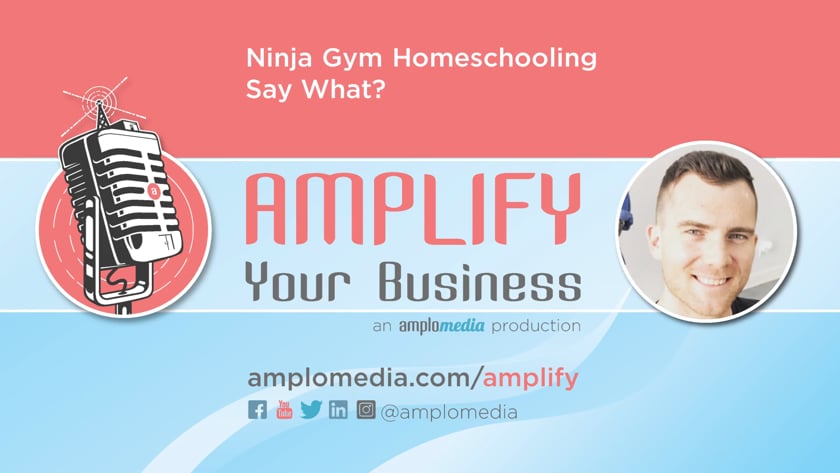 Pivot #1: Sometimes the best business models happen by accident. [3:08]
Tim tells the story of how Fitset Ninja came to be - and it all happened kind of accidentally. It starts with his first entrepreneurial endeavour called Fitset, Edmonton's first multi-studio fitness pass. Tim admits that getting people to sign up for the app was challenging and ultimately a low-margin business. Later on,  the idea of Fitset Ninja came up as a temporary pop-up ninja warrior gym to serve Fitset pass users. Little did Tim know, Fitset Ninja created a whole new market for those interested in the ninja warrior sport. Soon, more people signed up to train at Fitset Ninja while fewer people signed up for the Fitset pass. It only made sense for Tim and his team to go all-in with Fitset Ninja. 
Pivot #2: Explore beyond your own "turf"!  [13:05]
The lockdown in March 2020 posed a huge cash flow issue for many gym owners as all Edmonton gyms were forced to close their doors indefinitely, Fitset Ninja included. Tim and his team tried transitioning Ninja Trainings online. But it was hard to teach virtually because a lot of viewers lacked Ninja equipment. The Fitset Ninja team then started building Ninja workout kits. It worked but they weren't getting the same amount of cash flow pre-lockdown.
When Tim decided to spruce up the gym by painting the floors during lockdown, he had the idea of stripping the turf from the floor and selling it on Facebook Marketplace. Not even an hour later, they sold out. Luckily enough, a nearby city was auctioning off an entire soccer field's worth of turf. Being the only bidder on the site, Tim was able to win all of the turf. For the next month, they would be selling turf like hot cakes and injecting more cash flow into the business. He's even gone as far as importing a bulk order of turf overseas. To this day, if you're looking for some turf, chances are Fitset Ninja has it stocked.
Pivot #3: Ninja Academy! [19:57]
Tim shows us the newest extension of Fitset Ninja, the Ninja Classroom. It's a supervised, safe space where children (most of them in Grades 1 through 9) can complete their virtual / e-learning classes as well as stay active... Tim has hired a teacher and a teaching assistant to students in their schoolwork. So far, it's relieved a lot of parents who are concerned about sending their students back to school but aren't able to stay home and support their children in their school work. It's also provided a great opportunity for kids to stay social and active.
Lance wraps up the episode by addressing how important and easy it can be to adapt as an entrepreneur. In three short months, Tim was able to make three fast pivots, and the lessons he took from them have proved to be invaluable. Tim and the Fitset Ninja team will know what to do should there ever be another lockdown in the future *knock on wood*.
Ninja academy, parties, competitive team training, weekend camps, homeschool gym classes, and a variety of outdoor summer activities are just some of the events Fitset Ninja hosts. To learn more about these events and programs, please visit fitsetninja.com.
Book a
15-Minute
Discovery Call
Curious about how Amplomedia can help YOU with your marketing?
Schedule a quick discovery call with Lance so that he can assess how we can best help you and your business.