We're sitting down with Johanna Pagonis, owner of Sinogap Solutions, to talk about her experience with starting a business in the middle of a pandemic, turning over almost nothing in revenue for her first year in, and the single opportunity that helped her business pull a 180 and ultimately survive.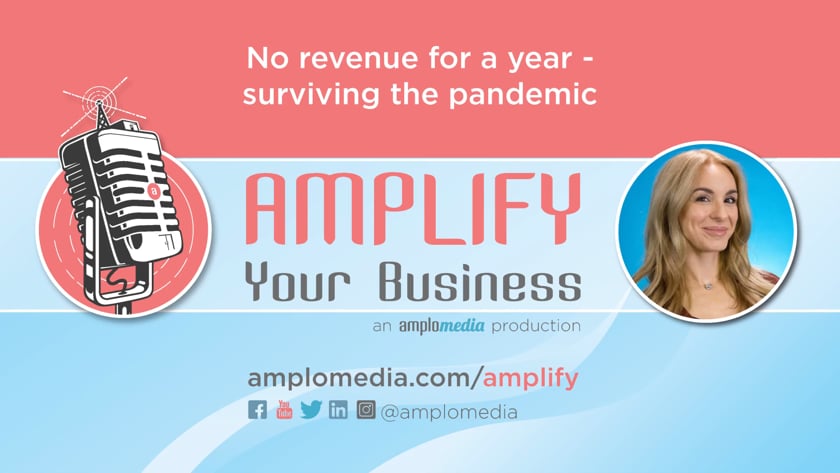 What is Sinogap Solutions? What do you do? [0:47]
At the end of the day, while it's a company's goal to profit, a company's mission isn't necessarily financially-driven. Fulfilling a corporate mission involves offering value to clients. It often takes the people working in your organization to achieve this mission. So why not create an environment that's truly engaging for your team?
Sinogap Solutions is a leadership consulting firm that Johanna started in the middle of the pandemic last year. She's always had a passion for organizational learning and development. In her business, she works with organizations and their leadership teams to help them create a workplace that fosters a culture of possibility and growth. 
Johanna works exclusively with clients who already have good workplace culture but want to take it to the next level and really invest in their people. She doesn't work with clients who want a quick fix or something that looks good on paper. She wants to offer long-term, sustainable solutions that will help them truly transform. 
Do you tend to work with more service-based or product-based businesses? [3:24]
It's a little bit of both. 
Her clients range from food and construction material manufacturers to government, law enforcement, and financial institutions. 
She finds that in order to maintain motivation within a workplace, this requires both employee engagement and leadership capacity, regardless of the industry or sector. It's not necessarily the work that we do that motivates us most of the time, but rather the people and relationships we have with our team. 
The pandemic and lockdowns have taken away our ability to gain human connection and feel a sense of belonging. Zoom and virtual calls can only emulate this feeling so much, so creating a workplace environment that promotes belonging and connection is equally challenging but important to organizations across the board. 
How did you start your business? What happened after? [7:18]
Johanna prides herself in being open to challenges and taking risks. She was very excited to start her first business; however, the role that the pandemic played turned this into a whirlwind of an experience.
For context, Johanna has always worked part-time as a consultant. She always had the goal of launching her own consulting business. Over the course of her career, she honed her expertise academically but also professionally by seeking higher positions of leadership in her employment. She wanted to balance her skills with both theoretical and practical knowledge. 
In late 2019, when Johanna was employed in her last position with the government, she was on the cusp of winning a promotion. This promotion was a contest of sorts where candidates were nominated. A few days before the winner was announced, she decided to pull out of consideration. In fact, she didn't want to be an employee anymore.
It was then she realized that: "If you're willing to not move any further in your organization, this is the right time to launch your business full-time."
She met with her supervisor and they created an exit strategy for her where the goal was to have Johanna resign officially before the end of Q1 2020.  She officially resigned in February 2020 and already had a keynote presentation lined up with the Women & Safety Conference from which many referrals came. 
It's now March 2020 and Johanna has speaking contracts in place for future keynotes and several proposals sent out to clients, many of which came back as signed contracts. She was excited to hit the ground running, but then the pandemic hit. 
Clients started "ghosting" her. She lost most of her contracts or they were put on hold indefinitely. Johanna recalls how difficult it was to navigate this situation. How are you supposed to market your services to businesses who don't even know if they'll be around in a year? 
She then decided to pivot her focus on establishing the digital side of her business. This involved curating digital courses on leadership development. To add, she also zeroed in on establishing her brand on social media and developing relationships with prospective and new clients through a podcast she created. 
In her podcast, she invited clients and colleagues to share, from a leadership perspective, what their organizations are going through and what they're doing to support each other. This helped generate a lot of brand awareness, but honestly not a lot of business. She struggled internally but credits her husband for being so supportive and making sacrifices that allowed her to start this venture in the first place.
When all was said and done, Johanna turned over about $16,000 in revenue in her first year.
How far into the pandemic was it when you started your podcast? [15:00]
It happened in stages and started in June 2020.
First, she started as a webcast. She created a lot of webinars for free through Zoom. These garnered very few viewers so she decided to make the switch to a podcast to gain a wider audience. The switch happened in early August 2020.
Her goals for the podcast are four-fold: to help promote her business, to conduct market research, to professionally develop, and to expand her network, especially in such isolating times.
When the pandemic started, how long was it until you got your first contract? [20:41]
Johanna received her first contract in April 2020 from VIATEC, a non-profit that supports the tech industry in Victoria, BC. She was hired to develop a customized five-week virtual seminar series for CEOs in VIATEC's membership. VIATEC's Director of Learning & Development first learned of Johanna's consulting services through her social media posts.
What is the ATB Build Her Business BoostR? [23:50]
The ATB Build Her Business BoostR is a crowdfunding business campaign for women entrepreneurs. In exchange for financial support, crowdfunders get a reward like a product, service or unique experience. 
Johanna launched her campaign in February 2021, sending out almost 200 emails to prospective crowdfunders, and posting on social media about it. 
Nothing. 
Crickets. 
All of a sudden, she started getting emails from companies who wanted her leadership training! She also achieved her campaign goal of raising $10,000. It was through the ATB BoostR campaign that her business got a spike in exposure and garnered more business. She also became more comfortable with the business development side of things. She began reaching out to colleagues who work in senior leadership and landed a few more contracts from that, too. 
How did you manage to overcome the hardship and stress from the past year? [33:37]
The saying, "The road to success is perseverance" has always stuck with Johanna throughout her career. Her advice for overcoming adversity is:
Develop a level of self-awareness of what your stressors are. This means really understanding what your emotional triggers are, knowing how they manifest themselves emotionally, cognitively, physically, behaviorally. Don't pretend they don't exist.

Engage in a self-reflective activity. This can include journaling, yoga, or guided meditation through an app.

Get moving. Go on daily walks. Get that Vitamin D.

Know your purpose. Engage in activities that fulfil your purpose, even if it's during a short break in between meetings during the day. Find time for you.

Know when to press pause on work and focus on your personal life. 
How can people find your courses? [38:25]
Visit her website at sinogapsolutions.com and click on the Courses. Johanna notes that her courses aren't your typical "click through a bunch of slides, print out your certificate, and show your boss" kind of course. It's more of an experience than a course, really. 
A core component in all of her courses is honing leadership skills by developing emotional intelligence and self-awareness. You will be taken through a series of self-reflective activities and really get to know yourself. She recommends not taking an entire course in one sitting, rather group the modules and go through them over the course of a few days.
How can viewers get in touch with you? 
Podcast: https://learn.sinogapsolutions.com/pages/podcast 
LinkedIn: https://www.linkedin.com/in/jpagonis/ 
Instagram: https://www.instagram.com/sinogap_solutions/ 
Newsletter: https://learn.sinogapsolutions.com/pages/about
Book a
15-Minute
Discovery Call
Curious about how Amplomedia can help YOU with your marketing?
Schedule a quick discovery call with Lance so that he can assess how we can best help you and your business.