Saying that we live in a digital world would be the understatement of 2020. Especially with the current pandemic - people are spending more time online than ever before. While there was a point in time that just having a website might cut it, that definitely isn't the case anymore.
In Episode 1 of Amplify Your Business our marketing mastermind, Lance Johnson, (virtually) sits down with owner and founder of Advanced DJ Services, Tarcy Schindelka, to discuss how he can optimize his website for conversions.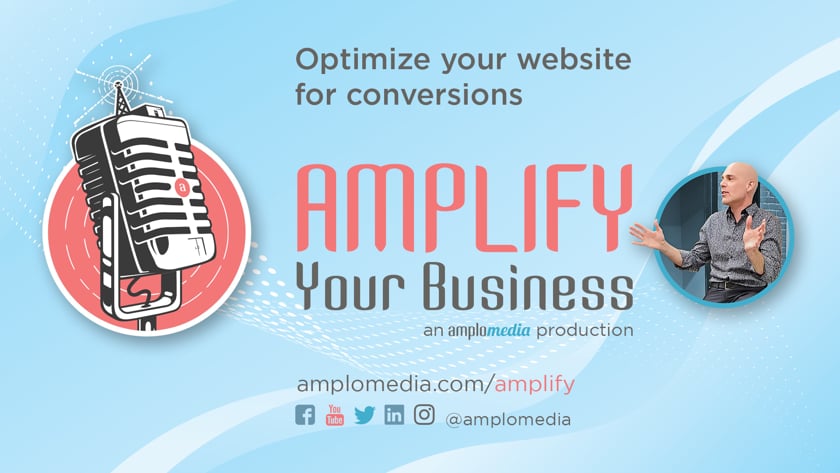 Throughout this session, Lance breaks down a number of simple changes or additions that can make a really big difference when it comes to locking in a sale. Here are a few key takeaways you can expect to learn from this episode:

Your website needs to appeal to the audience you are trying to reach. (10:07)
When your audience lands on your website, they need to feel like they've landed in the right place. Your website should have pictures your audience can identify with, scenarios your audience might be in, solutions to struggles they might be facing and examples of how your products or services can help them overcome that struggle. Whatever audience you serve, you need to share with them how your services, or your products, will serve them.


Testimonies have a place on the homepage. (21:36)
Testimonials that speak to a very specific challenge your audience might have are the ones that belong on your homepage. A testimonial on why someone chose you will often speak to a potential objection a person who is reading it might have. People want to hear about other people's experiences. Designating a space at the bottom of your homepage to share with potential clients and customers what you have done for previous customers and clients adds incredible value.


The feature doesn't sell. The benefit does. (29:59)
There's a pretty good chance you are not the only one selling your products or services. Odds are, you have competitors. And, while your products and services might have similar features to your competitors, the benefits your products or services offer are probably unique. In Tarcy's case - he has thousands upon thousands of songs he can play (36,000 to be exact). But that isn't really that big of a deal. Consumers expect a DJ to have lots of songs. What's unique, however, is that Tarcy has a huge variety of songs he can use to appeal to the most diverse of audiences as well as the years of experience to know when to play what to ensure your guests have an amazing time. THAT is a benefit that Tarcy's competitor might not have, and THAT is the kind of benefit the consumer needs to hear about.

For more tips, tricks, and techniques on optimizing your website for conversion, check out the entire conversation in the replay video above!
Book a
15-Minute
Discovery Call
Curious about how Amplomedia can help YOU optimize your website for conversions? We'd love to help!
Schedule a quick discovery call with Lance so that he can assess how we can best help you and your business.