Welcome to another episode of Amplify Your Business, our weekly web series where we chat with some great local entrepreneurs about their stories and what they can do to grow their businesses! On today's show we're talking to Ron Lefebvre and Brandon Scott, two previously independent mortgage brokers who partnered together about 18 months ago to form Benchmark Mortgages. This episode is a can't miss for anyone out there considering merging their business with another or getting started with a new business partnership. 
But before we get started though, let's take a moment to get to know Benchmark Mortgages, as well as Ron and Brandon, just a little bit better. Benchmark Mortgages is a licensed, professional mortgage brokerage, meaning they help clients secure funding for various types of real estate through options with multiple lenders (a huge pro of opting to use a mortgage broker, as opposed to going from bank to bank and assessing options individually). Ron and Brandon each have about 10 years of experience in the industry, and their independent businesses were similar in size prior to merging under the Benchmark Mortgages brand. During the conversation in today's episode we'll dive more into why they decided to partner up, what challenges they faced, and if they ended up realizing the benefits of their joint venture!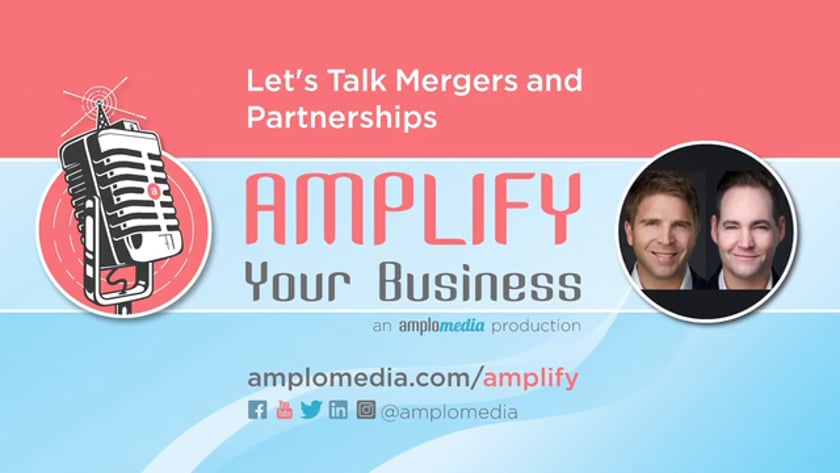 If you can't watch the whole episode above (we always recommend it though!) then check below for some key highlights from the conversation.
So, why partner up? (8:04)
As Lance mentions during the episode, there are a lot of business owners under great amounts of stress right now, possibly thinking that they can't continue to go it alone. So the top question for our Benchmark Mortgages duo is what exactly motivated them to take that leap and partner up in the first place? 
Ron and  Brandon, both having their own independent mortgage businesses prior to partnering, were familiar with one another and could even have been considered competitors in the industry. However, they always looked at each other in a complementary way and even belonged to some of the same meetup groups where they would contribute to conversations that helped other industry professionals with common questions. Ron says that if you're on your own, you have to wear each individual hat within your business, making it overwhelming and very easy to plateau. On the other hand, if you partner up with someone who possesses a complementary skill set to your own, it can be a natural fit for working together.
Not only does having a partner lighten the load on each individual, but Ron also had some question marks in his mind about how to accomplish what he wanted at the end of his career - to have grown a company that had the longevity to supersede him. So, while this dynamic duo had a few meetings before coming to the final decision to go through with merging their businesses, throughout the exploratory process the recurring theme was that they were both small fish in a big pond and these two heads certainly seemed to be better than one.
Is there ever a concern about an overlap of strengths or weaknesses? (11:14)
Complementary skill sets come up a few times during this episode, and both of our guests are firm believers in the benefits therein. We love the analogy that Brandon brings to the table involving the Olympic rings. See, the Olympic rings have overlap, but the majority of each individual ring is on its own. Ron and Brandon, like any great partnership, definitely share a certain amount of strengths. However, they've identified that their best results come from when they divide and conquer, really leaning into those areas where they each thrive individually and avoiding duplication of efforts. In that way, they're effectively amplifying each other's strengths and diminishing weaknesses.
One plus one equals… three? (12:56)
When they came to the conclusion that Benchmark Mortgages could be stronger with both of them at the helm, Ron referred to this as the potential for one plus one to equal three...then four, five, six, and so on. So 18 months into this venture, we had to ask if it's true - does 1+1 really equal 3? Well, not right out of the gates it seems.
The first months of the two companies moving forward together as Benchmark Mortgages was a lot of "let's get through it." Merging tech, teams, and everything else kind of started out with the equation feeling more like 1+1=1.5. But, now that the heavy lifting post-merger (which was work that Brandon notes he didn't think about being as much or more than the actual merger itself) both Ron and Brandon feel like they're getting to the point where they are hitting their stride as a company and are able to branch out and start growing forward, together. In fact, in the last few weeks and months prior to filming they've really started to transition out of the 'setting up' phase and into that growth phase by putting some money behind advertising and lead generation.
So, yes, one plus one can equal three, but you have to work to make it through those post-merger growing pains while getting necessary systems in place - merging CRMs, databases, teams, processes… etc. Brandon also notes that putting an emphasis on the human element of their business with team buy-in and working hard to not impact the client experience has allowed Benchmark to make it through that awkward phase without losing team members or clients due to a lack of clarity or security. 
As the Boy Scouts say… Be Prepared. (18:20)
What are some of the things that Ron and Brandon maybe didn't think of before getting into business as partners? Well, thanks to this conversation we've got a great list of things to keep in mind for those of you thinking about starting a partnership!
Be prepared. No, this isn't just for Boy Scouts. Do your research, don't make hasty decisions, and expect the unexpected.

Let go of any ego and make decisions as a team based on what's best for the company. Entrepreneurs often have an ego (in a good way!) but that can really get in the way of moving forward as a partnership.

Be fully transparent with each other. Leave no stone unturned.

Raise the bar for your own performance. Don't expect your partner to pull your weight.

Think to the future. Can you see yourself still in business with this person 20 years down the road? A business partnership is a relationship, and you need to know that at the end of the day you can sit down with this person over breakfast and talk through the hard stuff with a level head, as equals.
Check your ego at the door, sir. (26:06)
We mentioned above that potential business partners need to check their ego, which can be hard for entrepreneurs after pouring so much of themselves into building a business from the ground up. Benchmark Mortgages was originally Brandon's brand, not Ron's, and not a new, third brand that they came up with together. So how did Ron let go of the brand he'd worked so hard to build to that point? After all, he'd built up a great website, worked with marketing firms, and made a name for his business in the industry.
Well, it all boils down to checking that ego at the door and moving forward with what's best for the business. How did they make the call to go with Brandon's brand? A third-party mediator. They actually brought in a brand expert who completed an unbiased brand audit for both companies (looking at online footprint, reach, awareness, etc.) who ended up recommending that Benchmark Mortgages was the flag to fly. And so it was!
Is it worth the blood, sweat, and tears? (36:46)
At the end of the day, both Ron and Brandon feel that yes, it was worth the hard conversations, cost of mediators, financial and legal teams, and the sheer volume of work that went into building what Benchmark Mortgages is now. Ron's favourite benefit? Having a partnership gives you that person to hold you accountable, which helps propel both you and the company forward. Holding yourself accountable is one thing, but holding yourself accountable to someone else is a different level. 
We hope that this episode helps those of you who are possibly thinking about getting into a business partnership. And for those of you who aren't? Well, we hope you enjoyed it nonetheless, and make sure you keep tuning in for more Amplify Your Business episodes in the weeks to come!
Book a
15-Minute
Discovery Call
Curious about how Amplomedia can help YOU with your marketing?
Schedule a quick discovery call with Lance so that he can assess how we can best help you and your business.