This week, Lance meets with Matt Hill from Business Link to talk about all things business planning! Whether you're thinking about starting a business or have been in business for years, it's important to have a plan in place to help you navigate changes in the marketplace. After all, the saying "failing to plan is planning to fail" couldn't be more fitting at the start of a new year (and unfortunately still in the middle of a pandemic), renewing your chance to plan out new business goals.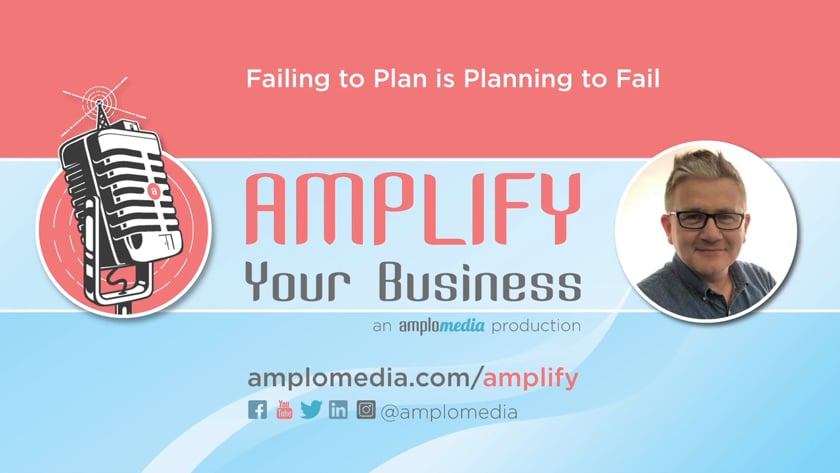 How can we start planning out the next 12 months in the middle of a pandemic? [7:40]
Clearly identify your business goals. 
Just like how there are multiple routes you can take to reach your destination, there are multiple paths a business owner can take to achieve their goals. 
Matt says that words like "mission statement" or "vision" can overwhelm a lot of new business owners in figuring out the direction they want to go in. While these words are still important, he instead suggests that you start off by asking the central question that all business decisions boil down to: "What is it that I really want for my customers?" By focusing on your customers, it can give you a general but clear overview of your starting point and destination, and ultimately the direction you need to take.
What are the next steps after we've identified our goals? [12:01]
Always plan for a purpose. 
It can be easy to do certain things and tasks in your business like write a business plan, apply for a loan, and respond to customer questions. But if you don't have a central purpose or "why" that connects all of these actions, you can lose track of where you are on the "map". This is where the pre-planning and research stage comes in. 
Even before you begin writing out a business plan, Matt strongly recommends doing some pre-planning and research, keeping the goals you made in step one in mind. 
Pre-planning involves asking the questions: 
Why should I write a business plan? 

What benefits does this plan have for me and my customers? 
Matt often notices new business owners writing business plans for bank loans they really aren't going to get this early. Until you have an early conversation with the bank, it's likely way too early to start writing a business plan without any research. In reality, lots of business owners are unaware of the eligibility criteria that banks have for loans. Business loans aren't something that you can just apply for and instantly receive. In fact, many business owners often have to operate their business for a few years to prove profitability before a bank even considers approving them for a loan. 
A Walk-Through of Business Link's FREE online business plan tool [14:20]
Among lots of very useful business tools, Business Link offers its own free. online, interactive Business Plan Builder.
Lance points out that a business plan isn't ever really set in stone. It's more of a living document that's supposed to be tweaked and adjusted as the year progresses.
The Business Plan Builder helps business owners answer key questions both on the business side (your value proposition) and on the customer side (your customer profile): 
What do we do? 

Who is our target market? What benefits are they looking for? 

What value do we create for them? 

What are our customers trying to achieve? What pains do they have? 

How do our products and services deliver on those needs and solve our customers' problems?
A well-written business plan can then serve as a solid starting point for market research. Market research is a stage in planning where business owners can validate their assumptions about their target market. This can be done by reviewing research articles or even directly surveying their ideal customer. Market research is also another free service that Business Link offers.
Matt admits that many business owners don't actually have business plans. Although it's no easy feat, he notes that by answering questions about your value proposition and customer profile, you're already many steps ahead of others who, despite being established business owners, can't quite articulate their value proposition and what sets them apart from competitors. 
A unique feature of the Business Plan Builder that sets it apart from most Do-It-Yourself software is the option for you to submit your business plan for review. Choosing this free option will forward your business plan to a Business Link consultant for feedback. You can then choose to meet with this consultant 1-on-1 for further feedback and to discuss the next steps.
What are some other frequently asked questions you get from small business owners? [27:44]
Matt has received many questions about the pandemic from business owners who are challenged with the current state of their business, understandably so given that many have had to pause operations or shut down entirely. It can be incredibly difficult to plan for the next six to twelve months if you're unsure the business will even be open by then.  
A popular question that Matt has received, often from business owners who operate in the oil and gas industry, is "How can I market my business to new customers?"  
Lance chimes in, saying that now is a good time than ever to shift perspectives and revisit your business plan, shaking out other opportunities for your business that appeal to other markets. Business Link consultants can provide this service within the business planning stage.
Where do failures occur on the execution of a business plan? [33:25]
Business owners can make a goal to reach X revenue by the end of the year, but the steps needed to reach that number remain cloudy. This issue ties in a lot with a business' marketing plan (or lack thereof), as this tends to be an area that doesn't receive as much attention as it should. 
Matt says that a sound marketing strategy answers the questions:
How will I build awareness about my business? How will I bring customers in?

How will I generate revenue?

How will I promote or advertise the business? 
Lance agrees, saying that many business owners are in situations where they have to wear many different hats. Business owners are often great at creating or delivering their product or service, but find themselves uncomfortable treading unfamiliar territories like sales or marketing. 
This is why Lance highlights the importance of an effective partnership. Having a business partner whose strengths and zones of genius makeup for your weaknesses will ensure that time isn't wasted by neglecting other crucial areas of the business. 
Business Link is a small business hub that assists soon-to-be and established entrepreneurs with everything ranging from market research, 1-on-1 business advice, business planning, and much more. For more information about the services they provide, visit businesslink.ca. To get in touch with Matt, send him an email at matt@businesslink.ca.
Book a
15-Minute
Discovery Call
Curious about how Amplomedia can help YOU with your marketing?
Schedule a quick discovery call with Lance so that he can assess how we can best help you and your business.