In episode 69 of Amplify Your Business, Lance heads down to RGE RD to speak to Caitlin Fulton, Owner and Director of Operations, and Blair Lebsack, Owner and Head Chef. Watch as they share the many different ways RGE RD was able to innovate with unique take-out offers, how they opened a whole new business (The Butchery), and what they've learned along the way!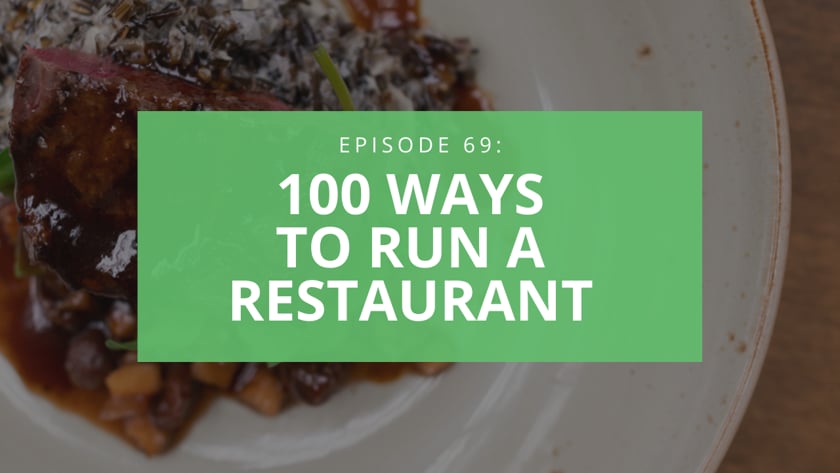 (1:50) What is RGE RD all about?
Blair Lebsack:
Well, the basis is "farm to table". We go and search for the best local products, building relationships with farmers and using their products to prepare in our restaurant. The menu doesn't follow a "typical" restaurant structure. We play with a lot of typical Canadian foods, letting the ingredients really shine through. There's a lot of testing to make sure we're happy with each dish, trying to provide unique flavours and textures with the different ingredients we work with. Many of our dishes are centered around proteins, but we also love working with vegetables.
Caitlin Fulton:
We also source our proteins from the most sustainable and ethical farms. Every animal comes in one at a time, 100% processed in house. This enables us to look at the product closely and manage it's quality.
(4:25) Absolutely. One of the things you're known for is using the entire animal. Do you know of any other local restaurants taking this approach?
Blair:
We don't know of many others. Some use off-cuts in unique ways, but that isn't our approach. When we look at a carcass, we think about all the different dishes that can be made from the animal, not just what can be done with off-cuts. 
As a chef, it's both liberating and difficult. It enables you to see all the different possibilities of an animal, but you also can feel constrained by being required to use different parts week to week, adjusting the menu so frequently. It's dictated how our restaurant has evolved throughout the years. Some of our biggest selling items are things like the "Road Trip", blind, six course tasting menu, where you don't know what you'll get until it's right in front of you. Items like this enable us to use different cuts for different tables and use up everything. Another item is "Questionable Bits", which offers the unique and unfamiliar parts of the animal for guests. This would not be possible without our wonderful kitchen team and the different people who enable this to come together!
(9:11) Let's talk about your experience through COVID. How has the pandemic impacted your business?
Caitlin:
It was pretty difficult. There were many different stages of reinvention. Fine-dining doesn't translate well to take-home, so we were throwing things at the wall every week to see what sticks. We tried casual comfort food like pot pies, roasts, and meatloaf, for example, and the response was unpredictable. Some weeks, we would be completely swamped, and others it felt like we had almost no orders. We also tried at-home wine experiences, which were more successful - we found that people were still looking for an exceptional experience at home, so we tried different ways to offer that experience. There were cooking demonstrations streamed from our home, wine packages, and make-at-home meals. It feels like we tried 100 different businesses over the last 18 months.
(11:40) As you came out of the lockdown, what changed? Did anything change?
Blair:
The hardest part has been how unpredictable it still is. Lots of people came out as soon as dining opened. We built a patio, and then two days later they cut off all service. There have been so many highs and lows this year that we've grown a little numb to what's happening. We're just trying to offer our food, offer a space for our staff so they're able to keep working, and do whatever it takes, and we found the best solution is to play off what customers want. That's what led to The Butchery.
Caitlin:
Not only were we trying to run the restaurant, but also open up a business in a space we hadn't operated in before (that being food service), bringing its own set of challenges. What we have found, though, is that RGE RD still has a place in Edmonton. We can still fill our dining room, and there is still an appetite for those elevated dining experiences that you can only really get when you dine out. They're willing to splurge on a nice bottle of wine or a bigger tasting menu.
Throughout the pandemic, the most important thing to us was keeping our team intact. That's one reason we kept trying so many different offerings - to keep our team ready for the rush we knew was coming. That was definitely helpful in keeping the team engaged and not getting overwhelmed, but we were still very busy.
Blair:
As everything re-opened, many people weren't used to being busy again. We would never open a restaurant in one week, but in some ways it felt like that's what we had to do when the lockdown was first lifted. Everyone did an amazing job to pull it off.
(15:48) What lessons have you learned along the way that others might get some insight from?
Blair:
We've learned that we can't be someone's "fried chicken place" or "pizza place". People have their own favourites around the city for that sort of thing. This has actually helped solidify that people want RGE RD for what it is! They want our quality ingredients done the way we prepare them. By sticking to what we do best, we've been able to succeed. The more options we had to brighten someone's day, the better. People like what we do, so we shouldn't try to be something else.
Caitlin:
Absolutely, and finding a way to elevate the at-home package and provide an elevated experience. We looked at every take-out box we filled as a gift to somebody. 
(18:47) So let's talk about The Butchery! What is that all about?
Blair:
The Butchery started as monthly pop-ups where we would sell things like sausages, charcuterie, and occasional cuts of meat. It started picking up steam, and when we had the chance to take up more square footage in the same space, the next thing you know we're operating a 4,000 square foot butcher shop! For the most part we're selling proteins like different meat cuts, sausages, deli meats, as well as frozen foods like pot pies. 
Caitlin:
We also make soups, salads, and even bake our own bread in house. It's more than just proteins! There are grab and go sandwiches, and a range of beverages that we sell with our licence so you can grab a bottle of wine or a beer with your meat! We offer a rotating selection of local beers, and an international list of wines.
(23:16) Why did you decide to open during a pandemic?
Blair:
Well, we didn't want to start it that way! We got it started in 2019 and broke ground in January of 2020. Of course, we all know what happened shortly after.
Caitlin: 
We officially opened in November of 2020, right before a shutdown of dine-in service. Thankfully, it was in time for the Christmas season!
Blair:
We wanted to throw a party to celebrate the opening, and we haven't been able to yet. We want to show the community that we're here for all of their needs, and we haven't been able to do that yet. It was also great to work with local craftsmen who helped us build the shop and connect more with our community. The Butchery has enabled us to try new ways to use the entire animal, and now that both locations are open, we love to see the ways the two businesses work together.
Book a
15-Minute
Discovery Call
Curious about how Amplomedia can help YOU with your marketing?
Schedule a quick discovery call with Lance so that he can assess how we can best help you and your business.