Being a small business owner is an exciting and hectic job that requires you to wear multiple hats and leaves you barely any time to eat lunch let alone plan for the future. Yet planning ahead for the future is important especially when it comes to planning your exit strategy from your business. 
In Episode 18 of Amplify Your Business, Lance Johnson welcomes James Song, a Partner at Prowse Chowne LLP, to share some practical advice on how to create a strategic succession plan for your business.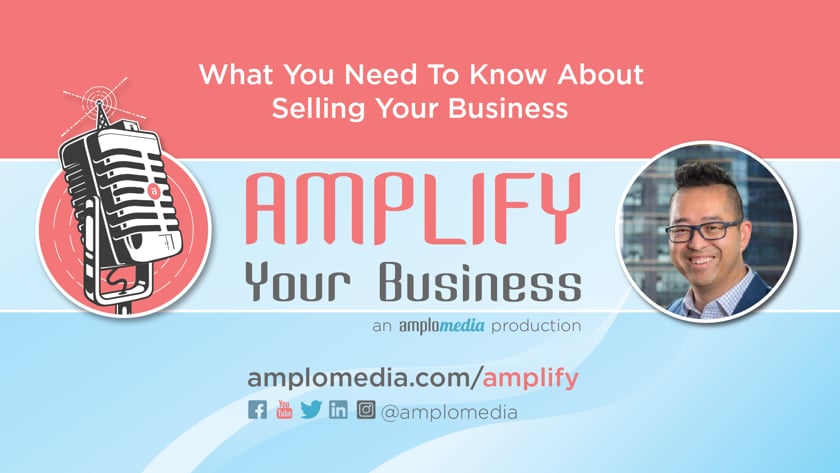 Here are a few key takeaways from this episode.
How do you plan for selling to an external buyer? (4:54)
It can be a daunting task preparing your business to appeal to an external buyer, however, James suggests you think of succession planning in a similar way to owning a house. Before you even consider selling your house you should be taking care of your property: making sure all the amenities and infrastructure is up-to-date,fixing the leaky ceiling, touching up paint jobs and all the other little odd jobs that may have been neglected. Ideally, you want to start succession planning in the initial stages of starting your business to prevent you feeling overwhelmed later down the road when you do decide you want to sell. But, we understand this might not be how everyone thinks when they're just getting their business off the ground. With that said, James recommends starting with identifying all of your assets and liabilities which will later help in evaluating your business, so when someone does come knocking on your door looking to buy, you're ready.
How is my business evaluated?  (8:45)
There is no set formula for evaluating your business because it's dependent on your industry, the products/services you sell, and how much inventory you hold. Despite the size and function of your business, James still advises the best way to have a strong understanding of the value to your business is by keeping your bank statements current and completing a full asset and liabilities evaluation every two years. Yes, this sounds time consuming and very tedious (and frankly, not a whole lot of fun for most of us)so take the load off your back and hire an expert who can give a fair and unbiased evaluation of your business' worth. Now, this also raises many questions about goodwill and how to value the worth of your company's brand. We unfortunately can't help you determine its monetary value, but we can tell you to continuously work on driving your message forward to build brand awareness (familiarity) and a strong community of loyal followers (customers). You may not be able to determine an exact dollar number, however, you can start to determine an organic value based on your brand's presence in the community and position as a thought leader within the industry you operate in. 
What about internal succession? (15:31) 
If you plan on selling your company to an internal buyer there are things you need to consider in order to ensure an internal succession plan runs as smoothly as possible. Begin with recognizing the employees that add value to your business and identify those individuals who are well suited to be your predecessor. According to James, the best way to train your talent is by challenging and pushing them out of their comfort zone as well as providing many opportunities for them to see all aspects of the business.  Not only will this strategy increase the talent of your employees but make your employees feel more invested in the business. Remember, a large part of how you and your business are perceived is based on how you treat your employees. After enough trust is built and interest is gained, you can offer your selected few an opportunity to become stakeholders in the company. If you are concerned about losing talent you invested money and time into, consider non-disclosure agreements and non-compete clauses within your employee contracts to mitigate the chances of your protégé becoming your competitor. 
We hope you can take these tips with you on your journey as a small business owner, and that they will come in handy as you think about exit strategies, succession planning, and preparing your business for evaluation and eventual sale. These tidbits of information were great, but don't miss out on the full episode above, because there's more where that came from! 
Book a
15-Minute
Discovery Call
Curious about how Amplomedia can help YOU amplify your message and get you more customers? We'd love to help!
Schedule a quick discovery call with Lance so that he can assess how we can best help you and your business.