In Episode 25 of Amplify Your Business, Lance chats with Vanessa Marshall, founder and owner of Jack59. Jack59 creates and sells shampoo and body bar products. They also recently won the Runner-Up Award in the Beauty Category for the Made in Alberta Awards!
We learn about Vanessa's reasons behind starting Jack59, how the idea of creating shampoo and body bars came about, and why she anchors her business in sustainability and sustainable practices. She mentions her best-selling product (which may surprise you) and we also get a crash course on the science behind sulphate, why it's bad for your hair, and why ph-balanced shampoo is better.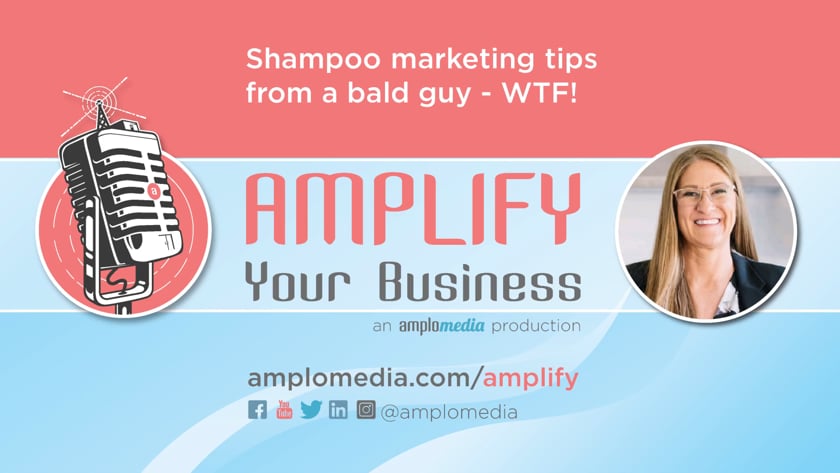 What are shampoo bars? [3:42]
They're a solid version of the liquid shampoo that is on the market today. Jack59 shampoo bars are convenient, PH-balanced, sulphate-free, waste-free, vegan, gluten-free, and phthalate-free. Jack59 shampoo bars don't cause the itchy and dry scalp that many people experience from sulfate-containing shampoos.
How has shifting consumer behaviour benefitted your business? [11:59]
It goes without saying that consumer behaviour has shifted greatly since the onset of the pandemic. While packaging wasn't initially in Vanessa's business plan, she made the executive decision to package all of the bars in recycled cardboard boxes. This small change kick-started Vanessa's rebranding efforts at the beginning of the lockdown when she had to furlough staff and be on her own for a few months. 
Vanessa also mentions Apeetogosan, an organization that provides funding to Metis and Aboriginal small business owners. It's through organizations like Appeetogosan that she was able to carry out her rebranding efforts. 
In addition to the rebrand, she also established her sales platform through Shopify. Like many other local businesses, she has followed suit with offering order drop-offs and porch pick-ups as a way to comply with social distancing rules.
The power of teamwork among small businesses [13:15]
Throughout the lockdown, Vanessa talks about how she worked on reaching out to more wholesalers, collaborating with other local businesses (like Great Little Box Company in Vancouver who created her packaging, and Curio Studios who was involved in the rebrand and packaging design). 
Working with other small businesses has developed this feeling of camaraderie, Vanessa says, and has breathed a new life into her company. Regardless of how many hats she wears as an entrepreneur, she never wanted to compromise on the vital one-on-one relationship with her customers.
Since Vanessa has increased activity in Jack59's three main spheres of business: farmers' markets, online sales, and wholesale sales. Vanessa is now doing about 3X more business than she did pre-pandemic!
Where do I start when it comes to marketing hair products? [22:35]
If you're in the same spot in your business as Vanessa is, Lance suggests to focus on the sales downstream side. Think of the sales process as a funnel. Each level of the funnel must include different types of messaging and activities that each buyer must go through before making a purchase. As a business owner, you want to maximize the number of people who travel from the top of the funnel to the bottom, with the least amount of resistance. 
For online retailers, look into setting up an abandoned cart campaign. This involves setting up an email sequence that gets triggered when people add something to their cart on your site but have not gone through the checkout process aka "abandoning their cart". 
This campaign aims to entice this person to return to your website and follow through with the checkout. A couple things you can include in the email sequence are reminders of the product(s) they have in their cart or even a discount coupon for a sweeter deal. This is the lowest hanging fruit when it comes to maximizing conversions from people who are already familiar with your site and your products. 
How do we get people to add products into the cart? [25:40]
Make sure your landing pages are really compelling. Ensure that the landing page has information that can answer virtually every question that a potential buyer would have about your product. This includes photos, testimonials, videos, the benefits of your products, key selling features, how they're different from competitors. If you haven't received feedback from customers yet, ask and include these "selling nuggets" on your product page.
How do I get more people to the site? [28:00]
List-building. If you can compile a list of the customers you have right now, start sprinkling out information to them about new products, features, specials/promos, limited editions. This list is extremely important because it's easier to sell to existing customers (a warm audience) than it is to convert a colder audience (i.e. someone who has never heard of your brand or been on your site). 
You can also retarget people who visit your website, browse your product page, but don't buy anything. Oftentimes, retailers will offer a discount to first-time buyers who sign up for their mailing list in order to guide them further down the sales funnel using targeted campaigns. 
The power of the pixel [29:28]
If a site visitor doesn't sign up for your mailing list, another way to retarget them is through the pixel. You can position ads to be shown to them once they leave your website. This makes for a more personalized user experience while increasing brand awareness. Other ways to increase brand awareness is through a social media influencer campaign or by hosting a contest on social media that relies on followers posting their own user-generated content of your brand and products.
Spend your ad spend wisely; preparation is key! [32:27]
You don't want to think about doing ads until you have the sales funnel set up completely. Facebook and Instagram unfortunately make posting ads seem like the easiest thing to do but can ultimately bring about a false sense of hope when you see that a high amount of ad spend returns only a negligible amount in sales. The key is to have a full system in place that accounts for every action taken by every potential customer after they view your ad. 
In addition to being prepared, Vanessa brings up the importance of knowing when to give up a hat or two. Entrepreneurs are known for wearing numerous hats at one time, but knowing when to let go and delegate certain tasks to experts can serve a bigger return on your time and ultimately growth for your business.
Book a
15-Minute
Discovery Call
Curious about how Amplomedia can help YOU with your marketing?
Schedule a quick discovery call with Lance so that he can assess how we can best help you and your business.