Linda Hoang is a Edmonton-based blogger and social media strategist powerhouse. She works with businesses to develop social media strategies and helps carry them out by curating her own social media content. In addition (and arguably more importantly) she's the founder of The Edmonton International Cat Festival. 
Her roots in blogging started before blogging was even a thing. She started when she was ten! Even before Instagram took off and became the popular digital billboard it is today, she already had an account.
What sets her apart from other content creators is her professional experience in social media marketing and communications. As a social influencer with industry knowledge, she brings a unique, critical-thinking lens to the table. From a business perspective, she would never want to share something that she wouldn't feel comfortable doing so.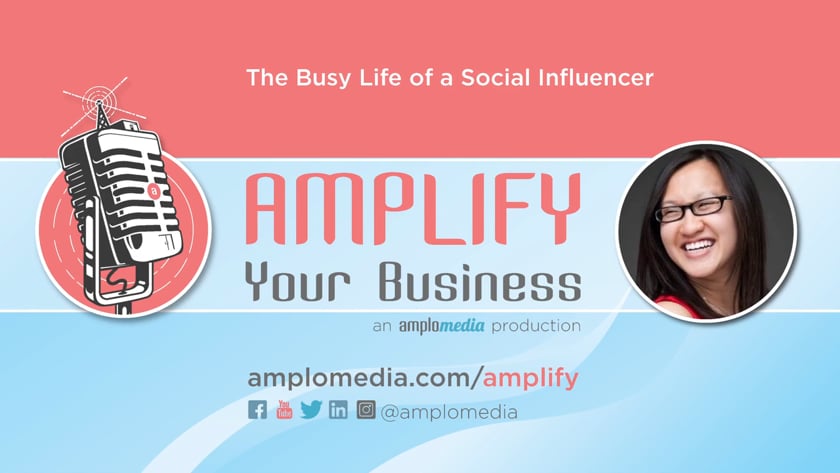 What was one of the craziest projects that a client invited you to work on? [7:38]
Last year, Linda was asked to "recreate" Thanksgiving content for a potential client one month before Thanksgiving. She remembers being very frustrated at this somewhat unreasonable request. What's even more worrying was that this Thanksgiving project was meant to be an assignment to be used in Linda's pitch when being considered for the partnership. This assignment would no way guarantee that she would be partnering with this company so being asked to do a lot of work at a non-existent fee seemed amusing.
There have been many instances where potential clients don't do as much due diligence in researching Linda's services and the type of content she produces. For example, she's been quite open online about her struggles with infertility. She regularly gets pitches from companies who sell toys and nutritional products for kids.
Tell me more about the #AdopAShopYEG initiative [11:54]
When the first lockdown happened in Edmonton, Linda started sharing Instagram posts about her favourite local businesses. Someone on Twitter took notice and suggested she "adopt businesses" to help them out. The Adopt A Shop movement was officially born.
This initiative aims to create a collective platform that supports local Edmonton businesses. Initially, she asked Edmontonians to nominate small businesses that could use support. After selecting a small business to be featured, Linda would encourage everyone to sign up and commit to spend at least $20 there. Unsurprisingly, Edmontonians ended up adopting multiple businesses and contributing more than $20 each.
It gained so much traction that ATB Financial, an Alberta-based bank, reached out and asked if they could partner with her. Over the months, Adopt A Shop turned into Adopt A Neighbourhood where ATB chipped in local business gift cards. She was able to surprise neighbourhood residents with these gift cards, encouraging them to spend double the amount to support businesses within their own neighbourhood.
At first, Linda's goal was to collectively spend $12,000. The collective spend turned out to be $22,000! Although Adopt A Shop has now ended, she hopes that this initiative has sparked stronger, continuous support for local businesses, even if that means having Edmontonians think twice when they're checking out at Amazon.ca, and instead shop the sites of local businesses. 
From the get-go, Linda's intention with Adopt A Shop was for it to remain an unsponsored and unpaid opportunity. She says that it's the investment of front-loading the work into this initiative that she hopes will expose her brand and attract more partnerships down the road, similar to how the ATB partnership came to be. She feels that working on an initiative and having partners reach out to her is much more effective than doing elevator pitch after pitch to potential partners.
Linda is proud to say that Adopt A Shop has extended beyond the Edmonton area and into small communities across Alberta. Over the summer, she embarked on a Support Small Businesses Road Trip where she stopped at and featured small businesses along Highway 2, inviting Edmontonians and Calgarians to drive out and support them too. 
Do you have any tips for businesses who are looking to hire content creators? [23:55]
Although influencer marketing isn't necessarily "new" in this day and age, it's a resource that remains untapped to so many. 
To some, this industry may seem like the wild west, and to some extent it is because of the vast scope of services, ethics, and compensation can range from fifty dollars to thousands and hundreds of thousands of dollars. A lot of work and effort goes into successful strategy development and content creation, even though the end product may be a single social media post. 
Linda stresses that businesses should take it upon themselves to learn about influencer marketing before even considering potential influencers. On her blog, Linda has a free influencer marketing education series for businesses that are new to it. 
Lance chimes in, saying that a brand like Nike is very selective when it comes to choosing a spokesperson. You want to ensure that an influencer is authentically aligned with your product and brand. This way, your content will better resonate with your audience. Otherwise, a post of an influencer who's holding your product but whose audience is irrelevant to yours will just be a tiny blip in the social media stratosphere and likely an unwise investment. 
Things like follower count, and the average number of likes and comments on a post are regularly termed as "vanity metrics" and have no way of determining if a partnership will be worthwhile. Linda strongly recommends that companies do their due diligence by asking and expecting influencers to know who their audience is, the type of content their audience likes, and the benefits of a partnership with them.
How do you do it all?! [33:13-40:57]
To say that Linda is a busy person would be a huge understatement! 
To put things into perspective, the projects she currently has on her plate include: Adopt A Shop, her blog, her Instagram account, running The Edmonton International Cat Festival, helping her parents run their Vietnamese restaurant, delivering social media training for businesses, exploring the city to create content for her blog, mainly for her Instagrammable Walls and local-food-related posts. 
To boot, she is also the Media Communications Roundup Curator for Taproot Edmonton, a local journalism startup in Alberta, a part-time instructor at the University of Alberta Faculty of Extension for the Social Media Certificate, and she will likely help her husband start up his own coffee shop in the near future.
If you thought that was the end of that list, you're mistaken. She also hosts a social media podcast called "Don't Call Me a Guru" where she interviews people and shares social media advice. She does an advice column podcast with her husband, which has since gone on a bit of a hiatus since the lockdown. But, she notes that the first few episodes are pretty funny (because they disagree on more things than not) and worth checking out. 
When it comes to time management, she admits she's not perfect at it but does have a few tips to offer:
First, turn off the notifications on your phone. This may not completely remove your habit to constantly check your phone every fifteen minutes but it helps you focus on tasks more. 

Set aside specific blocks of the day to answer emails and social media direct messages. She used to feel pressured to respond immediately to every message she got. Now, she's more comfortable with the idea that it's okay to step away and delay your response for a few hours or even a day.
Create to-do lists in your Notes app. This old-school hack helps her a great deal when it comes to managing her time and tracking her progress.
How can people connect with you online?
You can check out her blog at www.linda-hoang.com
Instagram: @linkdork
Twitter: @lindork
Facebook https://www.facebook.com/lindahoangblog/
And lastly through good, old-fashioned email at linda@linda-hoang.com.
We hope you found this episode of Amplify Your Business both informative and interesting. Stay tuned for more in the weeks to come!
Book a
15-Minute
Discovery Call
Curious about how Amplomedia can help YOU with your marketing?
Schedule a quick discovery call with Lance so that he can assess how we can best help you and your business.