In Episode 57 of Amplify Your Business, Lance meets with Alexis Hillyard from the YouTube channel, Stump Kitchen! In her videos, Alexis shows viewers how to make gluten-free, vegan "stumptastic" treats! Learn about her inspiration behind starting a YouTube channel and the business side of being a YouTuber.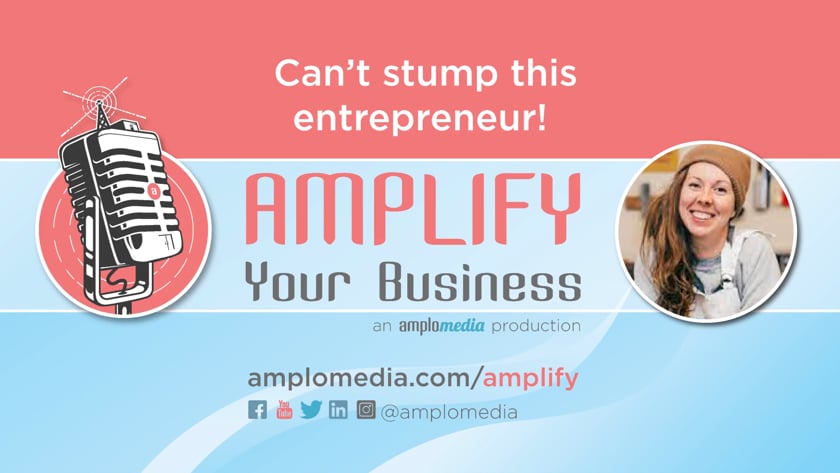 How did Sump Kitchen come about? (0:21)
It purely happened by accident! 
Alexis became vegan after being vegetarian for a long time, and diagnosed gluten intolerance. She wanted to start cooking for herself more, despite never liking to cook or be in the kitchen too much before. She started off with some really simple recipes. As she got more and more involved in the kitchen, she noticed that she'd naturally use her arm (or her stump as she calls it because she was born without a left hand) as a tool similar to a spatula, a masher, and a juicer. 
Alexis' partner and friends encouraged her to show the world the uniqueness of her cooking through YouTube. After filming and editing her  first episode, How to Make Vegan Waffles, the Stump Kitchen channel was born!
How do you make a business creating videos and posting them on YouTube? (2:28)
Currently, Alexis brings in about $15 to $25 per month purely from her YouTube channel. This is with all ad settings turned on, posting on a consistent schedule, and focusing on the channel after leaving her full-time job. So there's a ton that needs to happen behind the scenes in order to bring in a livable income from being a content creator. 
This is why Patreon has become another key platform that has helped Alexis with her business. For those who don't know, Patreon is a platform where artists and creators can put their content out online and subscribers can support them by contributing any dollar amount per month. 
Creating the actual video content is only one piece of the puzzle though. Alexis would also reach out to other content creators to collaborate, and she built relationships with those in her online and offline communities. A lot of internal work also had to be done, like shifting her mindset, acknowledging her purpose, and becoming more confident in asking viewers to join her community. 
You've been in the YouTube space for five years now. Is it easier to create content? (10:49)
It's a lot easier. The behind the scenes stuff, like setting up the camera, tripod, lighting, and getting all of the ingredients together, takes a lot less time than it did at the beginning. 
As you're engaging with your audience, there is endless stuff to talk about and potential opportunities to collaborate. In terms of idea generation, it ebbs and flows. Sometimes Alexis will need a bit more time to come up with interesting video ideas. Other times, she'll wake up and know exactly what she wants to film. Processes have also become a lot more streamlined over the years and it makes being a content creator and a new mom that much more manageable. 
What are other things you do to round out your income model? (14:22)
After Stump Kitchen took off, many of Alexis' viewers started asking if she offers cooking classes. As someone who is an educator by trade, Alexis felt that teaching others how to cook aligned perfectly with her core values. She offers private cooking classes, birthday parties, group classes with Girl Guides and schools. She also does speaking engagements for groups, families, and schools. 
What would you say to aspiring entrepreneurs to maintain focus and pursue what they want? (19:54)
There's no one-size-fits-all approach. It's okay to have setbacks and doubts along the way. You're constantly grappling with two different voices in your hand. What if this takes off? What if this doesn't? Maybe I should just quit altogether and go back to my job I was doing before.  And this can take away from your progress.
As cheesy and abstract as this sounds, Alexis thinks that the solution lies in training your mindset to come back to your core values - your why. Why do you want to pursue this? What will it give you? Are you happy? What does success look like to you? Manifesting your goals and success in this way can help get you back on track. 
Google reached out to you and decided to do a profile on you and Stump Kitchen. Talk about this experience. (23:15)
Google was literally googling content creators and found Stump Ktichen, saying they really loved Alexis' work and wanted to include her in their documentary-style project. A filming crew flew out to Edmonton in April and interviewed Alexis. In this documentary, you see what Stump Kitchen is all about - online workshops, collaborating with others, editing, and Alexis' life out of YouTube. The project was released on June 4th. 
Are brands knocking on your door and asking to sponsor you? (30:05)
Yes, now they are. In the last year, Alexis has worked with ATB, London Drugs, and a couple others potentially for this summer. Alexis has decided not to create sponsored videos because she wants to keep full control over her YouTube content so that it fully aligns with her brand exactly the way she wants to. She will be creating sponsored IGTV content, though.
What are your final words of advice to someone who wants to be a YouTuber? (32:45)
Do it. If it's tugging at your heart, do it. And don't make it perfect. You don't need to wait for that "perfect" time or the "perfect" fear.
Where can viewers connect with you?
Instagram: @stump_kitchen
Email: alexis@stumpkitchen.com
Book a
15-Minute
Discovery Call
Curious about how Amplomedia can help YOU with your marketing?
Schedule a quick discovery call with Lance so that he can assess how we can best help you and your business.