A brand name without a tagline is like popcorn without butter. Popcorn does alright on its own; plenty of people would still buy it when they went to the movies if there was suddenly no butter option. But think about this: what is more memorable to you - dry popcorn, or popcorn covered in hot, melty, salty butter? Taglines aren't food, but they do amplify your branding in the same way that butter kicks your popcorn experience up a notch.
In Episode 12 of Amplify your Business, Lance Johnson sits down and talks tagline best practices. What's the difference between a tagline and a slogan, what makes a good tagline, and why it's important to keep it simple!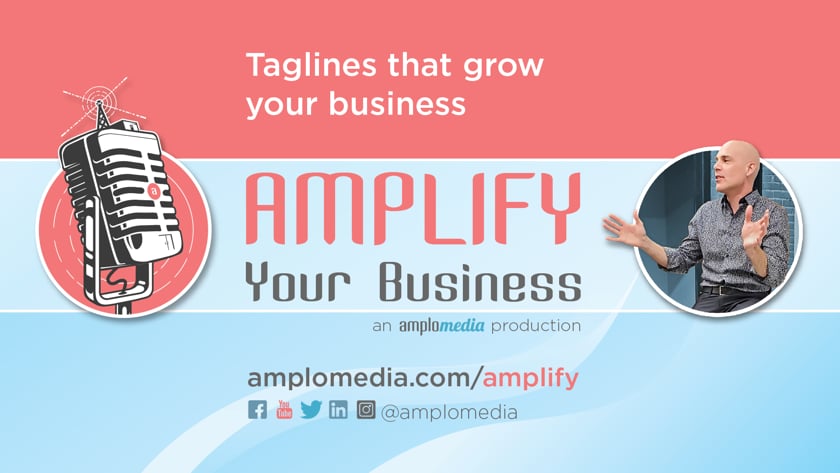 Here's a quick rundown of Lance's key kernels of wisdom from this episode:
What's in a tagline, anyway? (0:06)
A tagline is a short, memorable phrase that conveys what you want people to associate with your brand. Taglines are usually displayed prominently on your website and are used consistently through your marketing materials, so as one of the first touchpoints that someone has with your brand, it's important to get it right. Let's take a look at our tagline, for example, "We Deliver You More Customers. Period." Our brand name, Amplomedia, doesn't lend itself to explaining what we do for our clients, so our tagline takes care of that! It also explains the why behind what we do - to help our clients get more customers and grow their businesses! Potential clients come to our website and immediately see our tagline and are able to understand the value that we provide through our services. So what are those services? Enter our sub tagline. Yes, you can have one of those too! Ours is "Plus, We Reduce Your Costs With Business And Marketing Automation". Our combination of brand name & tagline effectively communicates to our audience who we are, what we do, and how we do it.
And don't think that your tagline has to be written in stone. As your business evolves, so can your tagline. The key concept is that you want your tagline to encompass your entire business, not just one facet of it, and it needs to explain quickly and concisely the value that you provide. Our tagline used to be "Amplify Your Message With Motion", which fit perfectly when we were only offering marketing video animation and production but doesn't quite hit the mark now that we also offer a full suite of marketing automation services. So, we revamped our tagline to apply to our business as a whole, and we still keep "Amplify Your Message With Motion" around as a slogan for our video production offerings! (More on slogans a little later.)
Use your tagline to stand out when your brand name blends in. (3:43)
We have a unique brand name that doesn't really explain our business, but not all businesses are like that! If your name is "John's Professional Plumbing" then it's pretty clear right off the bat that you offer plumbing services. In this case, you would leverage your tagline to really drive home your unique selling proposition (USP) and set yourself apart from the competition. And a great way to utilize a sub tagline, if you choose to have one, is to back up your USP by showing how you overcome a key objection that your audience would have.
Take Dominos Pizza for example. Their name makes it clear that they are a pizza place, so for a long time, their tagline was "30 minutes or it's free". It applied to their entire business (pick up and delivery), was showcased across their website and all of their marketing campaigns, it was memorable, and it set them apart from their competitors by promising to get their product to their customers quickly. Which, let's be honest, is something you want when you're ordering pizza! Associating quick pizza delivery with the name Dominos Pizza isn't something people will soon forget.
Does tagline = slogan? (4:56)
The short answer is no. The long answer is that they are related and serve similar purposes, but should be used differently. We've learned that a tagline is something that applies to your entire business, even if your business is siloed into different departments that offer varying products and services. A tagline reinforces what your business, as a whole, strives to accomplish. And while it can evolve over time, at any one time your business will have one singular tagline that remains consistent throughout your marketing. A slogan, on the other hand, is temporary and often applies to one specific area of your business, or even to one unique campaign. Like we mentioned above, a slogan that we use is a repurposed, old tagline that now only applies to one side of our business: "Amplify Your Message With Motion". We would use this slogan in campaigns promoting our video animation and production services, but not when promoting our automated conversion marketing.
Keep it simple, sweetheart. (6:41)
Rome wasn't built in a day, and usually, neither is a tagline. Crafting your tagline can be a tricky art form, and you want to be sure you are capturing your entire business and at the same time keeping it short and to the point. But that doesn't mean you need to use complex language and tons of industry jargon. You need to keep it simple. You want people to instantly associate your tagline with your brand when they see it, and in order to do that, they need to remember it. We live in a world of short attention spans, so you don't have a ton of time for people to be reading your lengthy tagline or figuring out a cutesy play on words. Don't make your audience work for it, just keep it memorable, simple, and short. A general rule is that if it can fit on a t-shirt (and be legible to the naked eye from a reasonable distance), then it's a good length!
A good tagline is important because, when used properly, it will give you ownership of a piece of your audience's minds, keeping you top of the list when looking to buy, which brings you more business. At the end of the day, just remember to focus on your why!
Book a
15-Minute
Discovery Call
Curious about how Amplomedia can help YOU amplify your branding with a kick-ass tagline? We'd love to help!
Schedule a quick discovery call with Lance so that he can assess how we can best help you and your business.