Video has been exploding in popularity over the last few years as an effective and creative way to communicate with your audience. However, poorly done video marketing wastes not only your time and budget, but also leaves your audience confused about your message. In Episode 19 of Amplify your Business, Lance Johnson shares a few commonly made video marketing mistakes and what to do instead when producing a video to promote your brand's message.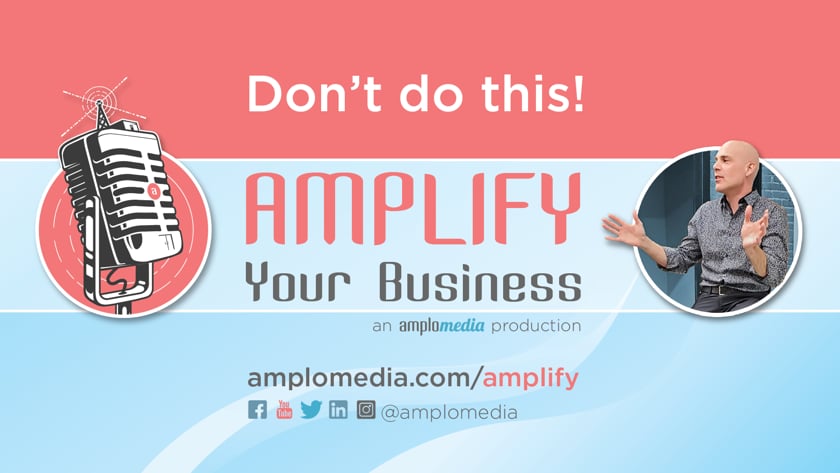 Below are a few of the valuable tips you can find in this week's episode:
Don't forget about your key message. (0:39)
When it comes to marketing, and video marketing in particular, remember to be concise when communicating with your audience. Lance uses the brand, Bounce X, who has recently rebranded themselves as WonderKind, as an example of what not to do when using video marketing to amplify your brand's message. Although WonderKind's video was well produced, it lacked a concise and clear message explaining who they are and what they do for their consumer. Whenever you're producing a marketing video always consider the perspective of your audience. You can do so by asking yourself a few simple questions: Do I make the benefits I can offer my customer obvious? Why should my audience care about my message? Am I explaining how I can solve their problem? By answering these questions, you're able to stay focused on your customer and the clarity of your message, therefore, setting yourself up for a lucrative outcome. Remember, your audience is often hearing or seeing your message for the first time, meaning they don't have the same contextual understanding of your brand, products, and services that you do.
Don't let your brand's testimonials go to waste. (6:38)
Although WonderKind missed the mark on messaging they did succeed at incorporating client testimonials into their video which if done right can drastically improve the overall content of your video. We highly recommend you include testimonials in your video marketing campaigns as they are a great way of getting third party validation on the quality of your services or products. But this doesn't mean you can cut and paste a testimonial into the middle of your video like WonderKind did... because if you don't clearly coach your testimonials you can end up with footage that doesn't showcase the benefits or advantages of your product or service. One way of avoiding this is (and yes we're saying it again) to think from the point of view of your audience and what they are wanting to hear about your brand. So, choose testimonials that concisely showcase what your audience is looking for, and if you don't have any that fit the bill, don't be afraid to coach your customers on how to phrase their testimonials. That doesn't mean you put words in their mouth, it just means helping them get straight to the point and drive home the value of your products or services.
We hope you have found some valuable information in this week's episode but we suggest you watch the entire episode above to hear more of what to do and what not to do in video marketing.
Book a
15-Minute
Discovery Call
Curious about how Amplomedia can help YOU with video needs?
Schedule a quick discovery call with Lance so that he can assess how we can best help you and your business.