In Episode 56 of Amplify Your Business, Lance meets with Edmonton singer/songwriter Dave Von Bieker. Learn how Dave has pivoted his business throughout the pandemic, the launch of his new album, and even hear a live performance of one of his songs, something that's never been done on the show before!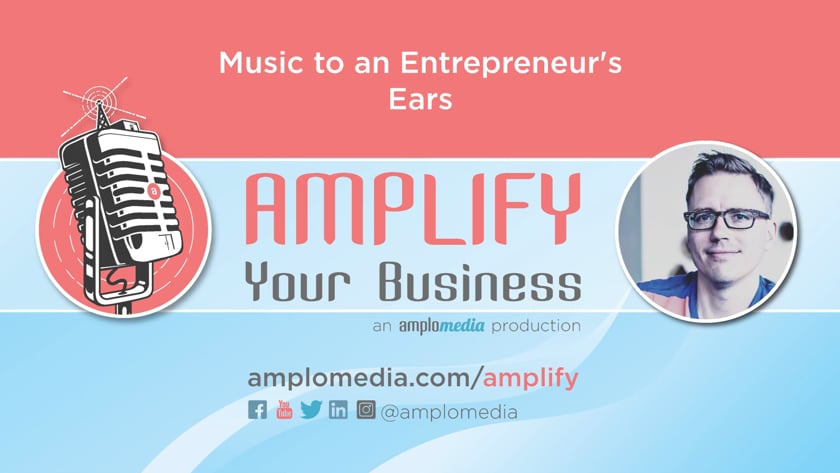 Musicians were affected greatly as a result of the pandemic. Walk me through your current business model and the pivots you've had to make along the way [1:52]
The largest source of revenue for most artists is paid live performances (i.e. touring), merch sales, tips, and song licenses for tv and film. Due to the pandemic, live performances have virtually become non-existent (no pun intended).
Interestingly, Dave doesn't know if musicians are worse off now than they were before the pandemic. In the traditional business model, before the Spotifys and Soundclouds of the world, labels would loan money to artists to record an album and set up their brand. Then, artists would be forced to go on tour to pay that money back. Oftentimes, artists wouldn't be able to pay back the loan from the first album, so they'd continue creating albums under contract. For the most part, artists had no control over the music they would produce, nor where or how often they would tour, and would be at the mercy of their label.
Now, with the power of the internet and streaming services, access to fans is much better now than before. Dave could record a song this afternoon and have it up on Spotify by tomorrow. But this doesn't guarantee that anyone will listen to it, nor will revenue increase. Labels may have been slowly taken out of the equation, but the level of competition between independent artists hasn't gone down.
What is YEG Streams? [6:45]
YEG Streams is an initiative Dave created at the beginning of the pandemic as a destination for Edmontonians to watch livestreams of their favourite local artists and entertainers. YEG Streams took off and was surprisingly successful for longer than expected. Dave thought this would be a project that would last only a couple of months, but because the pandemic ended up being way longer than expected, he kept the site running for a year! Currently, Dave has chosen to wind down YEG Streams to focus more on his career.
With YEG Streams winding down, what are you working on these days? [12:30]
Dave has been focusing hard on recording his first full-length album, Long for this World. It's almost done and will be released on June 25th! There have already been a few singles released which you can listen to on his website, vonbieker.com. 
The release tour is called Long for this Yard and it will consist of a series of yard shows, pandemic pending. He's even creating tour t-shirts; if you book a yard show, then your name and neighbourhood will be printed on the back of the shirt.
Once released, the album will be available for free on his website through a ten-day campaign called Von Voyage. His album is all about travelling to physical, emotional, and spiritual places that have had an impact on his life. The campaign is a free, fun, and community event. After signing up on his website, you will receive a "passport" and be invited to join his Facebook group and interact with other fans and fellow travellers.
Watch Dave perform Haunted, one of the songs on Long for this World at 21:08
What are some lessons you've learned along the way? [26:04]
Opportunities that were created as a result of the pandemic don't need to stop post-pandemic
If you're a business that has had to pivot to livestreams and live events for the first time, consider incorporating them in your business post-pandemic. Lots of virtual concepts like livestreams and e-conferences existed before the pandemic, why not develop a way to strategically keep them so you can continue to serve the audience you gained during the pandemic?

Collaboration can have a profound effect on your business.
In the digital world we live in now, it becomes so easy to reach out to people, ask questions, and take advantage of others' zones of genius. For a number of his songs, Dave needs a professional drum track. Dave was able to reach out to a remote professional drummer, record his set without compromises to sound quality, and have it seamlessly loop into the song.  
Don't let the cancellation of in-person events stop you from learning and networking.
With the rise of virtual conferences and online courses in every field, take advantage of learning and networking in the comfort of your home (pants are optional). More and more opportunities are becoming accessible to professionals now compared to pre-pandemic times because the businesses that are hosting these events are changing their business models, too.
How can viewers connect with you?
Visit Dave's website at vonbieker.com
Book a
15-Minute
Discovery Call
Curious about how Amplomedia can help YOU with your marketing?
Schedule a quick discovery call with Lance so that he can assess how we can best help you and your business.