After waiting two agonizing days for shipping, you finally get to unbox this new gizmo. Or maybe you're finally at that new restaurant waiting for your order...only... you're soon met with disappointment. You're disappointed because it's really not all it's cracked up to be.
You can see how unimpressively the product looks, feels, and works in real life. The chicken you ordered is dry and not at all how it looks in the commercials. Heck, this "gizmo" looks remarkably similar to that thing you saw near the check out till at the dollar store, but you just happened to pay extra for it, in both money and time.
Soon, more customers are hit with more "broken brand promises" and that shiny new thing has become a branding one-hit-wonder. It might've worked for A-ha (the guys who sang "Take On Me" which came out in '85), but as a business owner, having that title isn't particularly helpful to your business.
In this on-the-road episode 20 of Amplify Your Business, Lance shares two lessons about the importance of creating a strong brand identity using his recent experience at a west coast burger joint as an example. He emphasizes that a brand identity is inclusive not only to physical products, but also to the experience your customers have when engaging with your brand as a whole. This experience starts well before and well after they purchase your product. This applies to any kind of business, be it a restaurant, a retail store, or a bowling alley.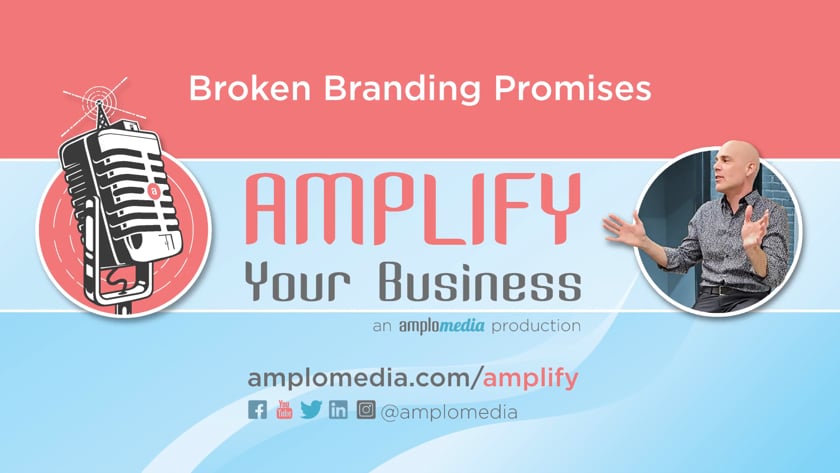 Below are a few of the valuable tips you can find in this week's episode:
If your brand story is compelling, make sure your staff is well-trained to know and tell it like you do. (1:25)
If your business involves managing a team of staff, think of your staff as an extension of you - and by extension, your brand. What they say and how they act is a direct representation of your brand. If your story is especially compelling and unique, take some time to train your staff to know the story, including all of the important details. When customers see this level of excitement mirrored in your staff, this increases consumer confidence in your brand. Plus, your customers will be more engaged when learning exactly what sets you apart from the competition. Sure, your burger sauce may just be relish and mayo, but if you had to go on a five-year journey to source the perfect pickle to make the relish, with salt from deep within the Himalayas…now see - that's a story that your customers need to hear.
Legendary products need to legendary experiences (2:30)
A brand identity is like a promise. Through your brand, you're making a commitment to your customer: that your product offers the benefits they need. If you're going to differentiate your brand on this promise, you have to make sure you execute on it. The saying "actions speak louder than words" could never ring more true here.
The more broken brand promises you make, the more you risk your target audience responding in the opposite way you want them to. Although we're living in uncertain times right now, producing a great experience for your customers should be of the utmost importance - even if that means taking a small hit to your margins. After all, if you brand your products as legendary, then your customers should receive nothing short of a legendary experience. This is what creates repeat, loyal customers in the long run.
We hope enjoyed this week's special on-the-road episode and that you were able to learn a little something about keeping your brand promises. And don't worry - no accidents were caused by the filming of this episode!
Book a
15-Minute
Discovery Call
Curious about how Amplomedia can help YOU with your marketing?
Schedule a quick discovery call with Lance so that he can assess how we can best help you and your business.