In Episode 21 of Amplify Your Business, Lance dives into the story behind Yelo'd Ice Cream, a favourite local ice cream shop in Edmonton.
The Story Behind Yelo'd
Ailynn and Jason's entrepreneurial story is far from ordinary. Ailynn is a teacher by trade, Jason - a journeyman pipe-fitter. Both of them have had their fair share of being bitten by the entrepreneurial bug, however. Ailynn previously owned and operated Whimsical Cake Studio in Old Strathcona, while Jason helped his grandfather run the first Chinese restaurant in Thunder Bay, Ontario while growing up. 
At the request of their youngest daughter, Ailynn and Jason decided to open Yelo'd - an ice cream and bake shoppe that incorporates Filipino flavours and desserts. Without a solid ice cream recipe or even a retail space nailed down, they took to social media to post their idea for all to see. 
To their surprise, a lot of buzz was developed around the uniqueness of their idea and Ailynn and Jason's personal stories overall. People liked that it was a local, family-owned and run business. 
Soon after opening their doors at the beginning of 2018, more and more curious taste buds lined up outside the shoppe. Jason mentions how, on some nights, the shoppe almost looked like a nightclub from the outside that winter, with people huddled shoulder-to-shoulder. Over the course of six months, their reach on social media has grown exponentially through organic content alone.
What makes their ice cream different is that it's homemade soft serve (not hard, which what many of the ice cream shops offer in Edmonton), and that the flavours are unique and hard to find. These flavours include ube (pronounced "oo-beh") - which is sweet purple yam; Filipino salted duck egg (yes, it sounds weird; but don't knock it 'til you try it); and soy sauce with caramel-drizzled crispy chow-mein noodles. Ailynn and Jason assure us that there's nothing Fear-Factor-y about their ice cream.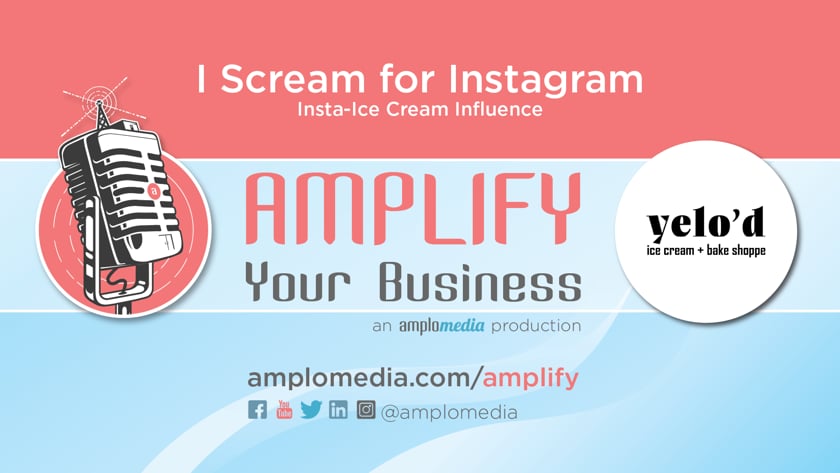 With quick changes come quick pivots! [19:00]
At the time of filming this episode, Lance phrases this time as "the rebound of COVID-19" where social distancing is very much still put into practice and remains a challenge for businesses like Yelo'd. Ailynn emphasizes how important it was for their team to remain agile during such a swift change in operations. 
Ailynn mentions that Yelo'd has not received in-shoppe customers since March 2020. Instead, they created a storefront window where customers could order and pick up their ice cream pint orders without having to enter their shoppe's small space. Considering that it's September at the time of filming, the weather seems to be playing in their favour too (go, YEG!).
Come winter, they are considering doing what most businesses are doing currently which is to have customers enter the shop in limited groups. 
On top of that, they created an ice cream truck offshoot brand called Sosyal Scoops. [31:00]
Throughout the week, the truck appears in different retail parking lots to serve their customers their beloved soft-serve ice cream. They regularly post announcements on their Instagram and Facebook accounts of where and when the truck will be appearing, along with what flavours will be served. This was also their way of mitigating the issue of utilizing a third-party delivery app like UberEats or SkipTheDishes and potentially undercutting 
But wait, pivoting takes time! [26:00]
During this segment, Lance talks about how pivoting - finding out what works, what doesn't, and sticking with the things that do - all takes time. Ailynn and Jason were able to harness the organic engagement rates of their best-performing social channel, Instagram, and pivot in ways that still catered to this audience. 
In addition, Lance suggests that they explore Tik Tok as another platform down the road. He also drives home the tip of being yourself and authentic when promoting your business on social media. Ailynn also emphasizes that your follower count doesn't equate to revenue dollars. 
Be bold when it comes to collaborations! [22:00]
They also doubled-down on delivery operations (which was never a part of their business plan at first) by catering to their existing audiences on social media channels like Instagram and Facebook. They were even lucky enough to sign Lexus on as a vehicle sponsor (talk about ice cream delivery in style!)
The Future of Food: Ghost-Kitchens [39:40]
Lance delves into an interesting discussion about ghost kitchens. Ghost kitchens are rented kitchen spaces where people can start a restaurant brand, post it on food delivery apps like UberEats and SkipTheDishes, but without the upfront costs associated with running an actual sit-down restaurant. Further, you can run multiple "restaurants" with different brand identities and menus all out of this one kitchen. Jason comments that this concept is part of the future. From a local perspective, we could implement a strategy of combining local restaurants and brands into one "space" without being taken over by these outside, international companies and taking advantage of ghost kitchens.
We hope this episode of Amplify Your Business inspired you to not only head out to Yelo'd for a tasty ice cream treat, but also helped you continue learning about all the ways to successfully leverage digital marketing to grow your business!
Book a
15-Minute
Discovery Call
Curious about how Amplomedia can help YOU with your marketing?
Schedule a quick discovery call with Lance so that he can assess how we can best help you and your business.